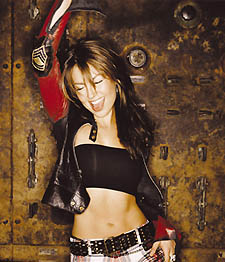 Thalia
Mass outrage would result if the makers of Corona-brand beer altered the recipe of their mega-popular Mexican brew. Americans can mostly stomach unaltered imported food and beverage. So can't we digest unaltered, imported entertainment? The pop-culture gatekeepers obviously don't think so, since they remake with wild American abandon foreign films and TV shows, and cajole international music mega-stars to sing in English and retool their sound before promoting them.
So it is that we find in 2003 the American publicity machine focused on the altered Mexican brew named Thalia, and not at all focused on one Ricky Martin. Yes, the same not clearly queer Puerto Rican who notoriously shook his bon-bon all over America just a few years ago. Both Thalia and Ricky have much in common, from teen-pop bands to soap operas. And now with Thalia's latest, both have made English albums that pale in comparison to their Spanish efforts.
Ricky Martin
Almas del Silencio
Sony Discos
By now Latinos must be numb to this dumbing-down Latin pop practice, whereby what feeling remains in English is drearily derivative. Many of its current leading practitioners are guilty as charged, from Marc Anthony and Paulina Rubio just last year to trendsetter Gloria Estefan, whose next English effort will come in September. Is the trend propelled by typical music-executive reluctance to stray from the tried-and-true moneymaking sounds? Surely in part. True, too, is the commonly expressed chauvinistic attitudes of Estefan and Co. Spanish is a more passionate and expressive language than English, they say. Yet they miss the point: it is the music most at fault here, not the language.
Just listen to Martin's recently released album if you doubt the trend is real. Gone are the grating tunes of his last two albums sung in stale, passionless English. Instead, Martin has returned to his tropical Latin roots, creating propulsive, polyrhythmic songs that steam up your stereo and fire up your dancing feet and "hypnotize you by the gypsy moon, " whatever that may mean. Martin sings that poetically leaping line, on the "Spanglish " version of "Jaleo, " with the same unabashed, "bullet to your brain " pride that is the only saving grace of his always-unfortunate English lyrics. With the rest of the album English-free, Martin has created music to match his wildly swiveling hips: He shimmers like a belly dancer on "Jaleo, " and takes an elastic approach to vocalization throughout much of the album. He may not, ultimately, break any Latin-pop song formulas on the album. But when it works, you never grow tired of it. Who could tire of the fiery kisses he puckers up and delivers on the entrancing "Besos de Fuego? " If only he would try to better translate the formula when he comes out, so to speak, with his next English outing early next year.
Thalia (pronounced "ta-LEE-ah ") offers her own reason for contributing to the "dumbing down " phenomena. "At this moment in my life I want to relax and surround myself with musicians determined to create new sounds, a new atmosphere, " she says. After a decade of success singing in Spanish, Mrs. Tommy Mottola (the former Mr. Mariah Carey) stakes her claim to follow Ricky with her English-language debut. Musically she comes across less as a female Martin than as a pale J.Lo ("What's It Gonna Be Boy "), a cheap Kylie ("Don't Look Back "), and an even more soulless version of soul-challenged Ashanti ("I Want You "). Lyrically, Martin is clearly Thalia's muse in English — her hackneyed English translation of her big hit last year "Tu Y Yo " is as bad as any of his worst. She assumes the role of the "other woman " on "Another Girl, " showing the only hint of feistiness here that has characterized some of Thalia's biggest Spanish hits. Last year's "A Quien Le Importa, " for example, has been adopted in much of Latin America as an unofficial gay anthem for its rebellious lyrics, translated as: "Who cares what I do? Who cares what I say? I'm this way and this way I will stay. "
Why Thalia didn't include an English version of that here is an obvious question. Why she's been reduced to a bland singer is, as well. The answer seems to boil down to one essential fact: a lack on all fronts of faith in the American music-consuming audience.