| | | |
| --- | --- | --- |
| | 2BR, 2BA, 2 prkg spots in Adams Morgan = 2 Good 2 B True! Two-level condo with a cozy balcony, quasi-kitsch entertainment antiques, and a spectacular rooftop deck for treetop socializing. Beware the irate raccoon! | |
Martin Bullock, a chemistry teacher at Sidwell Friends, and Jason Walker, a content producer for America Online, moved into their two-level Adams Morgan condo last December. They share the space with their dog, Bella.
MARTIN: [In living room] I liked this room when I first walked in. It was kind of tough, because even though this is a regular rectangular room, the wall space is weird. You've got an entryway here, a stairwell here, the balcony door there, and the fireplace there. This is the only place to put a couch. It took a while to find something that fit the space and had the impact we wanted. We wanted a clean, modern look — we like to minimize clutter. Can't say that's true of the kitchen. The kitchen's pretty small, but for the two of us to get around and cook it works okay. I'd actually like to knock this wall out and open up this whole area, so you get less of this tunnel effect coming in through the front door.
Jason likes antiques, old audio/visual stuff — you'll see a lot of things like that throughout the apartment. The eight-track player's part of that, and there's an old radio over there, and an old projector, an old remote control, and the stenograph machine.
[On the balcony] This is great because you're right where everything is happening in Adams Morgan. [You can] just sit here and see what's going on without actually having to be down there in it. Saturday is really noisy, but usually we're coming home in the middle of that anyway, so it doesn't bug us. Thursdays can be bad sometimes, but I haven't lost any sleep. Around two [in the morning] when things start to shut down and Jumbo Slice starts kicking, all the drunks are out there eating their jumbo slices of pizza and the cabs are waiting to pick them up. So for that fifteen minutes between 2:15 and 2:30 it's really crazy. But we've been known to stop by Jumbo Slice on the way home.
We got lucky with a condo that takes pets. Bella's the only dog in the building right now. She loves the place. She's got more room than where we used to live, and we can put her out on the roof deck and she can look around and sniff things.
[In the bedroom] Again with the old stuff, you can see the old telephone and radio, and the King Kong poster. Whenever Jason sees something he just picks it up. He's built up quite a collection over the years. The guitar is mine. I used to be able to play "Take Me Home, Country Roads" — you know, camp guitar. It's just there because there was nowhere else to put it. We've got lots of closet space but it's all full.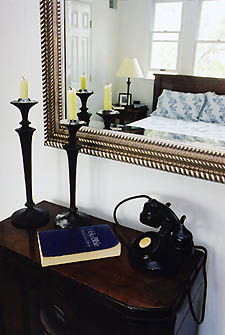 [On the roof deck] This is what sold me on the place. In the summer the views aren't as good, but you can see the Capitol and the monument. Here's our poor little garden. Look, here's a cucumber. The raccoon apparently doesn't like cucumbers. These little baby tomatoes are up high — we're trying to protect them. We have a raccoon that ate all of our green tomatoes before we could even pick them. I'm so mad. I worked so hard on those tomatoes, and that damn raccoon ate them. Last night, about one o'clock I heard something, and Bella was standing by the door with her tail sticking straight out. That raccoon was out there fighting the garden hose and throwing it around. It was just ransacking the place. They're smart, and they're mean. It's a bad combination. They're like mean little people.
Anyway, since we don't have a dining room downstairs, if we have a dinner party we try to have it up here. You know how in the suburbs people wave to each other in their yards? Up here it's waving from your roof deck. We like having people over, not always for dinner but just stopping by for drinks spontaneously on Sunday afternoons, whenever. People end up here all the time, which is good. That's what we wanted, a place where people would want to come and hang out.
Does your house, condo or apartment have a story to tell? Let Environs know about it. E-mail environs@metroweekly.com.