Last February, Ann Farmer of Women's Enews reported that, "Of approximately 2,000 Off-Broadway and regional theater productions scheduled for the 2001-02 season, 16 percent are written by women and 17 percent have female directors. These figures are down from 21 for writers and 23 percent for directors last year. The numbers, an analysis of industry data from several sources, were included in a recent report released by the New York State Council on the Arts."
Discouraging words, indeed. And yet they are just the kind of statistics that incense Deborah Lou Randall, Artistic Director of Venus Theatre, to produce professional theatre committed to "setting flight to the voices of women. " Randall founded Venus Theatre in 2000, and has since operated on a minimal budget while producing locally and regionally.
This summer Randall continues an annual "Bad Girls " summer festival with BAD GIRLS II: Guerilla Thespians Gone WILD! at DCAC in Adams Morgan, a selection of five short plays by five female playwrights from across the country, performed by a cast of five local actresses. Each play addresses a uniquely feminist scenario, depicted with a distinctly humanist attitude.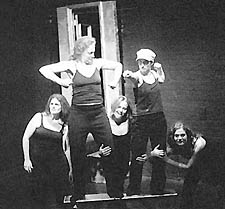 BAD GIRLS II doesn't quite reflect the usual impressive efforts of the company's standard. While Randall's direction of the material seems fresh and relevant, her chosen ensemble of Elizabeth Darby, Donna Davis, Sarah Fischer, Angela Lahl, and Meg Taintor look uncomfortable on stage, whether they are dancing to the disco beats of Donna Summer's "Bad Girls, " or going through the motions of listening to each other in character. The quintet affects numerous inconsistent dialects that do not assist the scripts, and it becomes increasingly difficult to sustain believability when it appears that even the performers do not believe themselves.
The evening begins on a slow roll with Kristen A. Williams' She's the Enemy, a wartime story of a female Union soldier captured among Southern "genteel " women of the Confederacy offering an intimate portrayal of the difficult choices women were forced to make, tied up with a brief historical narrative that's both accurate and compelling.
Wolf Whistle by Lisa Voss is a concise look at contemporary street slang and "cat calls " and how they are used to pick up "chicks. " Voss turns the tables on men in this saucy scene that includes snappy one-liners such as, "Shake it on over here and let me bake it for you! " Evan Guilford-Blake of Georgia has written the melodramatic and painfully numb Prelude to a Walk through the Snow, which features Davis and Fischer as an estranged mother and daughter re-uniting in a bizarre setting.
Bad Girls II
Produced by Venus Theatre
At DCAC 2438 18th Street, NW
Through 8/2
Tickets: $15
202-462-7833
Randall saves the best two pieces for last. In Mia McCullough's Venus in the Morning, Darby is a news reporter looking for crime stories in New York's subways. She gets more than she bargained for as she learns the unlikely story of two strangers who meet after a longtime bout of sleepwalking on to a subway platform in Manhattan.
After four plays with a strong base of reality and focus, we finally get in Kim Moore's Ballad of Step-Off Girl, an absurd, symbolic tale of two trashy girls who compete among monster truck rallies for each other's men and for "the bubble. " Ballad explores traditional, iconoclastic ideals of feminism while poking fun at the declining ideals of modern beauty and privilege. In a scene that is so irresistibly reminiscent of a Jerry Springer episode, Git-It Girl tells Step-Off Girl that she "just ain't bubble material. " Alas, in strides Gay Man, who desires neither of the girls, much to their lusty dismay. With lines Moore has penned such as, "Your labia's on lockdown! " one can easily appreciate the humor and sad irony of Ballad, even when the bubble eventually bursts.