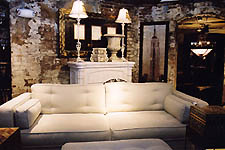 Reincarnations
Two years ago, the northeast corner of 14th and Rhode Island in Logan Circle stood abandoned. The metal-grilled check cashing business had moved out, the rats in. Not the most inviting space for a new business, let alone a hip, well-established furniture store.
But Chris Torres had a vision of bringing new life to the space with his Dupont retail success Reincarnations Furnishings. And a quick glance along the stretch from N to U Streets shows that Torres isn't alone.
Fourteenth Street is quickly becoming the Baskin-Robbins of furniture stores, where you can indulge your desires for design. Over the space of a few blocks, shoppers can choose from styles ranging from Indonesian contemporary to southern French antiques to every flavor in between.
While it may be the newest kid on the block, Reincarnations began its life over a decade ago on 17th Street. The store eventually outgrew its tight confines, prompting the venue change. By comparison, the new Reincarnations is vast — two full stories of eclectic neo-classical and contemporary designs, a wild cocktail of styles that's proving to be an intoxicating mix for one and all.
"I'm getting a little bit of everyone," says general manager Frank Bauman of his clientele. "[It's] fantastic, it goes with the neighborhood."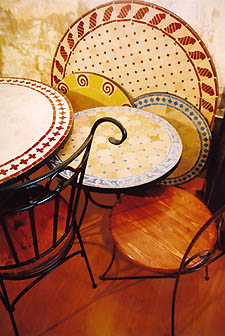 Maison
Less than one block away stands Maison 14. "We wanted to be in Logan Circle because of the gentrification," says Christopher Walsh, who co-owns the store with Gilles de Concilio. "It was up and coming and had been for a while."
Maison 14 took over a space that had previously served as a dollar store and an automobile showroom. "We still use the car elevator back there for storage," Walsh says.
The building's eclectic history well suits the two owners, long-time friends with different backgrounds: Walsh used to work in finance and French-born de Concilio owned an antique store. For Maison 14, the two conceived a simple fusion of antique and modern furniture — the store's furnishing landscape flows smoothly from solid wood Louis XV antique bureaus to contemporary tables made of chrome and frosted glass, all tied together with custom-made Moroccan wrought-iron chairs. The process of getting the blend right proved a little complicated, but a year after opening de Concilio beams, "I am confident we have it."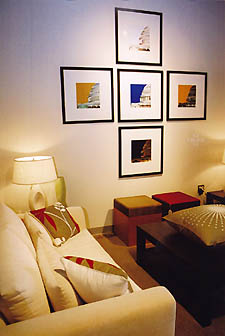 Vastu
"Sundays you have the gay boys in muscle t-shirts walking around holding hands," says Eric Kole, co-owner of Vastu Home Furnishings, between S and T Streets, "and the little old ladies coming from the church around the corner. It's a fun mix."
Vastu offers a variety of sleek, modern and comfortable pieces, arranged according to the basic principles of, wellÂ… vastu, an ancient Sanskrit philosophy of placement according to variety of attributes, such as color and texture, to enhance the living space.
Handspun aluminum lamps, record album coasters and designer bricks are scattered among the micro-fiber sofas and cork-upholstered chairs, all adding up to a fun and sexy atmosphere, fulfilling a need for what co-owner Jason Claire calls "unique, independent, artisan-created" designs.
"They all have interesting stories," says Claire of the store's stock. From stemware made using a patented heating process to reclaimed teak wood from old bridges, the stories go far beyond the obvious. Yet knowing the background is only half the experience.
 "There's this energy and vibrancy I don't think you can find anywhere else," says Kole of the range of choices for home design now available on 14th Street, providing alternatives to the big box retail stores in the suburbs. "People come in and thank us for being here."
Muleh
Next to Vastu and sharing the now-divided space that was once the Black Cat nightclub, is Muleh, which offers a "tropical modern Zen" look.
"I wanted to create a warmer version of contemporary design primarily based out of southeast Asia," says owner Christopher Reiter.
The designs at Muleh fuse organic materials such a rattan vines and plantation teak with such modern materials as light steel and embossed leather, invoking the warmth of the tropics while maintaining an urban simplicity.
"[It] offers an alternative to what has been standard, traditional design," says Reiter, who chose the store's location because of the developing community and increased safety of the neighborhood. He doesn't entertain the idea that with the influx of furniture stores, plus other specialty stores such as Home Rule and Go Mama Go!, competition may become too heavy in such a concentrated area. "It's a good reflection of entrepreneurial spirit," he says. 
"What makes this [street] so unique it that we are quite unique" Reiter says. "That's the real value of this destination."
Maison 14
1325 14th Street, NW
202-588-5800
www.maison14.com
Mon.: By Appointment Only
Tues. – Thurs., 11am-7:30pm
Fri., 11am-7pm
Sat., 11am-7:30pm
Sun., 12pm-5pm
Muleh
1831 14th Street, NW
202-667-3440
www.muleh.com Tues. – Sat., 11am-7pm
Sun., Noon-5pm
Reincarnations Furnishings
1401 14th Street, NW
202-319-1606
www.reincarnationsfurnishings.com
Daily, 11am-8pm
Vastu
1829 14th Street, NW
202-234-8344
www.vastudc.com
Tues- Sat., 11am-7pm
Sun., Noon-5pm