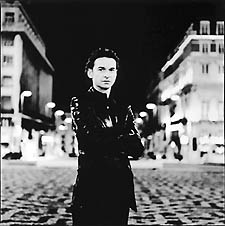 Gahan
Depeche Mode was a British band with a silly French name that held foreign appeal to at least one young "angstful " middle American. Depeche Mode was not played on KBEQ, "The No. 1 Hit Music Station, " because Depeche Mode was not a No. 1 Hit band, at least not in Kansas City, Mo. — or, more accurately, not until a couple years later, with the unprecedented success of Violator. But from one alt-pop hipster girl to another and from one struggling gay boy to a brother, the Cult of Pleasure, Little Treasure spread by word of mouth in 1988. That was when the fast-fashion foursome practiced high sarcasm and blasphemy, singing "sacred " songs with missionary zeal for human beauty and giving in to sin from the classic Music for the Masses.
Amazingly, the boys responsible for "Strangelove " and "People Are People " and especially "Never Let Me Down Again " were not gay. Not gay at all. They just sounded gay. Depeche Mode songs were freighted with minor-key chord structures juxtaposed by lush soundscapes of either neurotically buoyant or suicidally dissonant melodies, capped off by brutally human lyrics and the pleading nasal-wail of frontman Dave Gahan, who plied his voice as if just another programmable instrument.
Dave Gahan
Mute/Reprise
Appearing July 20 at the 9:30 Club
815 V St. NW
$40
Depeche Mode has outlasted almost all other groups of its time, and certainly longer than anyone would have expected, especially given that much of the original fan base drifted away years ago when the group shifted from twisted dance pop to twisted rock. Now, too, the two leaders of Depeche Mode, Gahan, the lead singer, and Martin Gore, the songwriter, keyboardist and sometime singer, have drifted away. Each have released solo albums in the past couple months, and the two albums are not as similar as you might expect. Neither matches the power of early Depeche Mode, or comes close to that group's zenith, 1993's Songs of Faith and Devotion. In fact, only one of the two is worth repeated playback.
Gahan performs this Sunday night at the 9:30 Club, but it's hard to imagine the concert will be very satisfying to Depeche Mode devotees — or much fun to anyone else. It's painful to admit, but Paper Monsters is a disappointment from start to finish, marking an inauspicious debut as a songwriter for Gahan, who doesn't create dirty, sticky melodies like Gore. Musically, he offers no hope of ever seeing the sun, even though he touts the album as one where "hope conquers hurt. "
It's too bad Gore won't appear with Gahan, or that he hasn't scheduled his own tour to perform songs from his first full-length solo outing, Counterfeit2. He'd certainly captivate an audience better, with better, far more adventurous material. Depeche Mode's songwriter didn't write anything on the album, though. He simply offers his take on other people's songs, reworking those that inspired Gore to create the music that he has, clearly the less-guitar-rock, more-keyboard-pop sound that characterized his Depeche Mode songwriting until the mid-1990s. Gore successfully tackles a Kurt Weill song, "Lost in the Stars, " keeping it cabaret-style simple with just a piano and keyboards accompanying his art-song vocals. His is a sweet, vulnerable voice. He sufficiently tackles singing in German on the torchy "Das Lied Vom Einsamen Maedchen " (The Song of the Lonely Girl) and evocatively refashions John Lennon's "Oh My Love " as if it were an Erasure greatest hit.
Gore told Rolling Stone that he doesn't "think it would be right for me to use my own material for a solo record while I'm still part of Depeche Mode. " So there's hope that this second effort will influence the next group album, on which Gore said he's looking forward to beginning work. Gahan implied the near opposite in a Billboard interview. Should another group album actually come to light, we can only hope Gore continues to exert chief songwriting control.