DIAL 1-900-DIXALOTÂ… From the land of Big Butts comes word of new material (or new ass-ets, as it were). Remember Sir Mix-A-Lot? Eleven years ago, he was unavoidable. The Seattle rapper's "Baby Got Back" smacked the fashion industry for shunning fat, topped the charts, earned him a Grammy and a ban from MTV. (Apparently some nineties' nincompoops thought it sexist if anything but beanpoles were the object of desire.) Could it all happen today? Well, we may soon find out if the one-hit-wonder can finally get our attention again. But just what could this Sir sing about now? Don't think female physical attributes. Mix-A-Lot is not interested in female "full-frontal wedgies" a la Fannypack, the silly pop-rap group with the delirious song, "Cameltoe" ("The only lips I wanna see are the ones that sing"). "Great Big Johnson" is for the ladies — and you know who else — Mix-A-Lot told Rolling Stone. Early reviews have been decidedly mixed about the song (and the album, Daddy's Home, due September 3), which reportedly features a chorus of women repeatedly singing the adolescent line "Bring black/Bring white/Bring length/Tonight/If not/Bye-bye/We like/We like a great big Johnson."Â  Should be a big hit in gay circles.
TEMPORARY T.A.T.UÂ….All the things they said has caused many to wonder whether the girls of t.A.T.u. are the Russian lesbians-in-love they were promoted to be. The latest issue of the Advocate explores whether this probable marketing hoax is "good for the gays." It might not matter soon enough anyway. BBC Radio 1 gossips that the manufactured twosome might be calling it quits, just a year into the "relationship." It seems Julia, the brunette, is overpowering Lena in every way, and in bed she's replaced her with a boy. Sounds like they're speeding 200km/h in the wrong direction, after all. Let's jump before they crash, okay?
SEASON OF LOVEÂ… Straight guys certainly squirm more, on average, than gays sitting through Broadway musicals. But aside from the all-the-rage, straight guy-squirm-inducing male nudity of today's Broadway, little could be more enticing to the gays than if pop-music stars were thrown into the musical plot. And that's just the stew a-brewin' in 2003. If you happen to be in New York over the next couple months, you can take your pick from, to name just three: Toni Braxton, starring in Elton John/Tim Rice's Aida, Bernadette Peters, perfectly cast in the revival of gay-fave Gypsy, or sometime D.C. resident Franchelle "Frenchie" Davis, who shoulda woulda coulda won this year's round of American Idol if it weren't for Fox's prudishness about her "adult" Web site modeling past. Everybody-loves-Frenchie is part of the Rent cast.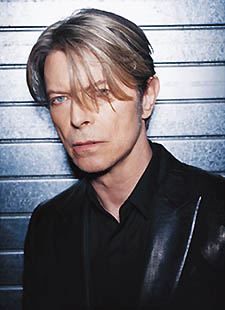 Bowie
Off-Broadway, one intriguing choice for dance-poppers is De La Guarda, where on Thursday nights throughout August not-exactly-known New York DJs (though "first rate" according to the Village Voice) add a booming soundtrack to the show. Show promoter Betty Kang calls it a "total sensory experience that's about theater as clubbing and clubbing as theater." It's an interactive experience, featuring a simulated rainstorm as well as a trapeze act that plucks audience members out of their seats (last year Britney Spears was one willing flyer; all 250-pounds of DJ Carl Cox took to the air this year). So obviously what the show may lack in true narrative it more than makes up for in sheer spectacle. See www.delaguarda.dj.
BOWIE GOES BOLLYWOODÂ… David Bowie has a new album, Reality (ISO/Columbia), set for a September 16 release. And while that may please many, we, as danceheads, are most excited by a Bowie development of a different sort. Bowie's '80s hits "Let's Dance" and "China Girl" have been tweaked with Far Eastern flavorings to be included on a greatest-hits package for release in Asia this fall. The Wall Street Journal reported that "Let's Dance," remixed in Indian Bollywood fashion with tabla drums, sitars and Hindi vocals, is already a hit in European clubs. Jetsetters, are you on the case? Put on your red shoes and dance the blues, and snag a copy for the rest of us to do the same over here.