In the soupy heat that defines Washington summer, one can cool off to the vanilla music of David Shire and chocolate lyrics of Richard Maltby, Jr. at MetroStage's production of Closer Than Ever. A little gem of a musical revue that examines relationships of innumerable varieties, Closer Than Ever offers a casual evening of merry musical theatre, even if it is a bit tame and predictable.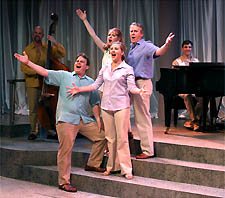 Director Brad Van Grack has assembled a talented four-person ensemble, and under the musical direction of pianist Howard Breitbart, they offer up a polite serving of fantastic, rich material. Shire and Maltby, best known for their successful collaborations on Starting Here, Starting Now and Baby, have co-written deeply moving songs that reflect the full spectrum of human emotion and optimism. Their music showcases a strong set of melodies and acute lyrics that touch upon various displays of affection and confusion, betrayal and comical anger. Together they are a perfect example of a tandem relationship that has produced lasting art that speaks to modern audiences.
MetroStage's 130-seat theater in Alexandria feels perfectly intimate enough for such a warmly human show. However, the actor-singers arrive on stage in ice-cream parlor colors, dressed more suitably for a Sunday picnic than an evening of grand theatrical entertainment. From here they execute a musical collage of fine harmonies, lovely ballads, and over-staged up-tempo numbers that feel so forced you just have to remind yourself, "this too shall pass. " Fortunately, it does.
Eileen Ward misses the remarkably witty sparks in "The Bear, The Tiger, The Hamster, & The Mole, " but her soprano-belt is tender and touching in the heartbreaking "Life Story. " Russell Sunday is best in his sky-high register, and Jamie Zemaral is affecting as "One of the Good Guys. " However, it is Tracy Lynn Olivera who makes the most of her material in the delightful "Miss Byrd " and again in a duet with Howard Breitbart at the piano in "There. "
Closer Than Ever
MetroStage
1201 N. Royal St. Alexandria, Va.
Thru 8/3
$30-$35
703-548-9044
Memorable ensemble numbers include a bright "I Wouldn't Go Back " and the moving "Father of Fathers. " Olivera and Ward also create a beautiful duet with "It's Never That Easy/I've Been Here Before. " (Even Daniel Felton, who plays bass for most of the evening, gets a little time in the limelight. And for good reason: he is just as adept at crooning lovely melodies as he is plunking the strings.)
While the cast is solid enough, it becomes clear that the material and the production as a whole would greatly benefit from a larger, more diverse cast. Simply adding two or three more characters to the mix would have lifted Closer Than Ever to another dimension.
---
Donna Q has a dream. She wants to swim in the annual "Polar Bears' Plunge " in Lake Michigan. And the fact that roughly 80,000 swimmers — mostly middle-aged women — take on these icy, frigid waters every January 1st at noon is probably the most interesting thing that playwright Paulette Laufer offers us in Donna Q, her new one-woman play now at Signature Theatre.
"Wildly inspired " by Cervantes' Don Quixote, Donna Q is the odd and awkward story of a single woman who obsesses over and is defined by the "clutter " in her life. That is, until she decides to undertake the "insurmountable " challenge of forging an unplumbed bond between her brother and his daughter, Donna's soon-to-be-wedded niece. Suddenly our heroine has a mission, a goal, a great ancestral duty. And by golly, we couldn't care less.
Donna Q
Signature Theatre
3806 S. Four Mile Run Dr. Arlington, Va.
Thru 7/27
$28-$32
703-218-6500
Laufer has given a poetic voice to a woman we see often in tragicomedies: her Donna has just lost her job of twenty-five years as a research assistant for "water-related data, " she lacks intimate relationships of both the emotional and physical variety, and has now decided to satisfy the urge to "re-invent " herself. She carefully reads all of the popular magazine articles that stress the importance of "de-cluttering " her life, and determines that the great Polar Bears' Swim is just the way to do it. Now that Miss Q. has a life-size quest, we think (or rather, we hope) that she'll conquer it rather promptly. Boy, are we mistaken.
What begins as a weird introduction and an even stranger exposition quickly turns into nothing less than a scattered tale of sausages, familial ties, weddings, polar bears, water bottles, and lace. Thankfully, it is Robinette who gets to tell us all about it.
The three-time Helen Hayes Award-winning actress gives Donna Q a very human face, and her agile skills are ever-apparent as she nimbly flows in and out of a dozen characters with ease. With clean direction from Jose Carrasquillo, we watch as Robinette is often left breathless by her vivid renderings of a blue-collar brother who runs his own delicatessen ("Beer! Butter! Onions! Three simple truths! "), a thankless niece who insists on a "no-sausage wedding, " and Donna's impromptu assistant Billy, a water-bottle distributor who mistakes a "tapas bar " for a topless bar.
It is a joy to watch as Robinette dances around a bare stage with reckless abandonment, her effervescent joy so real and so tangible. She allows her Donna Q to become a bit mad, a bit fiery, and exceedingly inspiring.
Although Laufer writes with a refined style of language and imagery, Donna Q's story ultimately seems to begin just as it ends, never quite reaching that elusive, victorious climax. "Excelsior, " indeed.