Shenandoah Shakespeare puts the art back in theatre with a rep of three equally-mesmerizing productions
Nestled in the heart of Virginia's Shenandoah Valley lies the quaint and quiet town of Staunton, where you can bite into a charming little taste of Americana. It's the type of place Norman Rockwell would have painted had he visited. And it's in this most unlikely of places that an inspired dream has come to fruition: Shenandoah Shakespeare.
Conceived and co-founded by Ralph Alan Cohen and Jim Warren, two noted Shakespearean purists, Shenandoah Shakespeare has built a living shrine to London's original Blackfriars Playhouse of the 1620s, complete with the same architectural design and environs. The stage opened in September 2001 and has since produced quality, affordable theatre without the pomp and circumstance usually attributed to the Shakespeare ideology. Here they throw away the notions of "crushed velvet " and regal language, and just stick to the basics of delivering superb theatre.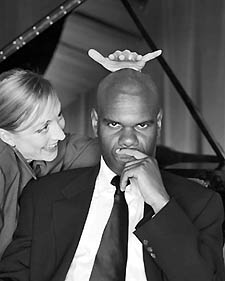 Burger King Lear: Norris and Wallace
(Photo by Michael Bailey)
"Shakespeare did not write plays for the theatre of illusion, where technology conjures up the magic on stage, " claims Cohen. "He wrote plays for the theatre of the imagination, where the magic takes place in the heads of the audience. " Indeed, there are no Disneyfied tricks here, no elaborate lighting schematics (the house lights are left on for the entire performance so the audiences can "see and be seen "), no sets (actors work on a beautifully bare stage, save a few random prop pieces here and there), and the authentic costumes are better suited to be simply called "clothing. " The basic philosophy appears to be that one does not have to appreciate iambic pentameter to know worthwhile drama when one happens upon it.
If the theatre's structure is to be considered a grand triumph, it pales in comparison to the productions concocted within its walls. Shenandoah Shakespeare puts the art back in theatre, challenging their resident troupe this season with a repertory of three equally-mesmerizing productions: Shakespeare's King Lear and Much Ado about Nothing, and Francis Beaumont's The Knight of the Burning Pestle. Few acting troupes understand the true meaning of "ensemble " work. But here all the players construct such a bold harmony on stage that it's difficult to find flaws.
Source Theatre's Joe Banno makes his naturally inventive mark as guest director on a progressive re-telling of King Lear, re-imagining the "kingdom " as a modern mammoth of a company, with Lear at the helm as CEO. The Dukes are dressed in business attire, the daughters in smart suits and gowns. Lear steps down from his executive office and from here, the downward spiral of "darkness and devils, " tenderness and turmoil, rage and redemption plays out like a gripping made-for-television drama. Banno crafts tight scenes with innovative staging, including the use of creative human sound effects. When the chilling storm rains down we all want to duck and cover from the thunder.
Craig Wallace's Lear is proud, pathetic, and foolish, but still strong — even in his Burger King crown. As his attendant the Fool, Kate Eastwood Norris always finds a way to emote her lines instead of recite them. Her Fool is cynical and sly, endearing and heartbreaking — a most beguiling spectacle for a jester of sorts.
Cohen directs the sweet and safe Much Ado About Nothing with an expert hand and much tongue-in-cheek winking. He presents strong staging with lush layers of aesthetics. Much Ado offers nice costume designs and again, the otherworldly efforts of a fine ensemble of actors, each somehow managing to achieve that delicate balance of playing around the fourth wall without breaking from the action on stage.
Norris' Beatrice is charming, coy, and proud, while John Harrell's Benedick is dumbstruck as one of the boys who is struck down with love. As he grows up before us, he becomes an honorable, loyal gentleman, who will "suffer love " for his lady. John Paul Scheidler makes a good, lusty and villainous Don John, and Mark Allan Jeter displays real talent as Don Pedro. With its sharp wit and lovely finale, it's difficult to resist falling "horribly in love " with this Shakespearean classic.
In Francis Beaumont's The Knight of the Burning Pestle, we have one of the most remarkable early "plays within a play, " as two overly-enthused theatre fans jump upon the stage to revise a production of The London Merchant. Borrowing from the classic styles of commedia dell'arte, Pestle showcases bright, limber performances from the cast, including spry physical comedy by Norris and a fabulous character performance from Harrell.
Shenandoah Shakespeare
Staunton, Va.
540-851-1733
Performances:
Wednesdays-Sundays
Through 8/24
Tickets: $10-$28
Director Jim Warren follows the Beaumont script but updates the musical choices to make them relevant to a contemporary audience. The result is a Moulin Rouge effect with a repertoire from every genre, including showtunes and standards such as "You Light Up My Life " to pop numbers "We Are the World " and "Girls Just Wanna Have Fun, " and even the great rapper Sir Mix-A-Lot's infamous "Baby Got Back. "
Shenandoah Shakespeare offers a perfect excuse to take a weekend trip away from the urban scene to a lush pastoral landscape and enjoy some truly satisfying theatre. Get thee hence to Staunton, and, as the ensemble joyfully sings in Pestle, "put a little mirth in your heart. "