In the mid-eighties, photographer Jim Goldberg began work on what would eventually become Raised by Wolves, an insightful photo exposé capturing the lives of homeless street kids out in California. Goldberg's docu-portraits inspired playwright Naomi Iizuka to delve into the murky psychological waters of a group of derelict teenagers and connect their sordid urban stories to the Greek mythology of Ovid's epic poem Metamorphoses. The result: Polaroid Stories, first produced in 1997. Sadly, like a Polaroid, the impact Iizuka's piece may have once held has faded over time.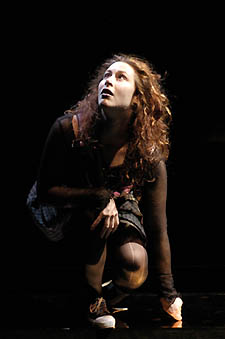 In today's context, Iizuka's dysfunctional characters feel both overcooked and underwritten. Sure, we get overdoses of their unflinching, serrated tales of street drama and hardships, and we get slapped around by the violent energy of their emancipated youth. We also get to know the gory details of how each has made it through their rough addictions and relationships, and how each has been forced to learn things "the hard way. " But we are also asked to look beyond those façades and compare a flaming gay hustler with Narcissus (Cesar A. Guadamuz), an insecure groupie type with Echo (Veronica del Cerro), and a bitterly apathetic prostitute with Eurydice (Regina Aquino). The list goes on.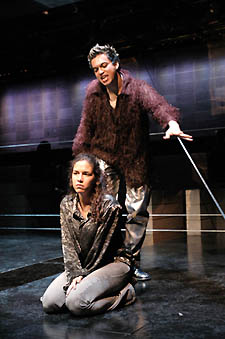 Just as the imaginative Greeks created myths to help make sense of an ancient universe, conjuring up fascinating, elaborate fables about the beginnings of time and the everyday lives of their gods, we find our modern-day group constantly shaping new urban legends about who they are and where they came from. Narcissus claims that in his infancy he was left in a box by a supermarket, following it up with another tall tale about being dropped from a high-rise window by his own mother with the hopes that he would fly away. (Only he didn't fly away — he fell onto an old mattress that had been thrown out by a neighbor.) Orpheus and Eurydice get caught up in their own on-again, off-again romance, while others try to outdo each other with caustic stories about what love really is. It seems everyone knows someone who knew this one girl's cousin's boyfriend's best friend who went all the way to Hell for his lover and charmed the devil with his music.
While Iizuka works hard to stretch the muscles of our imagination by shallowly connecting struggling kids with gilded Greek myths, the characters don't develop enough for us to get to know them well. The stories, written for intoxicating and lyrical performance, are really nothing more than inflated, asymmetrical tales of a dark sub-culture that no longer makes for cutting edge theatre.
Luckily, Secondstage's own Keith Alan Baker is firmly planted in the director's chair. In the hands of a lesser talent, one could easily become antsy and irritated with Iizuka's eclectic brood and their disconnected tales. Without Baker's tight staging and the excellent illuminating visuals from lighting designer Peter N. Joyce, the evening would prove a huge disappointment. Instead, Baker infuses the production with his fresh brand of drama and invokes uncommon and volatile energy from an incredible cast of ten.
Yes, most of the characters in Iizuka's pack stumble around on the stage higher than a kite, but no one flies as high as Scott Kerns in a breakout performance as Skinhead Boy (think Icarus). Kerns is like a jolt of lightning every time he pounces on stage, skateboard in tow. As his "girlfriend " Neon Girl, Catherine Deadman presents her lovely monologue with the grace and temperament of a seasoned veteran. Regina Aquino and Anthony Gallagher are also memorable, as are the haunting vocal stylings from Salma Qarnain.
Set in what we are supposed to understand is an abandoned pier on the outskirts of any modern American city, Giorgos Tsappas has reformed Studio's Milton into an abstract underworld that perfectly matches Jesse Terrill's modern techno beats.
After two hours of watching kids who so desperately need to be rescued and who also reveal their human need to rescue each other, any remnants of Ovid's poetry are far from our thoughts. That is, until we are reminded again that this is supposed to be the common thread that binds the "street " tales. Even then it is still not so difficult to imagine Dawson Creek's James van der Beek and Katie Holmes strolling in as the überwise Suburban types with some great milk-and-cookies advice for our gritty gang. It's just that kind of harsh reality-meets-sublime fantasy that makes Polaroid Stories feel trapped between two genres, the literal current posse of street-smart teens, and their historical literary counterparts. Then again, maybe that's the point.