Like the food at any good restaurant, reality TV has to evolve to keep its viewers coming back for more. And who better to drive that innovation than Survivor creator Mark Burnett, the force behind NBC's latest unscripted offering, The Restaurant.
Unlike most of its predecessors, The Restaurant lacks the highly contrived gimmicks that have nothing to do with, well, reality. No one gets voted off the island, handed a rose or booted from the house. Instead, the show follows restaurateur Rocco DiSpirito as he makes good on his lifelong dream of opening an Italian bistro in downtown Manhattan.
If you've ever worked in a restaurant, you can imagine the drama that ensues. The show opens in a frenzied panic: Rocco, voted one of the "10 Best New Chefs" by Food & Wine, has just seven weeks to open his eatery rather than the seven months it typically takes. He struggles to educate the wait staff, a bevy of aspiring studs and starlets, who, despite statements to the contrary, know nothing about Italian food. And on opening night, his dreams literally go up in flames as a kitchen fire unleashes torrents of smoke into the dining room, driving away the New York Times food critic.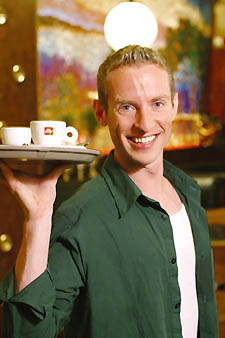 Work it, girl: gay waiter Topher.
Like its staff on that horrendous night, The Restaurant makes am earnest effort to achieve something new and memorable, and mostly succeeds. The concept is fascinating (hell, you can actually eat at The Restaurant the next time you're in New York), and the cast sparkles with colorful personalities: the jaded chef, the bitchy waitress, the comic homo.
To drive the storyline, The Restaurant relies on the key ingredient of every reality show: conflict, conflict and more conflict. The producers cast wisely for a combustible mix of wait staff with attitudes and managers with God complexes. Throw in hundreds of New York's choosiest diners, and you've got yourself a TV show.
Opening night is particularly riveting as disaster strikes. The restaurant runs out of red wine and clean glasses and the customers — allegedly friends and family of the staff — act as if their collective diet pill had worn off. Man, are they mean.
One obnoxious snot actually gives his credit card to a waiter to go down to the corner liquor store and buy some red wine for his table. And this jerk is eating for free! Down in the kitchen, I couldn't help but cringe when Rocco, waiting for his calamari, explodes at the fry guy: "You are so fired tomorrow!"
But even with the sparks, the show lacks the breakthrough brilliance that reality TV so desperately needs. The Restaurant is competent and well produced, but Burnett fails to deliver a masterpiece. Admittedly, I'm not sure what that looks like, but I'm pretty sure I'd recognize it if I saw it. And because imitation is the sincerest form of television, you'd recognize it too because it'd be everywhere.
Most disappointing about The Restaurant is that on some level it seems to be little more than manufactured hype. We've been reading about this show for months, and Rocco's been working the circuit — even making People's 50 most beautiful list. I guess I wanted shock and awe. Instead I felt misled.
Like during the series opener when Rocco's publicist squeals in delight over landing a segment on The Today Show. No ordinary accomplishment for a Manhattan eatery, he tells us. As if we didn't know the show was produced by NBC.
The Restaurant
NBC
Premieres
7/20
10 p.m.
There's a certain crassness there. Kind of like when Rocco gives Topher, the gay waiter, his first table: a trio of leather daddies. The message is clear: Work that tip, Topher, you know what's expected of you.
None of these flaws are fatal, of course. Countless viewers will love The Restaurant, and they should. It's a good show. But after years of dining on the usual fare of tired reality, sometimes you just want to be blown away. Alas, the wait continues.
Dan Odenwald can be e-mailed at dodenwald@metroweekly.com.