| | | |
| --- | --- | --- |
| | 4BR, 2BA Victorian in Logan Circle, with original stained glass, working dumbwaiter, and two modern refrigerators in a refurbished kitchen. Big airy rooms. Refurbished floors. 90% complete paint job. Perfect for entertaining 400 close friends on New Year's. | |
Two years ago, Ralph Santora, who works for a PAC that assists new Democratic candidates run for Congress, bought a three-story fixer-upper Victorian. He lives there with his partner Luis and two dogs, Emma and Huey.
RALPH: I've lived in Logan Circle for eleven years and always wanted to own a Victorian. Bought the house a couple years ago — snuck into the market before it went out of control. I wanted to get something that was a little rundown, that needed to be restored so I could do it my way.
The house was actually in pretty nasty shape — it had a frat house feel to it. A lot of people had lived in it and the basement had knee-high junk in it. Most of the rooms needed cosmetic work. So we tried to restore it as much as we could. We've started to strip the fireplaces there. And all the wood floors have been redone. Obviously what we're trying to do is restore it and keep it functional at the same time.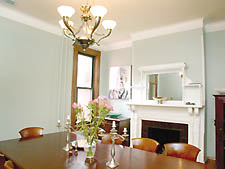 [In kitchen] This room was in the worst shape of all. There was basically an old refrigerator, two white cabinets and a stove. It was in horrible shape — disgusting. There was a little doorway leading off from the kitchen into a sunroom. We broke the wall down, put up new cabinets, installed new countertops. And this is actually a funny story, but when we came in, there was no back fence and this refrigerator wouldn't fit though this door, so we brought it in the back way because we needed a refrigerator. Then we rebuilt the kitchen and realized the refrigerator was too big for the design — it stuck out too far. So we had to get another refrigerator. We keep booze and Diet Pepsi Vanilla in the extra refrigerator. But a crane's coming in two weeks to lift it out — I'm giving it to a friend of mine.
[In dining room] This room off to the back of the dining room is used for storage right now — but I want to turn it into a wet bar. There's an old working dumbwaiter in it that goes down to the basement. The kitchen used to be directly below us and they used to send food up. But we converted the basement into a rental — that way the tenant can send the rent up and we can send food down. [Laughs.]
[In second floor bathroom] There are only two bathrooms — we kept it at that, one upstairs, one down here, both the same size. There was a disgusting old tub in here and the walls were all moldy. We figured because the room was so small we'd try to open it up as much as possible. So we found an old piece of furniture and sunk the sink in it. And we took out the tub [and installed a shower] to make the bathroom seem bigger. We used glass for transparency and bright marble to lighten things up a bit. This is all stone. I actually did the stonework myself.
They stucco-ed the ceilings years ago, I don't know why. My guess is that maybe they had a leaky ceiling. You can see some water damage. We've put a new roof on since. I'm not finished painting in spots. Still working on it. I'm a big ninety percent project person — when it's almost there, you move on to something else.
A few years ago, I met a woman who worked for the importer Nardeaux and she ended up finding me a bunch of furniture pieces. They import handmade leathers and woods from the Far East and India. The chair in the front room by the window is Nardeaux.
[In living room] The whole house used to have pine floors. But on the first two levels, for some reason, in the fifties or sixties they covered them with oak. Which is a shame. We redid the floors on the first two levels on our own. It seemed pretty easy. The first thing that you learn about the machines you rent at Home Depot versus the commercial machines is that they're a lot slower — they're designed that way so you don't damage the floors. And you have to do the edges with a hand-sander because the machines you can rent don't go to the edges. It's incredibly time consuming. This level took me a week and a half and that was coming home after work, working on weekends, sometimes taking a day off from work — working till one, two o clock in the morning till you can't stand it anymore. I was coughing up sand for weeks. The sand gets everywhere. After the second level, we couldn't take it anymore, so we hired professionals to do the third level.
Still, to work on a house yourself is fulfilling. I'm really glad I did it because it's a sense of accomplishment — it makes it feel more like your house. But if I ever moved into another house, I'd leave it to the professionals.
Every living space has a story. And Environs wants to tell it. Email us at environs@metroweekly.com.