Whoever decided to cast Jamie Lee Curtis and Lindsay Lohan in the Disney remake of Freaky Friday should be sent a box of expensive chocolates, some really gorgeous flowers, and, most importantly, be given a nice big fat bonus check. What could have been a catastrophic head-on collision is instead, in the hands of these two exceptional actresses, one of the year's most guileless, enjoyable delights.
The original Freaky Friday, released in 1976 and based on the novel by Mary Rodgers, starred Barbara Harris and Jodie Foster (who the same year won an Oscar for her role as a teen prostitute in Martin Scorsese's Taxi Driver) as a warring mother and daughter who swap bodies for a day and get a taste of each other's lives and, hence, a better understanding of one another.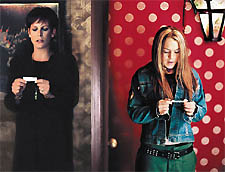 Curtis and Lohan
The update is plugged into a more contemporary schematic — psychologist Tess Coleman (Curtis) totes around two cell phones and a PDA while daughter Anna (Lohan) plays in a rock band and longs for a piercing or two — but the basic narrative is the same. The two battle each other on a steady basis, with Anna resentful of her widowed mother's impending marriage to Ryan (Mark Harmon) and Tess apoplectic over Anna's routine trips to school detention. A Thursday night visit to a Chinese restaurant and a sampling of a mystical fortune cookie instigates the soul swap. The women wake up the next morning in what may just be the biggest case of identity theft yet.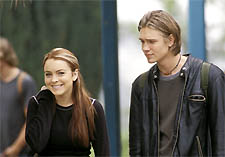 The ensuing Friday isn't just freaky — it's alarmingly hectic, with Tess in Anna's body grappling with vengeful teachers and the (polite and charming) advances of the school dreamboat Jake (Chad Michael Murray). Meanwhile, Anna is trapped in Tess' body, hopelessly coping with a stream of neurotic patients and the final touches for the weekend's wedding. Through it all, mother and daughter are taught a lesson that not only brings them closer to one another, but makes them better people to everyone whose lives they touch.
Freaky Friday
Starring Jamie Lee Curtis, Lindsay Lohan, Mark Harmon, and Harold Gould
Rated PG
96 minutes Advertisement

If it all sounds a bit sugary, well, it is. But thanks to a smart and genuinely funny screenplay by Heather Hach and Leslie Dixon and the two stunning lead performances, the sugar goes down without causing hyperglycemia.
The movie marks a comeback of sorts for Curtis, who hasn't been this uproarious since A Fish Called Wanda. She goes from an uptight control freak to a loose and limber teenager with startling finesse. The performance is light and airy and perfectly realized. Lohan is just as wonderful — and at times slightly funnier — as the transformed Anna, a prim and proper prig who is horrified to the extent that her daughter, whose favorite phrase is "Whatever, " seems willing to mess with her everything-has-its-proper-place persona.
The supporting cast is fine, if a little underutilized, though accolades go to Murray for his portrayal of a sweet-tempered teenage boy who finds himself inescapably drawn to the elder Ms. Coleman (not realizing, of course, that she's really Anna), and to Ryan Malgarini, comically appealing as Anna's torment-crazed younger brother.
Freaky Friday's an effervescent rush from start to finish. And if you harbor any doubts, I defy you to try and leave the theatre not grinning like an idiot.
I'm still smiling.