If you're insecure and scare easily, Hollywood isn't the town for you. That's the sobering message behind Gay Hollywood, a powerful new documentary from AMC that traces the lives of five gay men as they chase their dreams in Tinseltown.
Though the film is organized around sexual orientation — and the unique challenges of breaking through as an out gay man — the story is a universal one. Who doesn't dream big? Who doesn't get sidetracked? Who doesn't fear failure?
Through each of its five characters, Gay Hollywood reveals the hopes and heartaches of struggling artists everywhere. From getting that meeting with Spielberg to "I stopped reading your script on page ten," the documentary pulls no punches as it unmasks what it truly takes to survive in that town.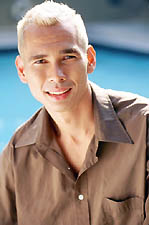 Allan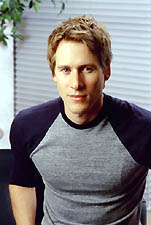 Lance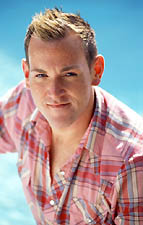 Micah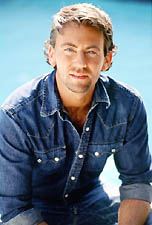 Morgan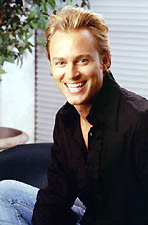 Robert
Tales of disappointment and frustration abound. Take the story of Morgan, the writer. Educated at Stanford and USC, he's got credentials and determination, turning out spec scripts for what seems like every sitcom under the sun. No one's impressed. An NBC producer actually tells him he's got promise, he just needs to work harder. "But I write every day," he exclaims in exasperation.
Then there's Robert, the handsome actor/model, who landed the cover of this month's Out. In one scene, he waits to hear back on whether he's been cast in Bravo's Queer Eye for the Straight Guy. As the hours drift by, the cameras relentlessly document his desperation. The call never comes.
Allan, the acclaimed director of Sundance favorite Rick & Steve, struggles to make art in the face of wretched poverty. He toils away in an apartment with no kitchen, reduced to washing his Tupperware in the bathtub. The only gig he can land is with a sleazy soft-core porn producer, who insists on "weenie shots." Well, at least it's not total porn, a depressed Allan tells us.
The sadness of Gay Hollywood is almost unbearable until good fortune comes to the rescue. Good news for the cast is good news for the viewers. Finally some hope! Lance, for example, thrills in landing a meeting with Holly Hunter, who's just read his script. And Micah, who performs as drag queen "Bridgette of Madison County," shines in his debut at Hollywood's famed Comedy Store, attracting the attention of a talent scout from NBC's Last Comic Standing.
The best parts of the film come when the five guys get together for roundtable chats that serve as the connective tissue holding the doc together. During these intimate conversations, the five toast their victories and heal their wounds.
Morgan, the oldest of the gang at 32, achieves a catharsis of sorts when he screens his thesis for the other four. Describing the project, he breaks down into tears. He's spent too many years writing what he thought others wanted him to write, not what he was supposed to be writing.
That's the hardest lesson, Micah tells us. He never wanted to do stand-up comedy. It's hard work, and it's easy to fail. But that's what it's all about: putting yourself out there and taking risks, he says.
If Gay Hollywood rankles at all, it's that most of the cast's big breaks seem connected somehow to NBC execs, producers or scribes. NBC, of course, owns AMC. A sign of Big Media synergy or happy coincidence? Who knows?
Whatever the link, Gay Hollywood is a triumph of documentary filmmaking. It not only captures the highs and lows of its five aspiring stars but does it in a way that elicits genuine sympathy from its audience. Director Jeremy Simmons (MTV's School's Out: The Life of a Gay High School in Texas) masterfully teases out the humanity of each of the film's subjects. Their talent is obvious. Their self-doubts are real. Their hunger is palpable.
Many will write about Gay Hollywood as just another gay summer TV show, lumping it in with the cotton candy of Queer Eye and Boy Meets Boy. It's a pity. I dare anyone to watch this film — gay or straight — and not see a little bit of his own inner-artist in these five courageous men.