Once upon a time (roughly two or three times a season), a very peculiar thing here in the real-world "Wonderland " happens: a theatre company comes along and presents a work of art that finally gets it right. Script, performance, direction, set, lighting, costumes, sound, everything melds together to create that elusive, magical experience that most companies strive for but rarely attain. With William Donnelly's exciting new Painted Alice, Theater Alliance has gotten it indubitably, incredibly, innately right.
Drawing upon the whimsical, odd characters of Lewis Carroll's well-known novel Alice in Wonderland, Donnelly's contemporary incarnation reinvents Alice as a moderately successful lesbian painter who has been commissioned by an uppity arts junkie to paint "something with lots of yellow. " Struggling between her work as an artist and her life with girlfriend Dinah, Alice begins to question her loyalty to painting a piece that she is not inspired to create and her lukewarm commitment in a relationship that she has inadvertently put on hold.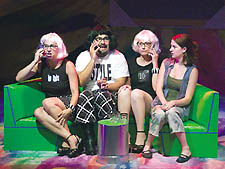 Supporting artists: Cooper-Gould,
Alvarado, Brown, and Coons
(Photo by Bruce Robey)
When one too many cataclysmic events happen in Alice's world, she escapes through her canvas to Wonderland, an eclectic universe of strange artists, critics, patrons, and other assorted creatures who make various claims about the responsibilities and liabilities of artists and their work. If only Alice can win the coveted commission from the famed, wealthy arts investor Grace (Donnelly's variation on the Queen of Hearts), then she will finally know that she has achieved success as an "artiste. " After all, she quips, "If I'm not getting paid, I'm not an artistÂ… not in any real sense. " Or is she? Her intriguing story is at once exceptionally entertaining and remarkably poignant.
One of several satisfying elements to Donnelly's inspired script is that you don't have to know anything about art to appreciate his pointed humor and searing insight into a very misconceived profession. Anyone who is interested in life can relate to Alice and her obsession to finish what she has been paid to do.
There's a delicate balance that exists between bringing a piece of theatre to life and overdoing it: give a production team heavy financial support and too many creative heads and the work can seem superficial, false, and generally overdone. For companies with sparse resources and limited funds the material suffers and is ultimately underserved. Director Jeremy Skidmore has skirted around walking that thin tightrope to present a beautiful, dynamic production that seems oblivious to theatrical convention and technical obstacles. Everything in Painted Alice is balanced to perfection.
What is truly the essence of this work of art are the spectacular performances from five actors — Mando Alvarado, Rena Cherry Brown, Kathleen Coons, Diane Cooper-Gould, and Jason Lott — who individually sparkle and collectively shine. While off on her own in Wonderland, Alice (a very tortured and tumultuous Coons) encounters several beasts that become "curiouser and curiouser. " Brown is deliciously obnoxious as a German art critic reminiscent of Carroll's chain-smoking caterpillar, and as other various wicked women throughout, asking of Alice, "Do you want to enjoy yourself, or do you want to be an artist? " Cooper-Gould is charming as Dinah but really lights up the stage with her vibrant energy and electric physical language (both figuratively and literally, as costume designer Kate Turner-Walker fashionably fuses her Cheshire Cat with a Christmas tree).
Cooper-Gould, Alvarado, and Lott also display impressive skills in a enormously funny scene as emotionally unstable artists in a support group meeting. Alvarado is fabulous as a bitter mermaid in one of Alice's "earlier works, " and Lott is at his best as a self-important security guard in an art gallery and as a lauded artist who moves out to the 'burbs to raise a family.
Painted Alice
Written by William Donnelly
Directed by Jeremy Skidmore
Presented by Theater Alliance
H Street Playhouse
1365 H Street NE WDC
Through 9/7
Tickets: $20-$25
1-800-494-8497
Like the swirls in a giant colorful lollipop, set designer Tony Cisek hurls us into a bright, tie-dyed Wonderland that keeps us guessing how we will return to reality, and with funky lighting from Dan Covey and a music soundtrack that spans from Dar Williams to Tracy Chapman and everywhere in between, Mark K. Anduss helps Alice through her adventures with a little melodic style.
While taking a long, hard stare at commercial success versus critical acclaim, Painted Alice remarks on a piece of artwork: "You can't judge something by where it came from, or who it came from, but by what it does to you. " In this case, the statement rings true: it is difficult to imagine a finer production than this artistic triumph offered by the Theater Alliance. No matter where it came from, it is simply one of the most organic and compelling pieces of theatre produced this year.