The Black Eyed Peas
Elephunk
A&M Records
Appearing Live: 8/25
MCI Center

There's only so much love to go around, obviously, and the group of playful hip-hoppers collectively known as Black-Eyed Peas is still looking for it in the mainstream — the group has been tagged alternative rappers for years now. After two albums that kept them a decided alternative to the thug attitude that dominates the rap field, the Los Angeles-based trio of Will.I.Am, Apl de Ap and Taboo reconfigured its sound and its composition, adding a female to the group's multiracial mix, Stacie "Fergie " Ferguson.
Not to worry, though. While more mainstream and accessible than Behind the Front and Bridging the Gap, their sound on Elephunk is still a very welcome alternative to the mainstream of today's hip-hop, and much of its pop, too. They've ratcheted up the live instrumentation and dabble in new, trendy styles of music, from dancehall to nu-metal to Latin pop.
A new album hasn't provided this much fun in a long time — the party is underway after the first eight-bar phrase on "Hands Up, " and rarely pauses for a break clear through to the last song — the group's best — "Where Is the Love. " Capped by a chorus from Justin Timberlake, the song also happens to be The Black Eyed Peas' first Top Ten hit. The let-there-be-peace-on-earth message on "Where Is The Love " is a tad trite, but the song is also achingly melodic and loaded with timely barbs. "There's a war going on but the reasons undercover, " Will.I.Am raps in his patented warble. Not every line succeeds, but then the Black-Eyed Peas have never stood out as models of witty wordplay. It's all about the delivery, with lively, supple rhyming.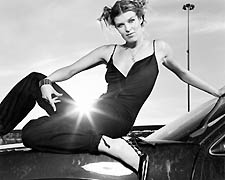 Moss
Last year the critically hyped British rapper The Streets didn't catch on in the American streets. This year, America gets another go of less-bombastic, alter-Anglo rap, but we probably won't go for Jessy Moss, either. Why? Like Mike "The Streets " Skinner, Moss is white. But she's no he and women in rap, though an increasing presence, are still rare. And there's the accent again, this time an Australian one.
It's all a shame, because Moss appeals even more to the ear with her dazzling delivery of both rapping and singing. She has a clear, charming singing voice that she plies in a transfixing manner more Billie Holliday than Macy Gray has ever come close to delivering.
Jessy Moss
Street Knuckles
Dreamworks
Appearing Live: 8/31
Merriweather Post Advertisement

Moss' Street Knuckles kicks off with a bluesy guitar riff that grows into a slow-burn hip-hop-pop song, "Build You Up, " warming the soul as Moss mumbles, then sings, then raps, then sings again. "Telling You Now " is what Moss calls a "murder ballad, " but the song kills the violent lyrical metaphors with its soothing melody, which ends as a nursery rhyme. Which, if you're in the right state of mind, could rock you right to sleep as if in your grandma's rocking chair.
And therein lies the trouble: Moss' mesmerizing music weighs down her lyrical and vocal dexterity. Several songs start off jarring or jerky — evoking hip-hop hits of the past few years — but too soon ease into what could contribute to the next sub-genre of hip-hop, adult contemporary. Nothing is particularly objectionable and while there is room for a hint of edginess in the lyrics and vocal delivery, syrupy, mid-tempo melodies, not raps, drive every song. Perhaps it's where LL Cool J will end up, as hip hop's earliest adherents gradually move into middle-adulthood. But that time is several years away at least. Moss should wait out her time to shine by working on livening up her music.