Imagine coming home from work to find couch pillows ripped open and strewn across the floor like candy wrappers on Halloween and your previously fashionable and functional shoes reduced to half-eaten food. Sitting in the midst of the mayhem is a culprit with big, cute eyes: Man's best friend as a one-dog wrecking crew.
That's the homecoming scene Joey McNair found when he adopted his mixed breed Labrador, Shaytoon. It wasn't a planned addition to his household: McNair had gone with a friend to the SPCA shelter when he happened across the lovable black dog.
"I saw him, and that was it," he says of his instant affection for Shaytoon. He adopted the animal without knowing his home would soon become a doggie destruction derby.
Destructive behavior can easily become a problem for dogs who spend their days alone at home, particularly those that are by nature rambunctious and outgoing.
"When a dog's energy has nowhere to go they become destructive or nasty," says Leslie McCormick, a nutrition counselor for Pet Essentials who's worked with pets for 35 years. She says that a dog's destructive energy can be a predictable result of bringing an outdoor animal into a confining urban setting.
"When you take a sporting breed or a dog who is bred to work in the fields, and you stick them in the city, it causes all kinds of issues," she says.
When an active dog has an active master — an owner whose long work hours can leave a canine companion alone for extended periods — the dog may have nothing to do but explore using his paws, tongue and teeth. And that's where the problems start.
You can try to avoid some problems by being choosy about the breed of dog you're considering moving into your home. "Psychologically, certain breeds are programmed certain ways," says McCormick. Some dogs are perfectly content when left alone with their surroundings — toy breeds such as Pugs and Chihuahuas may be fine alone in an apartment all day. But large herding dogs, such as Collies and German Shepherds, are bred to be active and need lots of exercise and time outdoors. And those behavioral characteristics are important considerations for choosing a dog or dealing with a dog's destructive behavior. Take some time to research different breeds to find out what issues may be important for making your home pooch-friendly.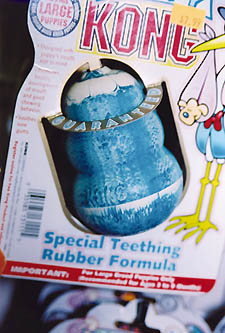 Some people want lively and energetic dogs, and find ways to keep their friends happy during the days. Raghu Bukkaptna was looking for an active dog when he recently adopted Genie from a Collie rescue group. To keep Genie active during the day at his Dupont Circle home Bukkaptna uses a rubber Kong toy, which has a hollow center that can be filled with food, sealed with peanut butter, and then frozen. Bukkaptna says it takes about three hours for Genie to finally get at the food inside the Kong, which is just enough time between their morning run and the time when dog walkers come in the afternoon.
Keeping your dog in fine company during the day can also stave off bad behavior.
"Dogs are pack animals," says Wendy Welch, a partner at Dogs by Day and Night daycare center. "They like to be with humans or other dogs." Day care, she says, keep dogs occupied, socialized and exercised. Welch says she has seen a number of once-destructive dogs improve with day care interaction, especially those who have been "rescued" from neglect, abuse or owners who could no longer care for them.
Brian Byle uses a variety of tactics to keep his Pug Elvis occupied during the day in his Dupont Circle home. Although mature Pugs are generally well-adjusted apartment dwellers, Byle says Elvis is still a puppy and has plenty of energy to burn.
Not yet ready to leave young Elvis home alone, Byle takes him to day care. When Elvis can't be in day care, Byle uses a crate to keep him out of trouble. "Crates are a great option, if not used for extreme amounts of time," he says. The crate doubles as Elvis' hiding spot from the two cats that also occupy the apartment.
McCormick says another helpful trick is leaving the television or radio on during the day. Although dogs don't actually see the same way humans do, they can hear the sounds. Shows on the Animal Planet cable channel can be especially helpful, she says.
For some dogs, it may not just be an overabundance of energy that drives destructive behavior. Dr. Ann Stohlman, veterinary associate at Dupont Veterinary Clinic, says some destructive dogs may be experiencing separation anxiety from their owners. In addition to destructive behavior, signs of separation anxiety can include uncontrolled urinating, vomiting and defecating.
  If a dog habitually exhibits these behaviors Stohlman recommends talking with a vet. In less severe cases Stohlman suggests making your comings and goings less of an event by leaving home at random times and for varying lengths of time. In severe cases of separation anxiety she recommends a veterinary behaviorist. For such cases, treatment can take the form of behavior modification classes, and possibly a prescription for Clomicalm, a drug used in conjunction with the classes.
McNair found his answer to Shaytoon's behavior in the form of an apple-bitter spray he found at the pet store. The spray, when used on items a dog is prone to chewing, leaves an unpleasant but harmless taste in the dog's mouth. Shaytoon stopped chewing on the rug and other items, McNair says, and stuck to his toys.
While keeping a high-energy dog in the confining spaces of the urban environment may present some obstacles, meeting the challenges can actually strengthen the bond between owner and pet. McNair, who moved to D.C. from the more spacious environs of Dallas, says urban life has been a boon for him and Shaytoon.
 "I spend more time with him now, walking him and playing with him, than I ever did when I had a big house and backyard."