We've come a long way since the day Dr. Zachary Smith got lost in space. Or when Jodie Dallas came out to his family on Soap. Or when Roseanne found herself in a liplock with Mariel Hemingway.
These days, it seems you can't change the channel without tripping over gay: gay news, gay features, gay reality, gay makeovers. British papers snark about America's Gay Summer, from the overturning of sodomy laws to the election of gay bishops, all covered on the country's real best friend: the television.
And it has been one big, gay summer. Right now the airwaves seem saturated with Queer Eye for the Straight Guy, a lark of a show that seems to turn all but the most hard-hearted into fans. The Amazing Race has straight viewers enthusiastically cheering for a gay married couple. Heck, even Boy Meets Boy has its defenders.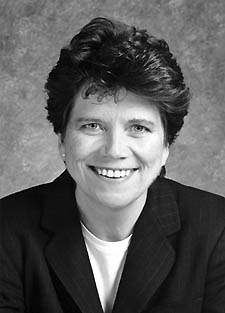 Joan M. Garry
All in all, it's a busy time for those who spend their days watching and critiquing television and its coverage and inclusion of gay and lesbian people. Joan M. Garry is one of those people. As the executive director of the Gay and Lesbian Alliance Against Defamation, Garry has, since 1997, worked towards making the airwaves a more inclusive, visible place for the GLBT community.
Under Garry's watch, GLAAD has grown into a force to be reckoned with, now featuring not only an L.A.-based entertainment division, but a New York-based news media division. Garry, who will be in Washington on Thursday, September 4 for a GLAAD End of Summer party designed to help raise funds for the organization, took a half hour out of her busy schedule to discuss the current television crop.
METRO WEEKLY: There's a huge influx of gay characters, gay content, gay people included in both reality and fiction-based television programming right now. Why the sudden deluge?
JOAN M. GARRY: What you're seeing is tons of media coverage around a group of characters and representation. I mean, if you look just at the news coverage of Queer Eye for the Straight Guy alone, you'd be convinced that there weren't any straight people on television. Both Queer Eye and Boy Meets Boy have seen an enormous amount of publicity. And I don't think you can take the publicity that you've seen around those and separate them out from the context of what's going on in the media around gay issues at the moment. This has been the summer of the gay news story.
When you have a decision of the size, magnitude and scope of Lawrence v. Texas and it comes right on the heels of a decision [regarding gay marriage] in Canada, that's huge news — it's like throwing a boulder in the pond instead of just a pebble. And it brings a lot of gay issues on to the front burner for journalist. You then combine that with a breakout hit like Queer Eye, and there's just an enormous amount of buzz.
Having said that, I would also say you are seeing the cumulative impact of a community's advocacy and its increased visibility. I've been asked a lot of times recently "Why is everything hitting all at once?" and while some of it is coincidental, you're also looking at a kind of cumulative effect. I think our community's visibility is a rolling stone that's gathering moss.
MW: It's interesting that Queer Eye has captured the straight and gay public's fancy in such a huge way.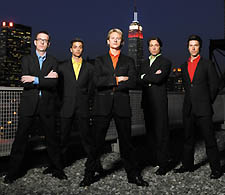 Queer Eye's Fab Five
GARRY: If one follows the entertainment business, you'll see a cycle occur where a show completely breaks out and captures the imagination of the American population. Queer Eye is one of those shows.
MW: Some people have denounced Queer Eye as stereotypical and demeaning to gays. I don't think it's a particularly negative portrayal. What's your take?
GARRY: There are a couple of things that are important to think about. One is that these are not fictional characters — these are actually real people, with real expertise. I have some issues about representations overall, but I think Queer Eye is fun and entertaining. And I don't think the stereotypes hurt here.
I think there is a stereotype that hurts, however, and that's the overwhelming number of affluent gay men we're seeing. I think that stereotype is a challenge for our community for several reasons. One is that our community is richly diverse, and film, entertainment and the news have really not reflected that in their words or their images. We are diverse ethnically, we are diverse socio-economically. I think it's important for society to understand that we are all of those things.
MW: Wouldn't you agree, though, that it's just a matter of time before the diversity factor kicks in and evens things out?
GARRY: Frankly, I don't believe that anything with regard to civil rights is just simply a matter of time. I think that concerted efforts in lobbying advocacy become a critical component of whether you get where you need to go. It wasn't simply a matter of time before there were gay characters on television. I think that was a result of a collective effort [of advocacy groups].
There's an awful lot of misunderstanding about who our community is. And I think that it requires education on the part of all the different advocacy groups. [GLAAD] is particularly focused on the media. We sit with producers all the time and say "Okay, where's the elderly couple that's gay?" There are gay seniors all across America not reflected on television. "Where is the working class lesbian couple?" Hello? If you're not pushing it, it doesn't happen.
I can also tell you that this is one of the pieces of GLAAD's work as new formats and genres of programming — like reality programming — find their way into pop culture. Early on, we met with the folks at Big Brother and The Amazing Race and Survivor and said, "If you're going to get into the reality television business, the reality is that there are gay people everywhere and you have a responsibility to be inclusive."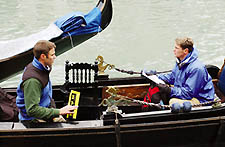 Chip and Reichen
MW: A few weeks ago, we did an interview with Topher, a gay waiter on The Restaurant. What occurred to me was that even though he was a little on the flamboyant side, not much issue was made about his being gay. He simply existed within the context of life on the show. The same thing is true of Chip and Reichen from The Amazing Race — but in this case, there is a constant reminder to us that they are a "married" couple.
GARRY: I think both kinds of representations are important. When I first took this job at GLAAD, The Advocate asked me if I could reference a film that had gay content that I thought was kind of strong. Much to their surprise, the film that I selected was Mrs. Doubtfire. And I selected Mrs. Doubtfire because the main character's brother — played by Harvey Fierstein — was in a long-term relationship [with a man] and the kids in that film referred to him as Aunt Frank. Every pimply kid in America saw that movie. And there wasn't any big deal made — Harvey Fierstein just happened to be the gay brother of Robin Williams. I think that can be very powerful. But it's not an "either-or" for me, because I think that there is a need for there to be a three-dimensional look at who gay people are.
MW: Do you regularly watch any of the recent gay programming?
GARRY: I've seen Queer Eye, Boy Meets BoyÂ…
MW: What's your take on Boy Meets Boy?
GARRY: We were initially concerned about the twist. But I have to tell you, I've come around on that show. The straight guys who are getting kicked off have very enlightening things to say that are pretty powerful.
MW: You seem to be in the minority on that show. I haven't talked to many people who have liked it.
GARRY: If I talked to a hundred gay and lesbian people and asked them to weigh in on Boy Meets Boy, there would be some mixed reaction. And I don't think there's anything wrong with that. The discussion is as valuable as anything else, to get people to talk about it, to argue about it.
For me there's a disconnect as I absorb all there is to absorb on GLBT issues in the media this summer. I open up a newspaper and I see a feature piece on the Fab Five from Queer Eye. I turn two more pages and I read a statement from the Vatican that says that gay adoption would actually mean violence to children. And I'm really struck by the vast disconnect between those two tings.
I watched this episode of Queer Eye where the guy proposes to his girlfriend. And I'm watching the Fab Five sit in their living room watching him propose and I realize that these guys have coached this guy to successfully propose marriage — a right and a protection that none of those five men enjoy for themselves. It's just unbelievable. The Pope, Bush, Canada, Lawrence v. Texas, Queer Eye — it's just this enormous pot on the stove that's bubbling like crazy.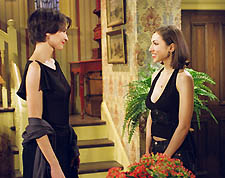 All My Children
MW: Let me ask you about All My Children. The daytime show instigated a storyline involving a lesbian character — Bianca Montgomery — and the subsequent rape of that character. The day the episode aired, an action alert was sent out by GLAAD voicing their concern over the rape storyline. Two days later GLAAD sends out another release with a qualified reversal of its position, claming the storyline shows "the reality and harshness of lesbian rape." Why the sudden reversal?
GARRY: I think we had some concerns about [the storyline]. I think that the broader context of the [daytime television] genre kind of needs to be taken into account. And I think it sort of points a little bit to what I was saying earlier — as there are more representations, there are more nuances to them. I think we have to take closer looks at things.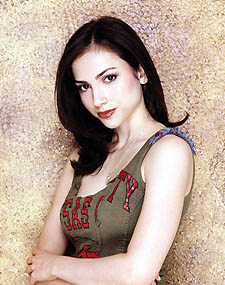 Eden Riegel as Bianca Montgomery
MW: You haven't answered the question, though: why the sudden reversal? The second press release reads "All My Children begins to examine reality of rape experience for lesbians," and contains a quote from Rachel Baum, associate director of the National Coalition of Anti-Violence Programs, that reads "So far ABC and All My Children are getting a lot of things right. Men who rape lesbians not only engage in gender based acts of violence, but in acts of hate violence." It's a very positively framed press release, whereas the one that came out two days prior was not.
GARRY: The short answer to your question is that I think the first press release was a little premature. As the storyline began to unfold, it started to feel different [than what was expected].
MW: Okay, so then what's the process that GLAAD uses in selecting what to criticize? What raises your organization's red flags?
GARRY: There's a whole host of input we receive about things as we hear about them, as we see them in script form, as we see them in pilots. We have a strong team of program folks who represent different regions around the country, different communities. We get an awful lot of stuff that comes across the transom via our website raising concerns. And we did get quite a number of concerns coming over email, particularly about All My Children. So it's basically community feedback, as well as some of our own observations and perceptions. Combine that with conversations that we have with folks that are actually producing the images and we really try to work our way thought those different opinions and shape a position we think makes sense.
MW: One of the arguments for gay inclusion in television is that we're part of the American culture fabric and that we should be reflected. If an evil gay character becomes a prominent figure in a show, either as a one-time or recurring character, do you feel that you can allow he or she to exist without feeling as though it's derogatory representation?
GARRY: Before I joined GLAAD in 1997, the board approved a change to our mission statement, moving us away from working to promote positive portrayals of the GLBT community in the media. Our mission statement is now about fair, accurate and inclusive representation. Clear difference. There are good and bad people in this world — gay or straight, bi or trans, and it is about painting an accurate picture and a fair picture of who we are as a community and that's what we focus on.
When GLAAD first started in 1985, the visibility gays had was severely limited. And if there was visibility about our community, we were positioned as criminals and as sick people — that's the only picture America had of who we are. That has absolutely changed. I have on my desk here a 1969 CBS special called The Homosexuals, and anybody who's old enough to have seen it will never forget it. It was an undercover investigation of gay people in the 1960s and there are literally interviews with men — only men — who literally stand behind potted plants. So we were either invisible or criminals. So at the beginning, for GLAAD to focus on positive portrayals totally made sense. But there is now an increased number of images and it is more of a priority to show a fair and accurate picture.
MW: What makes a good gay character to you?
GARRY: To me, it's about dimensions. For me, a great representation of a gay character is somebody who I get to know three dimensionally. I know about their friends, I know about their work, maybe I know about their interaction with their family. Maybe I know that they are three dimensional in terms of their ability to date and have relationships. So the short answer to your question is that a good character is three dimensional to me.
MW: GLAAD involvement sometimes stokes public interest in a TV show or movie that might otherwise bomb, and indirectly helps it become a hit. Basic Instinct comes to mind.
GARRY: We talk about that a lot here. You could talk about a whole host of issues that we have put into the public eye pretty successfully. And whether or not it drives more eyeballs to see it, I feel like GLAAD has a responsibility to raise the issue. That's why we're here. I feel like the responsibility to raise the issue is what's really paramount.
We're also here to promote discussion and debate. When I think about the work we did raising concerns about Dr. Laura, one of the ancillary benefits of that campaign was the very public conversation that people were having about issues of homophobia. And the level of discussion was raised in a big way. So I feel like part of our responsibility is to get people talking. It's about visibility. I'm totally convinced that visibility starts conversation, which leads to a better understanding, which drives acceptance. That's the equation that gets me into the office every morning and gets me thinking about all the issues.
But as we talk about gays on television, we can't lose sight of what this is all in the service of — really getting all of our stories told so that people have an understanding that we are indeed second class citizens, that we do not enjoy the same rights and protections as the straight guys we make over or as the straight guys who get voted off Boy Meets Boy. It's really important for us not to lose sight of that, to take the opportunity of this visibility and to not miss it.
GLAAD's End of Summer Party, an "ultra-hip evening of music, cocktails and hors d'oeuvres under the stars," will be held on Thursday, September 4, at the Poste Moderne Brasserie, 555 8th Street NW. Tickets start $75 with proceeds benefiting GLAAD. Visit www.glaad.org/events for more information.