It's safe to assume that Suzan-Lori Parks is obsessed with Abraham Lincoln. Not only did she examine his assassination in various colors in 1993's The America Play, but now she reintroduces us to a black man pretending to be Lincoln in a tourists' arcade game in her 2002 Pulitzer Prize-winning Topdog/Underdog. The question is not whether Parks is deserving of the accolade, for certainly she has proven her skills as a formidable playwright and licensed purveyor of dramatic language, but the question is whether or not Topdog/Underdog is worthy of the title.
Everything in Parks' script exists on two levels: the palpable and the metaphorical. The lines are never clearly defined and the result is often a blurred synergy of a self-fulfilling tale of two brothers and their factual historical counterparts.
Booth (Jahi Kearse) and Lincoln (Thomas W. Jones II) are two down-on-their-luck brothers living together in a cramped one-room apartment. A former three card monte dealer and professional hustler, Lincoln has moved in with his younger sibling after a collapsed marriage and the death of his venerated "stickman. " Now he "don't touch the cards no more. " Instead he works in a bizarre arcade game as a stand-in for Honest Abe on the night of his assassination. As if things couldn't get any more twisted, the job requires Lincoln to wear white face paint and don the beard, long tailcoat, and the trademark stovepipe hat. "I'm a brother playing Lincoln, " he tells Booth. The tale only grows weirder from there. Booth desperately wants a crack at the old card tricks so that he and Lincoln can make money in the game, but Lincoln cannot be dissuaded. Or can he? The tension mounts as fraternal bonds and family memories are examined and put to the ultimate test.
Topdog/Underdog
Studio Theatre
1333 P Street
202-332-3300
Through 10/19
$25 to $45
Even in director Joy Zinoman's expert hands, Topdog/Underdog feels painfully slow at times. While Kearse and Jones consistently ignite the stage with hot bursts of powerful drama and subdued fury, the story itself is only mildly effective at best. Parks' simple translation of her enormously symbolic characters doesn't seem like Pulitzer material on the surface, but Parks' past literary contributions and her perennial fascination with Lincoln may justify the award. "This is a subterranean thing I keep dipping into, that I don't get to solve, " she writes in the program notes. "It keeps pulling me into it. It's like Lincoln created an opening with that hole in his head. We've all passed through it into now, you know, like the eye of a needle. Everything that happens, from 1865 to today, has to pass through that wound. "
---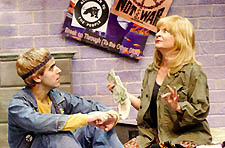 Mineola Twins
Another pair of siblings suffering from fierce competition are sisters Myra & Myrna in Paula Vogel's The Mineola Twins. Vogel has penned the delirious story of two wacky women who grew up together in the small Long Island community of Mineola, but have moved on to reside on opposite ends of the political spectrum. Myra is the flat-chested, left-wing, free-spirited, liberal lesbian sister who now manages an abortion clinic, while her full-bosomed, repressed, conservative "identical " twin Myrna condemns callers on her right-wing radio talk-show (think Barbara Bush in her prime).
Under Darryl V. Jones' slapstick direction, The Mineola Twins feels like a comic spoof of human proportions. While tackling popular ideology from the Eisenhower era to the reign of the first President Bush, Vogel masks her tale of sibling revelry with salient political humor and brave commentary on superficial ties that bind families together and the rifts that tear them apart. At heart, it's really not the pseudo-political satire that it pretends to be, but rather a quasi-tender tribute to twins and how they make peace with one another, living their individual lives as two separate forces in a world where individuality supposedly means everything.
The Mineola Twins
Goldman Theatre
1529 16th St. NW
800-494-8497
Through 10/5
$24 to $39
Sarah Marshall is comically stunning as both Myra and Myrna. She makes a gargantuan effort to make the endless stream of costume shifts appear seamless between the two genetically-intertwined and radically-opposed twins and succeeds marvelously. As both of the twins' male and female lovers, MaryBeth Wise is deftly convincing, and director Jones gives "Agents " Eduardo Placer and Erika Rose plenty to do between scenes, including visually-satisfying choreography to David McKeever's decade-defining songs and sounds.
---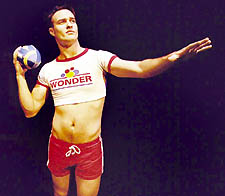 Worm Girl
Speaking of creative music choices, Cherry Red's Resident Sound Designer Lucas Zarwell rarely disappoints. His latest audio score to Andrea Thorne's Worm Girl contains just the right blend of punk rock and toxic tunes (such as "The Scratch " from 7 Year Bitch). Where, oh where would Cherry Red be without Zarwell's dead-on instinct for creating soundtracks so perfectly apropos for the only theatre company in D.C. "dedicated to Jesus? "
Worm Girl is the slippery story of one girl who is, you guessed it, half-worm, half-girl. How Worm Girl (Monique LaForce) came to exist is only one of the many engaging scenes in Thorne's bittersweet tale of those cruel teenage years. Worm Girl just wants to fit in, but her so-called "cool " friends Straci, Spaci, and Lacey want nothing to do with her. Straci (Kate Debelack in a killer green wig) is more interested in wrangling in the football-team stud Derek (David Guess) than paying attention to the unfaltering worship of her annelid devotee. In a series of witty scenes that span the globe from the Pakistan Winter Olympics (yes, Worm Girl doubles as a luge) to the Prom, the evil and demented Straci tries everything in her power to bump off our blissfully naïve worm friend.
Worm Girl
Cherry Red
1835 14th St. NW
Fri. & Sat. @ 11 p.m.
$15
Anton Dudley directs LaForce with a clueless persona reminiscent of SNL's infamous skit "The Girl with No Gaydar, " and Guess is positively prim as the tight end who gleefully proclaims, "Interspecies relationships are hot! " If worm defecation and exaltation doesn't convince you to see it for yourself, then maybe the "worm-on-girl action " will.
Forget Cherry Red's reputation as smut-centered and crude. Suddenly there's a soft spot in its innermost pits. Worm Girl is a light and frolicking romp through the adventures of one girl's desire to love and be loved. Sure, the story itself may have just about as much substance as a worm, but its optimistic "love conquers all " attitude is infectious. And that just may be the point. As all of the characters happily sing, "There's a little bit of worm in all of us. "