Raven's Rage, Wine Tasting, maybe Hot Amber? In the world of wall paint "Red" simply doesn't describe a whole lot. With paint for every shade you can imagine, the task of choosing the right color for a room can be a challenging process resulting in mismatched colors, a spotty application, or even worse: an unaddressed wall.
Kristan Cunningham, host and lead designer for the HGTV program Design on a Dime, says, "Paint is the easiest, most inexpensive, and most effective way to change the ambiance of a room." A room should be a reflection of the person living there, she notes, whether that color is an energetic green, a calming blue, or even an earthy brown.
Although paint chips are a great place to start the process of choosing a color, Cunningham says they are often misused. A general rule of thumb when choosing a color is taking the paint chip and holding it at a vertical angle against the wall. "The chip will actually get three shades darker," she says. And since the walls in room are viewed at many angles, the paint chip should be too.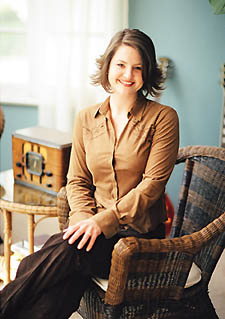 Kristan Cunningham
Cunningham also suggests putting the paint chips on the walls in a room to see how they react to daylight, afternoon light, and evening light." All colors pick up different hues based on the [light]."
After the color is selected the finish of the paint is next. "Typically you would never do anything but flat," she says, "unless you're going for a Venetian plaster look." A flat finish is the truest representation of a paint chip because a semi-gloss will make the paint appear darker. Cunningham says an eggshell finish is great compromise between a gloss and a flat finish. "[The eggshell] has a minimum sheen and can easily be cleaned with simple wiping."
Cunningham says using a higher-end paint, which is generally a couple dollars more per gallon, is well worth the money. "Break down and spend the extra eight dollars," she says, noting that premium paint will provide better coverage, save time in the application process, and have a longer life than generic paints.
In terms of installation, Cunningham says do the trim work first: "Any time you roll and then go back over the trim you're going to see overlap brush strokes." Cunningham also says to give a good four inches of trim so the roller doesn't hit the ceiling. Most importantly, she says, "Keep the roller full. There really is a difference, and you can tell the areas [not covered] after one coat of paint."
If a flat paint is being applied to a surface with a semi-gloss finish she suggests going over the wall in general sweeps with fine grain sand paper in order to loosen up the wall.
Once the paint has been applied, Cunningham says the trim will determine how bold or soft a wall looks.
"Your ceiling and all that trim work in a warm white will help tone down anything you put on the walls and give it a higher level of sophistication," she says. In order to get the best match of white, take 15 white chips and lay them on the table to see just how much green or pink or blue is in them. "It's only in seeing them in contrast with others that you see what the tones underneath are."
For those set on keeping the walls white, Cunningham says it should be about "addressing big areas in a really strong way." She says it's easy enough to do with frames or floating shelves. "Take a long empty wall, put up three floating shelves, be creative by staggering them or varying the height." White walls can still look beautiful as long as they are addressed. "If you're not going to paint, put up some art for goodness sake," she says.
Whether the walls are a snowy white or bold orange Cunningham says it all comes down to expressing a personality. "You never want people to walk in and feel that you just didn't care enough to take the time to make a representation of who you are."