Say you lock a gaggle of college freshmen in a dorm room, supply them with generous amounts of alcohol and tape the madness that ensues. You'd probably get the "real freshmen experience," right? Well, that's the general idea behind Showtime's new documentary series Freshman Diaries.
Overly dramatic, delightfully self-conscious, painfully self-absorbed, the series follows the trials of 12 college freshmen as they embark on their adult lives at the University of Texas in Austin. Filmed between September 2002 and May 2003, the documentary strives for authenticity, relying on skeletal crews of just two or three people to tape the students. And much of the footage was shot by the kids themselves.
Freshman Diaries comes to us from R.J. Cutler, the multi-talented and energetic producer who made the marvelous documentary American High about a group of Chicago high school seniors. Stupidly canceled by Fox, the show was given second life on PBS, where exactly 14 people watched it.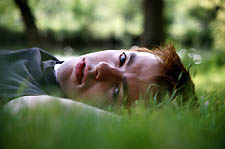 Neil
Having done the high school thing, Cutler moves onto college. Once again, the show is brilliantly cast. The kids are bright, articulate and endlessly fascinating as they study, play and generally live out their lives in that strange way college freshmen do (mostly by gaining weight). Not quite adults — but not children either — they say the most brilliant things and display the most hideous judgment. Often at the same time. They whine, they annoy, they bother you. But, oh, the glimmers of hope.
There's Neil, the young man from the conservative Texas family, who throws off the shackles of self-hatred and embraces his homosexuality, but then whimpers to the camera about his crush on Hannah, his cool chick friend. There's Nicole, the uptight Miss Priss, who's never been kissed and moans about wanting to start her life. Clearly, she takes this to mean going to a party, downing 27 shots of vodka and making out with the first sweaty boy who's lucky enough to paw her booty.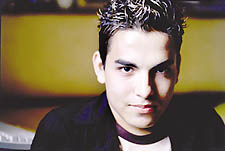 Luis
Then there's Luis — fabulous, funny, outspoken Luis. Am I too gay? he wonders. His hair, his mannerisms, his clothes. The worst thing that's ever happened to him is a bad haircut. It's downright excruciating to listen to the dialogue Luis and Neil share as they realize their budding romance.
"I thought you didn't like me!" screams Luis.
"I thought you didn't like me!" screams Neil.
"You like me!" screams Luis.
"You like me!" screams Neil.
Oh my God, Becca, get me the gun NOW!
There are better moments in Freshman Diaries of course. Just when you think you've had enough of the drama-fueled bellyache from some 18-year-old whining about "love" to her Tori Amos CD and Thelma and Louise poster, her humanity comes shining through. Take Casey, the frustrated singer and actress, who's forced into a computer science major by her domineering father. "Don't you want me to be happy?" she demands of her dad, who responds with an exasperating, "No." Used to straight A's in high school, Casey struggles to make sense of her D average and academic misery.
Freshman Diaries
Showtime
Sundays, 11 p.m. (Episode 1 repeats 9/4 at 10 p.m.)
Kyle, the popular party guy in high school, despairs over the breakup of his once tight teenaged friendships. Forced to go it alone, he learns to make new friends and forge relationships more meaningful than a shared beer bong.
There are moments in Freshman Diaries that will make adult audiences cringe ("God, did I really act like that? "). Who won't recognize the drunken truth-or-dare games that yielded those first — and last — lesbian kisses? Or those stolen glances at your straight roommate's butt? Or the Saturday night vomit sessions in the dorm bathroom?
But Freshman Diaries also recalls the sheer joy and excitement of discovering who you really are. Ultimately, that's what will endear audiences to these kids and to the show.