In the liner notes to Erykah Badu's ambitious if perplexing EP Underground Worldwide, she writes that several tunes were inspired by her "Frustrated Artist Tour of 2003. " Seems as though the neo-soul high priestess has had enough of the blinged-out, "make it hot " nonsense of much of mainstream R&B and hip-hop. But as sonically riveting as Underground Worldwide is, she really doesn't offer a completely compelling antidote.
From the first cursory listening it appears as though Badu took cues from her bohemian hip-hop paramour, Common, who last year concocted the equally elaborate and eyebrow-raising Electric Circus. Both CDs come out of the eminent Soulaquarian vibe with Underground Worldwide introducing Badu's production team, Freakquency, which consists of Badu, James Poyser, Rashad "Ringo " Smith, and RC Williams. Together, they've constructed bewitching soundscapes filled with warm keyboard and ARP-strings riffs and chords, thick hip-hop beats, and Black Power-inspired congas — all sprinkled with evocative electronica stardust. Indeed, their futuristic look at '70s R&B seduces remarkably, transforming Underground Worldwide into one of the most ingeniously produced R&B CDs of the year.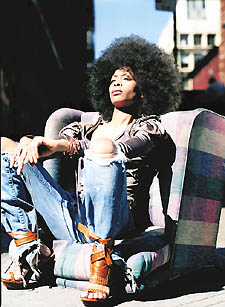 Badu
Problem is that Badu and company take such a cavalier approach to studio experimentation that it seems as if they're willfully trying the patience of their fans. Such is the case with "Bump, " which clocks over eight minutes — five of which are damn near disposable with Badu, Zap Mama, and Caron Wheeler self-indulging in aimless caterwauls that go nowhere. During the transition between "Back in the Day " and "I Want You, " she takes nearly four minutes for the latter song to actually kick in as she tweaks the syllable of the last word from the former cut and transforms it into a descending onomatopoetic halt, which mutates into a cardiac backbeat, only to crest, slowly, into a mid-tempo song that hardly makes the litmus test worthwhile.
The studio razzle-dazzle is so formidable that oftentimes Badu has to compete with her own sonic environments. She's never had a particular strong voice, but rather one that entices with its purring timbre and flexibility. In the past, she had mostly compensated for her voice deficiencies with quirky, thought-provoking lyrics. Here, her idiosyncratic lines often get buried in the mix. "Push up the fader/Bust the meter/Shake the tweeter, " from "Bump " comes out sounding like "Who shot the fabler?/Bus a meter/something another. " Then, there are the just plain sophomoric lyrics like the ones that mar the otherwise marvelous, "Back in the Day, " her ode to the '70s, when urban radio was more far-reaching. Instead of waxing an insightful critique, she sings "Back in the day when things were cool/All we needed was bap ba ba ba ba da… " It's a good hook, but that's about it.
Erykah Badu
Worldwide Underground
Motown

Worldwide Underground is not a complete disaster. When Badu writes verses to match the sonic innovations, the results are brilliant. On the blazing lead single, "Danger, " she picks up the emotionally complex theme from "The Other Side of the Game " where she sang of the heartaches of loving of crime-proned hustler. In fact, she's upped the ante with this harrowing tale of bleak urban reality — this time, with her man incarcerated, leaving the femme fatale and child with a box full of money underneath the bed to await, frantically, for his return. Ready to run at a moments notice, she sings "Gotta keep the clip in mama's gun or runÂ…we like to keep the car runnin'/We try to keep the bitch hummin' in case the 'sweeper boyz' comin' runnin' " passionately, without any of the cartoonist attitude that Macy Gray infused her similar Bonnie & Clyde ballad, "I've Committed Murder. " Hip-hop duo the Dead Prez gives Badu's "The Grind " its "by any means necessary " survival angst with verses such as "'nother day, 'nother day/'nother dollar is spent/Gotta make a revolution out of fifteen cent " while simultaneously reducing Badu's role to background singer.
The best moments of Worldwide Underground don't all come from the socially-conscious material. On the tour de force "Love of My Life Worldwide, " Badu pulls Queen Latifah out of MC retirement and enlists ace rapper Bahamadia and Angie Stone on a rousing makeover of Sequence's early'80s hip-hop classic, "We're Gonna Funk You Right Up " that's destined to become a "bluelights in the basement " anthem. And although, lyrically underdone, Badu's sensuous take on Donald Byrd's jazz-funk classic "Think Twice " titillates with her billowy voice and Roy Hargrove's too-brief trumpet solo.
Had Badu channeled her artistic frustrations into her songwriting as much as she did her studio ingenuity, Worldwide Underground would have made an admirable follow-up to the superior, Mama's Gun. Instead, it shows less signs of artistic growth than growing pains.