"Are you a Mexi-CAN or a Mexi-CAN'T? " a blue-spectacled, quirky fellow named Sands (Johnny Depp) asks a hired henchman near the start of Once Upon a Time in Mexico, Robert Rodriguez's fabulously over-the-top follow-up to 1995's Desperado (itself a remake of the director's 1992 Spanish-language El Mariachi). It's exactly this kind of loopy dialogue — coupled with a few stylish, improbable action stunts and a squall of bullets that never seem to hit the good guys — which makes Mexico such a blood rush to the head. If ever a film could be classified as "Certifiably Loco, " this one's it.
Once Upon a Time in Mexico marks the return of Rodriguez into the world of grown-up filmmaking (he's spent the past three years in Spy Kids land, the latest barely worth the trip). And he takes to the material with unbridled gusto. Maybe a little too unbridled. Mexico, for all its blazing spirit, is too narratively convoluted; the sailing feels choppy when it could be smoother.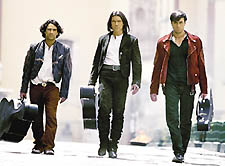 Three Amigos: Leonardo,
Banderas, Iglesias.
The basic story involves El Mariachi's quest for vengeance (related to a profound personal tragedy) while preventing a military coup of Mexico backed by a powerful drug cartel. Rodriguez has turned El Mariachi, played with broody brilliance and cocksure confidence by Antonio Banderas, into a Spanish-speaking superhero, an invulnerable quick-as-a-whip sharp-shooter whose legend has supplied him with extraordinary powers. El Mariachi is as nimble as Spiderman and as stealthy as James Bond. And he's a maestro on the classical guitar to boot.
Mariachi's most important role, however, is as a living metaphor for the glory, the tradition, the honor of Mexico. Along with bandmates Lorenzo (pop star Enrique Iglesias, who can't act worth a damn but is, arguably, the prettiest sight in the film) and the hard-drinking Fideo (Marco Leonardi), Mariachi cleans the blot of corruption that stains his treasured land.
The true beneath-the-gunfire-surface beauty of Once Upon a Time in Mexico lies in how masterfully (and subtly) Rodriguez weaves threads of Mexican culture into the mise en scene. Diehard fans may come for the wild shoot-em-ups (complete with radio controlled exploding guitar cases), but those who dig a little deeper will unearth a tribute to the heritage and culture of our southern neighbor.
Banderas keeps things on a minimal level — Mariachi is a man of scant words, lush, lovely music and bullets galore. Salma Hayek reprises her role from Desperado as Mariachi's love interest, and, in the film's most exhilarating sequence, shares with him an astounding escape that has to be seen to be believed. The cast is fleshed out by Cheech Marin, Mickey Rourke, Danny Trejo and Willem Dafoe, all of whom take their roles seriously — but not too seriously to forgo any lasting camp value.
Once Upon a Time in Mexico
Directed by
Robert Rodriguez
Rated R
110 Minutes

There are a couple of standouts. Ruben Blades, as a disenfranchised FBI agent, gives a performance of quiet, mournful gravity that is tempered with a trace of childlike buoyancy. And Depp, fresh from his eyeliner-sporting Captain Jack in Pirates of the Caribbean, is a scene-stealing joy as a man intent on maintaining the country's "balance, " and who will kill a few innocent chefs to prove his point.
As its title suggests, Once Upon a Time in Mexico is a fable. And like all fables it has a moral: When preventing a coup d'etat make sure you bring enough bullets — and a guy named El Mariachi.
---
Cabin Fever generated a lot of buzz at Sundance. As well it should have. This debut feature from writer-director Eli Roth is an undeniably entertaining foray into the woods. Of course, it's also a pretty gruesome trip, seeing that five college grads on a celebratory camping trip are confronted by a virulent flesh-eating virus that has them scrambling to remain uninfected.
Clearly a movie lover, Roth plucks references from such classics as Night of the Living Dead and Friday the 13th to Deliverance and Two Thousand Maniacs. But for its abundant ick-factor, Cabin Fever never amounts to much in the fear department. It's not scary. Not in the least.
Cabin Fever
Directed by
Eli Roth
Rated R
91 Minutes

It is, however, unnerving. We wait with queasy dread to see just how far the virus will devour its victims (the results ain't pretty) — and there is much nauseating spewing of infected blood. But as its plot movies forward, Roth inserts too much off-beat comedy, to the point where one ancillary character chokes to death on a harmonica.
As Cabin Fever takes itself less and less seriously, it undermines any significant impact it might have had on the horror genre. Roth seems more interested in creating a nicely-filmed tribute to his favorite films rather that use his apparent talent to create something original and different. Basically, he seems perfectly content with merely grossing us out.