American Splendor is a stunning achievement, a work of such magnificent ingenuity and so abundantly rich with heart and soul, that it is impossible not to be caught up in its near-giddy celebration of its principle subject, Harvey Pekar, author of the over 25-year-old "American Splendor " underground comic book series.
Directed by Sharie Springer Berman and Robert Pulcini, the movie is based on the comics, which are in turn based on Pekar's life, and the result is an innovative, compelling, often daring fusing of reality and dramatization. It's not a minor masterpiece — it's a major masterpiece, a significant addition to a small handful of independently produced films that, every so often, depart sharply from the Hollywood blockbuster muck and help us shape our vision of the world and the people living within it.
You may recall the Cleveland-dwelling Pekar from his appearances in the '80s on Late Night with David Letterman, where his sour, irascible personality was popular with audiences and proved a great foil for the gap-toothed host's patented brand of condescending humor. Pekar was nothing more than a ten-minute gag to Letterman (and Pekar realized this, eventually severing the relationship). But in the scheme of American pop culture, Pekar is arguably more important than the comic behind the desk. His is the ultimate representation of an ordinary life, one fueled by petty annoyances, anti-social tendencies, and a grinding, stark loneliness. ("I'll take any woman who will have me, " he remarks, glumly, at one point.)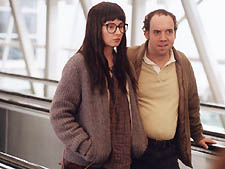 The movie is sumptuously and spectacularly multi-layered, with Pekar's life dramatized in a series of sometimes non-linear setpieces that integrate into an enhanced reality. Pekar is played by Paul Giamatti, but the real Pekar is utilized as the film's narrator. He also appears throughout American Splendor, often in an artificial, antiseptic soundstage setting, as well as in semi-animated versions of his comic book personas, depicting the variety of interpretations with which various artists — the most notable of which is the R. Crumb — envisioned their unlikely hero. It's a testament to Berman and Pulcini that the melding of forms works so brilliantly. Crossing the line from reality to staged depiction becomes just another element within the film.
Despite Pekar's minor celebrity, there is nothing glorious about his life, and the first half of the film shows how the embittered, lonely Clevelander, who works as a clerk at a V.A. Hospital, is inspired to start writing the musings- stocked chronicles that will inevitably document his existence. "Ordinary life is pretty complex stuff, " says Pekar, whose aura is perhaps best described as one of angry blandness.
There are certain kick-points to the story, the most remarkable of which is Pekar's courtship and subsequent marriage to a fan named Joyce Brabner, portrayed in the movie with deadpan perfection by Hope Davis. Their first evening together defies everything you'd ever expect from a romance. Acknowledging the cluttered, filthy state of his apartment, he tells Joyce, "I was gonna clean up, but why give you any false notions? " To which an unfazed Joyce responds: "I've seen worse. " Moments later, Joyce, a self-diagnosing hypochondriac, requests an aspirin. "You got a headache? " asks Harvey. "No, " she replies, "but I want to avoid one. "
It's Joyce who, despite her bouts of depression (based, we are to infer, on an unresolved surge of maternal longings), pushes Harvey into producing a work of truly significant meaning and lasting value: a graphic novel entitled Our Cancer Year, chronicling Pekar's battle with the disease. The book went on to win several notable book awards, as well as help further define comics as a narrative artform beyond the usual superhero brouhahas.
American Splendor
Starring Paul Giamatti, Hope Davis and Harvey Pekar
100 Mins.
Rated R

One of the most enjoyable personalities in the film is Pekar's best friend and co-worker Toby Radloff, a true-blue nerd with an oddly (and annoyingly) mannered pattern of speech and a love of gourmet jellybeans. The remarkable thing about Judah Friedlander's portrayal is how alarmingly dead-on it is, a point made as we meet the real Toby briefly midway through the movie. Reality is stranger than fiction.
Giamatti is American Splendor's centerpiece. His brow furrowed, eyes dark and broody, face rarely allowing an expression of pleasure, Giamatti gives a soul-inhabiting, mesmerizing performance that pays tribute to the living Pekar without compromising his flaws and quirks or turning him into what have all too easily been a baldfaced caricature.
And therein lies the real beauty of American Splendor. It treats its subjects with the respect and integrity they deserve, refusing to, as Letterman did, turn them into jokes.  We all have foibles, we all have faults, we all live mundane lives. We just don't wear them on our sleeves as openly and proudly as a Cleveland file clerk named Harvey Pekar.