James Barbour starred on Broadway opposite Toni Braxton in Disney's Beauty and the Beast. But let's not hold that against him. This man of great booming voice, great comedic finesse, great theatrical presence is gracing one of our greatest local theatres in a not-so-great comedy: Twentieth Century.
Boy, are they lucky to have him.
Ken Ludwig's inappropriately ribald update of the Ben Hecht and Charles MacArthur classic gets an A for effort from everyone involved in the production. Pity that everyone doesn't have as much to do as Mr. Barbour once the comic froth hits the fan in this screwball comedy set on a cross-country Manhattan-bound train in the roaring '20s. It's Barbour's show to steal — and steal it he does.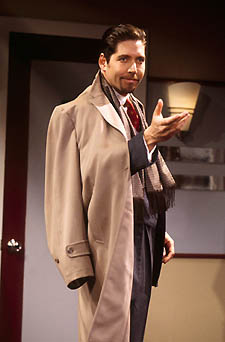 As Broadway theatre impresario Oscar Jaffe, Barbour delivers an extravagantly comic performance, one so big that Signature Theatre's modest confines have trouble containing it. There's not a gesture, not an intonation, not a flutter of an eyelid that Barbour doesn't turn into a extraordinarily funny comic moment. And he's reason enough to endure the show's shortcomings — all of which have to do with Ludwig's flaccid and anachronistic overhaul, little of which have to do with Eric Schaeffer's earnest forward-chugging direction, James Kronzer's deco-delicious gliding set, and a near bravura turn from Holly Twyford as peroxide-blonde glamour vamp Lily Garland, the self-absorbed starlet who slipped from Oscar's grasp and made it big in Hollywood.
Oscar will do anything — even feign his own demise — to get Lily to sign up for his next show, which, hot on the heels of his failed last show — Joan of Arc — has left him on the brink of ruin. Oscar cares not. "If I am a genius, it is because of my failures, " boasts this megalomaniac on a mission.
Oscar hitches his wagon to a crazed religious zealot (Donna Migliaccio) with promises of a Broadway bound Passion Play. "It's the one with Christ in it, " he tells Lily. "Who wrote it? " she asks. "GOD wrote it! " he booms.
Twyford and Barbour swipe at each other like a couple of fencing pros. Both have uproarious monologues and it's hard to say who has the more extravagantly overdone "death scene, " though Twyford's drawn-out moans of agony pretty much seal the deal in her favor.
Twentieth Century
Adapted by Ken Ludwig
Directed by Eric Schaeffer
Signature Theatre
2806 S. Four Mile Run Dr.
Arlington, Va.
Through October 5
Tickets $22 to $36
800-955-5566
The supporting cast are mere puppets — there's so little for them to do, and the characters so appallingly underwritten in contrast to those of Oscar and Lily, that the assembled actors might as well be thankful for the employment and leave it at that.
Twentieth Century comes complete with the requisite extra-loud door slamming, yet the production never quite achieves the giddy heights it aspires to. It's screwball with a few missing screws and a few too many balls. Blame Ludwig, who takes entirely too much liberty with the script, ushering in sexual innuendoes that seem completely out of place with the period. As a result, we're not transported, we're misplaced.
But there's nothing misplaced about Barbour. He's in the catbird seat. And if you miss Twentieth Century, you're missing one of the most spectacular, fluid, nimble comic performances in the history of Washington theatre.