Photography by Todd Franson
Everywhere you look these days restaurants are increasingly emphasizing small portions, either as a reflection of cultural preferences or as a way of giving customers more variety in their dining experience. Tapas and mezze are popping up like mushrooms in the endless rain.
Agua Ardiente, a Latin American eatery that features small portions with an emphasis on fresh ingredients and healthful preparations, is a recent addition to this trend.
Starring in the kitchen is Hector Guerra, long an associate of Roberto Donna. This talented chef who previously breathed new life into Toka Café was engaged by Ecuadorian restaurateur Mauricio Fraga-Rosenfeld to open Agua Ardiente in the space formerly occupied by West 24, the short-lived, southern-cuisine eatery opened in 2000 by James Carville and Mary Matalin.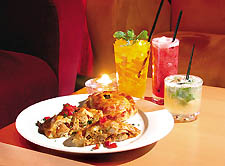 Empañada de Pollo
The location presents a formidable challenge to a fledgling restaurant. With virtually no foot traffic passing by its 24th and N Street berth, around the corner from the Francis Pool, virtually no one just wanders in. It's just waiting to be discovered by a wider audience.
An attractive bar and lounge area greet arriving guests with the seductive sounds of contemporary Latin music. A festive mood is inevitable once you've tried one of their signature Latin drinks, including Caipiriña (Brazilian), Mojito (Cuban), or its namesake Aguardiente (Latin American Anisette). Sink into comfortable oversized lounge furniture and before you know it, happy hour has merged into dinnertime. No need to relocate, though, since the full menu is available here as well as in the spacious dining room.
Generally speaking, any combination of two menu items will satisfy most diners' appetites. Arepas (griddled corn cakes) are sliced and filled with an assortment of enticing offerings. My favorite is a combination of marinated roast pork loin, figs mojo and queso fresco. Others feature Spanish chorizo sausage, pulled beef or shrimp, and each is paired with a small salad of julienned jicama and assorted bell peppers.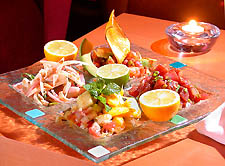 Next up, tortas (pan-seared potato cakes) loaded with just as interesting an assortment of fillings. Choose from cilantro-marinated salmon, seasoned ground beef, or a trio of cheeses (Gouda, Fontina and blue). The tortas are teamed with plantain tajadas, sautéed to a golden brown. Imaginative fillings are found in a traditional favorite — the empanadas. At Agua Ardiente they are baked and consequently much lighter than you'd expect. My favorite is cumin-marinated chicken with olives, red onions, tri-colored peppers and potatoes. The crust is flaky and light, the filling moist and fresh.
An El Paso transplant to Washington who dined here with me says the tamal is the finest he's had in Washington. It's simply corn masa and cumin-spiced chicken, but wrapped in a banana leaf instead of the usual cornhusk. This is just one item of a menu grouping of "Tasty Little Things" that each live up to their category. Crispy yucca fingers are served with chimichurri for dipping. This thick herb sauce is a melange of chopped parsley, oregano, onion, garlic, olive oil and vinegar seasoned with salt, cayenne and black pepper.
It wasn't until after several visits that I began to pay some attention to the salads. The "Tropico" hit the spot with mixed greens, fresh figs, papaya and grapefruit all splashed with raspberry vinaigrette. Add chicken, beef or shrimp to any of the salads for an additional charge.
Ceviche comes in seven renditions, perhaps the most interesting being mussels and peppers with squid ink citrus vinaigrette. For more traditional ceviche, try the lime-marinated halibut, which is fresh and fabulous.
Yet another menu grouping called "Main Entrée Tapas" lists slightly more substantial offerings, still served up on small plates. Garlic-cilantro marinated pork loin, served with beluga lentil salad and plantain tajadas, is bursting with flavor. Although grilled a little longer than it should have been, this tender and flavorful pork is a good, solid choice. The distinctive bluish-black, small round lentils take their name from their similarity in appearance to the famous caviar.
Agua Ardiente
1250 24th Street NW
202-833-8500
Hours M-F, ll:30am-ll:30pm
Sat and Sun, 5:30-11:30pm
Lounge open until 2am
Price range $3 to $18
Ropa vieja, Cuban-style strips of spiced beef, is served with scallions, hagao, and crisp lettuce leaves for rolling the beef in, creating a fajatia of sorts. The crunchiness of the  wrapper is a surprisingly refreshing change. A final menu category is parrilladas — grilled meats mostly, although shrimp and portobello mushroom find a home there as well. Steak, chicken, pork, and the aforementioned items are served on a bed of pan-roasted onions, mangos and green peppers. Accompanying is a tomato-flavored cracked wheat, yogurt and cucumber dip and garbanzo bread. Here again, a little less grilling time would have left these items a bit juicier, but as Chef Guerra hears this from a number of diners, he's taking their advice to heart and easing up on cooking times.
Desserts are simple and few. We enjoyed a sampling of three homemade sorbets available on a particular day: coconut, guava, and strawberry, all bursting with the flavor of these fresh ingredients. Torta de chocolate, presented with raspberry and white chocolate sauces, is a bit more like a brownie than, as the menu describes it, a "soufflé. "
The quality of the food, attentive service, reasonable prices and attractive décor are reasons enough to become a regular at this hidden hot spot.