"I hear this wah-wah-wah in my head, " giggles Tracy.
"It's your brain cells popping, " her friend Evie, giggles back, before taking another hit of a household aerosol. The girls then proceed to slug each other silly, rapt at how numb the drug makes them.
It's but one of many disturbing moments in Thirteen, which attempts to chronicle, with honesty and grit, the coming of age of a teenage girl as she traverses the wobbly bridge from Barbie dolls and tea parties to pierced tongues, drug usage and sex with boys (not to mention brief experimentation with girls). In short, Tracy goes from sugar and spice and everything nice to a budding woman under the influence. And a bad influence, at that, in the form of Evie, a manipulator and an instigator, the sexy unattainable chick that all the middle school boys lust for. Desperate to fit in, Tracy succumbs to peer pressure — she steals a wad of cash — to make herself acceptable to Evie's clique. Evie sees Tracy as a fresh soul to corrupt. And she latches onto her with a devilish glee.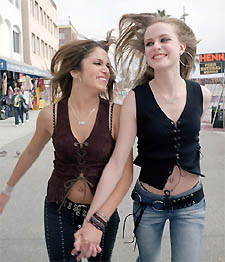 Not that Evie is a bad girl by default. Her behavior — at least some of it — is acquired. Her parents are MIA and she's living with a self-absorbed relative, a quickly fading fashion model who cares more about entertaining the local surfer boys than what her young charge does.
Written by Nikki Reed, who also stars as Evie, and Catherine Hardwicke, an established Hollywood production designer who makes an impressive directing debut with this film, Thirteen takes a confident, aggressive approach to its subject matter. Its edgy tenacity makes up for years of brain-numbing abuse caused by the typical frothy Hollywood crowd-pleasers that relegate teens to some bizarre world where no real damage — emotional or physical — ever comes to them and where glossy happy endings are the norm.
And yet, despite Hardwicke's documentary-like approach (hand-held camera, grainy bleached-out color scheme) Thirteen doesn't quite achieve the searing dramatic impact of similar films, such as Larry Clark's Kids. After a few initial shocks, the film grows less disturbing and our interest wanes, in part due to the episodically fragmented story. Parents of today's thirteen-year-olds might feel differently: the film offers up a portrait of rite of passage that, at times, seems designed to press every panic button available. Tracy not only engages in relations with boys (though it's somewhat unclear, exactly, how far she goes), but secretly despises herself to the point of self-mutiliation, performed in secret in the bathroom.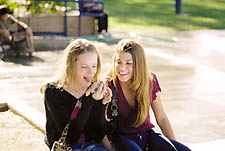 Child's Play: Wood and
Reed admire a piercing
Tracy's living environment isn't perfect, but it's also not bad. Her harried, struggling-to-get-by divorced mother (Holly Hunter) make ends meet by operating an impromptu hair salon out of her kitchen. Tracy despises mom's boyfriend, a recovering addict named Brady (Jeremy Sisto). Her brother Mason (Brady Corbet) seems extremely well-adjusted and yet he is at a loss as to how to help his sister inevitable crash and burn.
The movie is perfectly modulated for an hour or so. Eventually, however, Thirteen falls victim to itself, imposing a climax that feels manufactured. The movie might be subtitled "Evie's Revenge. "
You can't help but be astonished by Evan Rachel Wood, extraordinary as Tracy. It's a subtle, lasting performance, one that captures magnificently the confusion, the pain, the exhilaration of adolescent discovery. Reed is also quite good as Evie, but lacks the acting chops to really make the character congeal.
Thirteen
Starring Holly Hunter, Evan Rachel Wood, and Nikki Reed
Directed by Catherine Hardwicke
Fox Classics
Rated R
101 Minutes
Hunter takes what might have been a shrill parental role and brings the kind of stunning depth and realism she's known for. Sisto's performance of a man teetering on the edge of relapsing into drug addiction is expertly modulated, and Kip Pardue has a dynamic moment as a hunk next door lured by the girls into a situation that spells trouble with a capital T. It's the movie's boldest, most spellbinding scene, depicting just how easy it is to dispense with reason and get swept away by one's libido.
Thirteen contains several visually euphoric moments — Tracy's first few encounters with drugs, a scene where a cluster of teens cavort through water-sprinklers in a park at night. But the style and deliberate need to shock trumps the drama. Still, you can't complain too much about a movie that tries to rise above the norm, that strives to tell a story we've heard and seen countless times before, but this time with frankness and honesty. One can only hope that, as her filmmaking career develops, Hardwicke continues to make movies that strive for a blend of artfulness and deeper meaning, movies that at least attempt to challenge and provoke the audience.