"He might be the best-known artist no one knows, " David C. Levy, Director of the Corcoran Gallery of Art, says of J. Seward Johnson, the artist behind such sculptures as "The Awakening " at Haines Point Park in D.C. and "Double Check " at New York City's Liberty Plaza. The fact that Johnson has eluded recognition for his creations is, Levy notes with confidence, "about to change. "
With "Beyond the Frame: Impressionism Revisited, " the 73-year-old Johnson brings many of impressionism's most notable paintings into the third dimension with series of tableaus occupying the entire second floor of the Corcoran. Each scene has been meticulously recreated in the "spirit " of the original artist. Beyond the frame of the original paintings, however, Johnson interjects, often with humor, his own messages and interpretations.
In the original of Claude Monet's La Japonaise, for instance, viewers see only the front of a woman posed in an oriental robe. In Johnson's version, we are invited to walk behind and discover a newfound detail: the embroidered figure of a samurai voyeuristically leering up at the woman.
From the breathtaking On Poppied Hill to the sublime The Landlady Johnson takes the mundane subjects of past masters and sculpts them into something rather extraordinary.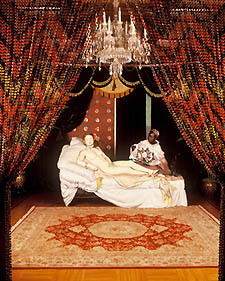 Olympia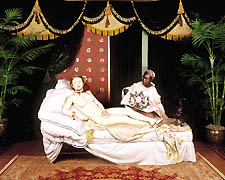 Confrontational Vulnerability
Johnson's Confrontational Vulnerability, inspired by Edouard Manet's renowned 1863 Olympia, is perhaps one of the most elaborate of the tableaus. Through a densely beaded curtain, we enter a completely enclosed room and are drawn into a wonderland, free to touch, explore, and interact with everything from Manet's infamous courtesan to the working stereoscope on her dresser. Says Johnson: "I am offering about two hundred views instead of one." Truly, one could stand, jump, crawl, or kneel and find something new every time in this impressionist playground.
The interaction with the sculpture is an important part of the experience. "We are given five senses, " says Johnson. "The more you can use them the better."
On display through January 5, 2004, at the Corcoran Gallery of Art, 500 17th Street NW. Admission to the museum is $5 for adults, $4 for seniors, $3 for students, and free for children under 12. Call 202-639-1700 or visit www.corcoran.org.