Since their introduction into the home in 1926, toasters have become a culinary icon spawning dozens of incarnations — from the classic 1930 "half round" Sunbeam T-9, to 1935's gee-whiz Toast-O-Lator featuring two "windows" on each side so one could watch as bread was pulled through the toaster on a conveyor to the downright odd 1970s TravelToast that plugged right into a car for toast-on-the-go.
Yet it's difficult to pinpoint why, exactly, this seemingly-simple machine has drawn the imaginations of so many designers. Even Kelly Godfrey, secretary for the Toaster Museum Foundation can't quite put her finger on it ("I really don't have a good answer") — and she and her husband have been collecting these deliverers of crispy brown delight since they first met in 1989 at, of all places, a toaster café.
The first toasters were status symbols, Godfrey says. Those who could afford the luxury appliance would display it proudly. In fact, she says, earlier toasters often came with condiment sets and other accessories to complete a kitchen presentation. Toasting became a sign of culinary prestige.
Even with the advent of today's low-cost, mass-produced toasters, the little machines still occupy prominent niches in kitchens nationwide. Yet in a world of discount disposables, prestige and quality are often sacrificed for a quick fix.
"At $9.99 [apiece] you often throw away ten of them before you get a good one," Godfrey says.

Delonghi Retro
On the other hand, a recent resurgence in longer-lasting, well-crafted appliances has made it much easier to find a high-quality toaster. Keeping with the spirit of distinctive design these high-end appliances not only provide years of toasty delight, they also look great.
 For the nostalgic connoisseur, the DeLonghi Retro Two-Slice Toaster ($59.99, www.hechts.com) combines kitschy deco design with the full functionality of modern toasters, complementing a wide range of kitchen decors. The brushed metal exterior features polished "radio dial" toast controls with six levels of browning, plus buttons for toast-cancel, defrost and a bagel function. The crumb tray easily slides out for cleaning and is dishwasher safe. The toaster comes in either a two or four-slot version, each with extra-wide slots perfect for thicker toast or bagels.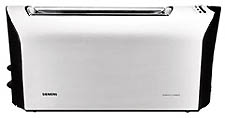 Siemens TT9110 Porsche Toaster
Those looking for a more contemporary countertop companion should consider the Siemens F.A. Porsche-designed toaster (UK£99.50, www.johnlewis.com), only available in Europe or online. Yes, the man who brought you the 911 Turbo also does toasters. The sleek modern design is a statement elegant minimalism. The brushed stainless steel exterior remains cool to the touch while toasting, and sports a navy blue trim. Unlike most toasters with parallel slots, the Porsche uses two extra-wide self-adjusting slots in line with one another, taking up less space and making the toaster easy to store. Other features include an illuminated push button eleven-level toast control that remembers the last setting used and shuts off automatically if tilted.
Villaware's Uno Cobalt Blue Classic Two-Slice Toaster ($69.95, www.kitchenemporium.com) is an art deco masterpiece. Strong angles, smooth curves, and a playful knob-lever make this toaster an aesthetic asset for any kitchen. The die cast cobalt blue end caps (also available in empire red, white, and steel) are a striking complement to the stainless steel exterior. The toaster comes with five-levels of toasting control, extra wide slots, crumb tray, and a lighted safety switch with a mid-cycle cancel option.

Dualit Two-Slice
The "Rolls Royce" of toasters is the Dualit Two-Slice Toaster ($219.95, www.williams-sonoma.com). Once used only commercially, these hand-assembled British toasters are said to be "tough as old boots." For nearly fifty years Dualit has used the same exterior with a clean, brushed-metal finish. Inside is Dualit's patented ProHeat element design for increasing toasting efficiency and heating element longevity. Dualit toasters feature switches to control the level of browning and a unique feature that allows the bread to stop toasting and be kept warm until the ejector level is manually pushed up. Dualit toasters come in two, three, four and even six-slot models. The slots are 28 millimeters wide to accommodate an optional sandwich cage with built in drip tray.
We hold high expectations of this appliance — to take our bread to the brink, but not to burn. So invest in a toaster that can stand the test of time, and look damn good doing it.