NBC
The Ellen DeGeneres Show — She's baaaaccck! This time in her very own talk show. Ellen DeGeneres is returning to the little screen (after two failed sitcoms) and hopes to score big in afternoon timeslots where Oprah and Dr. Phil reign supreme. The hour-long, five-days-a-week talk show will feature Ellen being funny, Ellen interviewing celebs, and well, Ellen being Ellen. The show originates from Los Angeles and is syndicated on NBC stations nationwide. Her first week's guests include: Jennifer Aniston, Justin Timberlake, Betty White and Megan Mullally. Yum. Premiered this past Monday.
Happy Family — John Larroquette and Christine Baranski play empty nesters Peter and Annie Brennan looking forward to reclaiming their home after the kids are gone. But before they can plan that first golf outing, the kids are back. Dopey Tim has dropped out of junior college and moved in with Annie's much older tennis partner. Eldest Todd is cheating on his fiancé, and daughter Sara is in the midst of a major emotional meltdown. Still want to adopt that Thai baby? Gay audiences will remember (and adore) icon Baranski from Cybil and feature film The Birdcage. Series premiere: Sept. 23.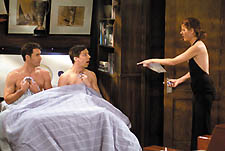 Will and Grace
Will & Grace — Now entering its sixth season, Will & Grace continues to delight audiences, gay and straight alike. Showered with Emmys and other critical acclaim, the show regularly tops the ratings and serves as an all-important anchor in NBC's dominant Thursday night lineup. Can the flagship gay program continue to keep audiences hooked? Will the pitch-perfect performances of Jack (Sean Hayes) and Karen (Megan Mullally) continue to satisfy even the most discriminating gay viewers? And when will NBC wise up and call the show what it deserves to be called: Jack & Karen? Series premiere: Sept. 25.
Coupling — The mating ritual can get messy. So can the ratings game. NBC execs are betting big bucks on this BBC import, hoping it will replace the ever-popular Friends, the honey pot for young demos and the advertisers who love them. Coupling follows the love lives of six 30-somethings as the navigate the waters of single life. Sound familiar? Network execs are calling the racy Coupling an edgier, sexier version of Friends. Among the show's singles is bisexual Jane (Lindsay Price, Beverly Hills 90210), who used to be with Steve but now's hot for Susan. Go figure. Series premiere: Sept. 25.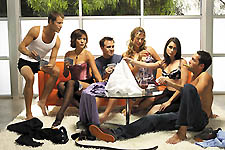 Coupling
ER — Television's flagship medical drama returns this fall for its tenth season, and Laura Innes is back in the role of feisty lesbian Dr. Kerry Weaver. Since joining the show in its second season, Innes has received two Emmy nominations as well as three Screen Actors Guild Awards for her performance as the tough Dr. Weaver. Innes brought grace and style to the coming out storyline and wowed audiences as her character struggled with miscarriage. The original cast may be gone, but ER continues to fascinate. Series premiere: Sept. 25.
Miss Match — Alicia Silverstone (Clueless) is back as a Jane Austen-inspired matchmaker. Divorce attorney by day, love doctor by night, Silverstone plays Kate Fox, a beautiful young woman torn between two worlds. She's both a talented young lawyer and a natural-born matchmaker. She considers her gift a hobby until a socialite bride spreads word of her powers. Torn between the workaday world of the firm and the more romantic life of a female Cupid, Miss Match promises sweet giggles as adorable Silverstone struggles for balance and, who knows, maybe end up in love herself? Created by openly gay producer Darren Star (Sex and the City, Melrose Place). Series premiere: Sept. 26.
CBS
Survivor: Pearl Islands — The granddaddy of reality TV returns for its seventh installment this fall. Participants will struggle to outwit, outplay and outlast one another in Panama's famed Pearl Islands. It's been a long time since gay nudist Richard Hatch outsnaked his fellow contestants and walked away with $1 million. The show's got new twists and new gimmicks to keep viewers hooked. But can Survivor keep its torch ablaze with the countless rip-offs that have exploded onto the scene since 2000? Viewers will cast their ballots when the show takes off Sept. 18.
Two and a Half Men — Charlie Sheen plays the carefree, swinging bachelor Charlie Harper, who spends his days soaking up the sun in his Malibu beach house and writing ad jingles. His world gets blown apart, however, whey younger brother Alan (Jon Cryer) moves in with his 10-year-old son after his marriage falls apart. The plot thickens when Alan's ex-wife Judith admits her attraction to other women. Can Charlie Harper give up the party boy lifestyle and create a home for the young lad? Can Charlie Sheen give up his party boy lifestyle to carry a network sitcom? Series premiere: Sept. 22.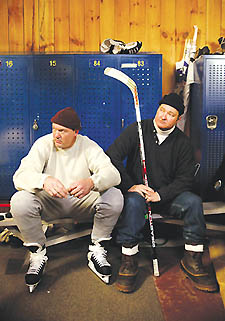 Brotherhood of Poland, N.H.
The Brotherhood of Poland, N.H. — Emmy Award-wining producer David Kelley (Ally McBeal, The Practice) offers up a new drama that celebrates small town life and three brothers as they face the challenges of life in Poland, N.H. Former high school hockey stars, the brothers are now grown up and facing the realities of adult life. Hank is known for his explosive personality and penchant for fistfights, Waylon is unemployed and thinks his wife is having an affair and Garrett, the town's pillar of strength, finds his own world crumbling when he's forced to hide a secret from his wife. Oh brother, wonder what that could be! Desperate for a hit after last year's disastrous flop girls club, Kelley needs a big dramatic success in Brotherhood. Series premiere: Sept. 24.
Joan of Arcadia — If this were medieval France, a teenaged girl claiming to hear voices from God could lead thousands into battle. In modern-day America, she'd better keep her mouth shut. That's exactly what Joan Girardi (Amber Tamblyn) is confronted with when in her sleepy town of Arcadia various people keep popping up, introducing themselves as God, and then giving her directions to do things, like get a job. The appearances are hard for her to believe. One minute it's the cute boy next door, and the next it's the lunch lady. As if being a teenager weren't tough enough! Tony Award winner Joe Mantegna plays Joan's father Will, and Mary Steenburgen plays mother Helen. Check out cutey newcomer Jason Ritter as Joan's wheelchair-bound older brother. Series premiere: Sept. 26.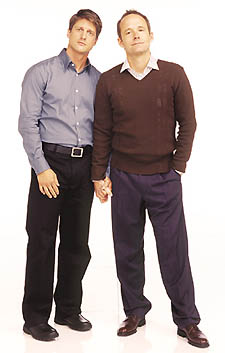 It's All Relative
ABC
Miss America — The much maligned beauty pageant is loosening its girdle a bit. The revamped contest features a new casual wear competition that will allow the ladies to select an outfit that she would be comfortable wearing to a college class, football game, pop concert or an outing with friends. According to the judges, the look can feature slacks, pants, jeans, jeans skirts or similar outfits that reflect the contestant's personality and style preference. Shorts, workout garb and pajamas are still forbidden. What's next? The crack whore competition? Hosted by Tom Bergeron (America's Funniest Home Videos), the show also features a performance of "This is the Night" by American Idol star Clay Aiken, who will not be wearing a dress. Premiere: Sept. 20.
It's All Relative — Call it The Birdcage meets My Two Dads. Or call it It's All Relative. In any case, prepare yourself for a healthy dose of family values in this sure-to-be sugary sweet confection. Meet Bobby, a bartender and only son of gregarious, salt-of-the-earth Irish Catholic parents from Boston. Meet Liz, his Protestant fiancé, the Harvard-trained medical student and daughter of two well-heeled gay men. Cultures collide when Bobby proposes and he and Liz are forced to introduce his dressed-down parents to her stylish dads. Possibly the gayest show to premiere this fall, It's All Relative hopes to cash in on the bankability of this summer's gay TV bonanza. Series premiere: Oct. 1.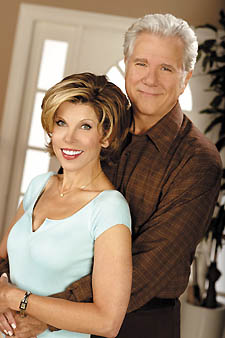 Happy Family on NBC
FOX
Skin — Never one to miss an opportunity to show naked, young people, Fox is delivering viewers Skin in its new fall lineup. Set in Los Angeles, the show opens when Adam, a 17-year-old Latino from East L.A., meets Jewel, 16, a wealthy and beautiful Westside girl, at a party. The two fall for each other, but matters are complicated when we learn Adam's parents, a judge and district attorney, are going after Jewel's father, the most successful porn producer in L.A. Fox says Skin is about race, sex, politics, sex, prejudice, sex, obsession and sex.  And, oh yeah, did they mention sex? Series premiere: Oct. 20.
A Minute With Stan Hooper — Big city newscaster Stan Hooper (Norm Macdonald) longs for a place where ordinary people enjoy life's simple pleasures — a place where people have never heard of cappuccino. So he's leaving Manhattan for Waterford Falls, Wisconsin, a sleepy town his wife and he drove through on their honeymoon 15 years ago. But things have changed since Stan and Molly (Penelope Ann Miller) said, "I do." Stan thinks the small town is the embodiment of the old-fashioned values and idyllic lifestyle he has been championing. Except the house that Stan and Molly rent comes with a butler, and the local cheese mogul's son temporarily moves in. And the two guys who own the local diner, Pete and Lou, are a couple. Welcome to small town America. Series premiere: Oct. 29.
WB
One Tree Hill — Arrogant, wealthy and assured Nathan (James Lafferty, Emeril) is the star of the high school basketball team. Quiet and driven Lucas (Chad Michael Murray, Dawson's Creek) is the only child of a single working mom. After growing up on opposite sides of the tracks in the same small town of Tree Hill, N.C., the boys' lives collide when a twist of fate puts them on the same basketball team. There they compete for control of the court and the affections of Nathan's hottie girlfriend Peyton Sawyer (Hilarie Burton). While the teens struggle to make sense of their own world, the adults in Tree Hill deal with the ramifications of decisions they made years ago. Secrets begin to spill as Nathan and Lucas learn they share a father. Just when you thought the teen soap was dead. Series premiere: Sept. 23.
Tarzan — The WB's made quite a go of it lately cashing in on modern-day hero worship. Smallville, an updated retelling of Superman, regularly scores big ratings with the network's ultra-young viewers. WB execs are hoping Tarzan will also keep them enthralled. The story begins as young John Clayton is stranded in the African jungle after his parents are killed in a plane crash. Raised by apes, John (Travis Fimmel) is captured 20 years later by his billionaire uncle and is forced to return, against his will, to his family's home in New York. Resisting captivity, Tarzan escapes into the city where he encounters NYPD detective Jane Porter, who's strangely attracted to his untainted morality. Series premiere: Oct. 5.
PBS
The Blues — Under the guiding hand of executive producer Martin Scorsese, The Blues is a series of seven impressionistic films premiering as part of the "Year of the Blues." The films capture the essence of blues music and delve into its global influence — from its roots in Africa to its inspirational role with today's pop artists — with each director exploring the music through his own personal connections. Some of the films are directed by Scorsese (Gangs of New York), Wim Wenders (Buena Vista Social Club), Mike Figgis (the upcoming Cold Creek Manor) and Clint Eastwood (Unforgiven). Series premiere: Sept. 28.
P.O.V.'s "What I Want My Words to Do to You" — Taking an unprecedented look into the minds and hearts of the women inmates of New York's Bedford Hills Correctional Facility, this film follows a writing workshop led by playwright Eve Ensler (The Vagina Monologues). Throughout the film, they delve into and expose the most terrifying places in themselves as they grapple with the nature of their crimes and their own guilt. The film culminates in an emotionally charged prison performance of the women's writing by actresses Mary Alice, Glenn Close, Rosie Perez and Marisa Tomei. Series Premiere: Dec. 16.
HBO
Carnivale — The strange and quirky show follows a traveling carnival as it wends its way across the 1934 Dust Bowl, focusing on a mysterious young fugitive (Nick Stahl, Terminator 3) with hidden talents who is taken in by the carnival, and on the charismatic, shadowy evangelist (Clancy Brown, The Shawshank Redemption) who will ultimately cross his path. The 12-episode series takes place at a time of worldwide unrest, with evil on the rise around the globe and the Great Depression wreaking economic and social havoc at home. Series premiere: Sept. 14.
Angels in America — Nobody does it quite like HBO, the network courageous enough to adapt Tony Kushner's award-winning play for the small screen. The mammoth production, which cost $60 million and runs six and a half hours, features Al Pacino's first work on television and the first teaming of Pacino and fellow Oscar-winner Meryl Streep. Angels in America traces the lives of two couples in the 1980s. The marriage of Joe and Harper Pitt is coming apart. Joe is gay and his agoraphobic wife, Harper, is having visions. Meanwhile, Louis is leaving his partner Prior because Prior has AIDS. Prior also has visions, but his are of an angel who tells him he's a prophet. Directed by Mike Nichols (Who's Afraid of Virginia Woolf), the miniseries is arguably the most anticipated TV show of the year. Premiere: December 2003.