About the best thing that can be said for Cold Creek Manor is that it isn't completely dull. You'd think it would be, given how dumb and implausible the storyline is, but it keeps us moderately engaged thanks in part to a cast that, with the exception of Sharon Stone but including the horse, is much too good for the material. It's as though director Mike Figgis handed Dennis Quaid, Stephen Dorff, and Juliette Lewis a bag of garbage and said, "Do you think you can get rid of some of the stink, please? "
And for a while, remarkably enough, they succeed. Cold Creek Manor doesn't really start to smell until the moment the Tilson family finds a dead horse floating in their pool. It's then that the reeking really begins.
Written by Richard Jeffries, who comes from the world of Video Game Screenwriting (he penned the story to TRON 2.0, now available at a Best Buy near you), Cold Creek Manor looks to Sam Peckinpah's classic Straw Dogs for inspiration, throwing in a little Fatal Attraction for good measure, and maybe just a dash of Law & Order: Green Acres Detail for flavor.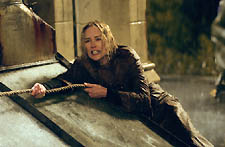 Stone
The Tilson family, exasperated with their harried life in the big city, moves to the country where they purchase a mansion and all its contents for a song. Just as they're all moved in, along comes the owner, Dale Massie (Dorff) who defaulted on his house payments. (Of course, Dale's been in jail for the past three years on a manslaughter charge, but that's not reason enough to stop writing mortgage checks.)
Though he doesn't say it at first, Dale wants his home back. Really bad. And he's going to take it back using a killing hammer on Tilsons if he has to.
First, however, he tries other, less psychotic means, such as releasing all manner of poisonous snakes in the house. And then there's the horse in the pool thing, which Cooper Tilson (Quaid), is blamed for. "I thought I hit a deer in the road! " he says of the dent and the blood on the fender of his car. Cooper is intent on proving his theory that Dale is terrorizing them. But there's no actual proof other than Dale's aggressive posturing: "These people took my home from me, " he whines, in a manly, drunkenly fashion, in the town's only restaurant/grocery store/pub.
Lewis and Quaid
Cooper uncovers evidence that Dale may have killed his ex-wife and kids and disposed of them somewhere on the land. All this from finding a retainer and a tooth buried in the gravel in the driveway. He needs more evidence. Luckily, he comes upon a car that belonged to Dale's ex-wife, who presumably left town years ago. And then, with the help of his wife Leah (Stone), he finds a well.
Guess who tumbles down the well?
And, while you're at it, guess what's in the well?
Cold Creek Manor doesn't even give itself the dignity of a bracing, exciting climax. The movie ends with an exceptionally blah rooftop confrontation between Dale and the Tilsons in which the outcome doesn't merely seem likely, it seems inevitable.
Cold Creek Manor
Starring Dennis Quaid, Sharon Stone and Stephen Dorff
Directed by Mike Figgis
Rated R
119 Minutes

Quaid, looking weathered and rugged, gives a strong performance as the family protector. Nobody can glare like Dennis. Dorff, buffed and glistening with dirty sweat, at least tries to give some depth to Dale's violent demeanor without leaping off the edge of ludicrousness. Lewis gives the most arresting performance as Dale's tarty, battered girlfriend, and Kristen Stewart, of Panic Room, and Ryan Wilson are at least not completely insufferable as the Tilson's children. Christopher Plummer, however, chews up some scenery, as well as some chocolate covered cherries, as Dale's invalid father.
It's Stone who is the weakest link. She puts forth no effort, calling on one single fixed expression when confronted with a threatening situation. It goes something like this: Deer. Headlights.
These days it takes more to scare an audience than the sight of a rattling snake or a madman with a hammer. Figgis — an often adventurous, talented filmmaker whose works include the experimental Timecode and the dramatically rich Leaving Las Vegas — might have risen to the occasion and given us a thriller to scream ourselves silly over. But Cold Creek Manor has no screams to offer. It barely evokes an eek.