Singer Jeppe "Senior " Laursen loves "his little following of gays " always at his performances. So he's down with male groupies? "Well, yeah, I mean I don't know that I'd call them groupies, " he chuckles.
He'll take them over the usual groupies any day: "Girls think I'm hot but I think they're not, " he sings on the glammed-out "Chicks and Dicks. " Senior prefers the latter — he's the out-loud gay half of the daffy, dynamic Danish duo Junior Senior. "Junior " is straight pretty boy Jesper Mortensen.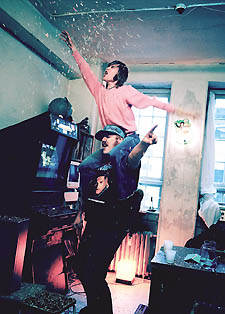 Junior Senior
It's Senior's stuttering, exuberant vocals on "Move Your Feet " that you've heard all over the place since summer. It's the year's catchiest dance-pop song, but Junior Senior have gone largely unheralded, heard but little talked about. That should soon change.
Fame is just a beat away for Junior Senior with the rollicking "Shake Your Coconuts, " the next party-starting single which also happens to be featured in the upcoming Looney Tunes: Back in Action movie.
Straight Junior, the short, skinny guitar-player/singer, and gay Senior, the tall, bearish lead singer and "hand-clapper " always wearing a sun-visor and mustache, poke fun at their differing sexualities on several occasions on their fantastic debut album, D-D-Don't Don't Stop the Beat (Atlantic). But always in the most casual, good-natured way. ("Hey gay, get out of my way/Hey straight, you're always too late. ")
The duo got together five years ago to start a band with a mission to be the exact opposite of the gloom-and-doom sensibility of most Danish rockers. No gloom and doom here, just boomin' music that should rock the room wherever they perform. "We do the show to have fun and to meet people who like our music, not to pose as rock stars, " Senior says. And all groupies are welcome.
Performing next Wednesday, October 29 at the Black Cat, 1811 14th Street NW. $10. Visit www.blackcatdc.com or call 202-667-7960.