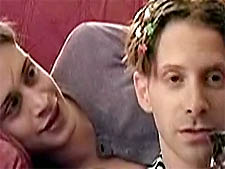 Culkin and Green
Party Monster, which opens this weekend at Visions, is an oddly captivating yet not entirely successful journey into the creatively eccentric, drug-infused land of club kids. Macaulay Culkin, in role that is less brave than an attempt at a quick career-resuscitation, plays Michael Alig, the real-life club wunderkind whose lavish, outrageous parties in the early '90s helped revive the Limelight to its former New York nightlife glory.
Several years back, Alig was imprisoned for the murder of drug dealer Angel Melendez (Wilson Cruz, still having trouble concocting a convincing character on screen), and the film, directed by Fenton Bailey and Randy Barbato (The Eyes of Tammy Faye), strives to recount the events leading up to the climactic murder in an inventive, original way, capturing the flamboyant giddiness — as well as the heroin-infused stupor — that defined these lives. But the flashily-directed movie is too impressed with itself to even begin to let us in.
Culkin seems astoundingly uncomfortable in the role. His stiff, flat delivery is far from natural. Yet, in all fairness, since I have no idea what Alig was like, I'll give the still-youthful Culkin the benefit of the doubt: he may be doing a dead-on impersonation. If not, however, then he's exhibiting an unprecedented gift for complete and utter incompetence as an actor.
There are a few great performances. Seth Green, courageously enduring all manner of extreme costumes as the wickedly outlandish James St. James, is magnificent. And That '70s Show's Wilmer Valderrama, as DJ Keoki, provides the movie with an occasional potent surge of sincerity and depth.
Party Monster
Starring Macaulay Culkin and Seth Green
Rated R
98 Minutes

But depth is not what club kids are about.
"We are shallow, " proclaims Alig.
"Profoundly shallow, " replies St. James.
Party Monster follows that course valiantly. In fact, it's so shallow it might as well evaporate before our very eyes.