If you've ever seen a Quentin Tarantino film, you already know he's a lunatic when it comes to filmmaking. His mind is like a madly whirring blender, chopping and pureeing all the b-grade movies Tarantino absorbed while working as a video store clerk in the '80s. Although Tarantino has directed very few full films, he has nonetheless pervaded the culture of cinema with a snap, crackle, pop hipness that is as homage-laden as it is brashly in-your-face. His 1992 debut, Reservoir Dogs, was a warm-up that made us squirm, but his 1994 tour de force, Pulp Fiction, showed what this little boy was made of — severed puppy dog's tails.
Tarantino's third film, the blaxploitation-inspired Jackie Brown, was a critical and financial flop, and it sent the filmmaker into retreat — or, perhaps, hibernation? — for five long, silent years. Tarantino, motor-mouth on full, finally reemerged last weekend with a movie that makes Pulp Fiction seem quaint by comparison: Kill Bill: Vol. 1, a mind-numbingly violent homage to '70s chop-socky flicks and Samurai spectacles. It's a knock-out.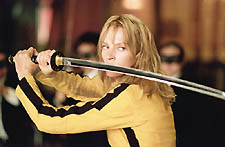 Thurman
Kill Bill opens with a nostalgic nod to the era as a psychedelic kaleidoscopic image bearing the words "Our Feature Presentation " and accompanied by a cheesy melody fills the screen. (The sight of the title card makes you long for the days of pre-movie brevity, back when we didn't have to endure cinematic commercials for Coke and American Express before every movie.) Next up, a quote that pretty much sums up Kill Bill's premise: "Revenge is a dish best served cold. " There's a delicious joke attached to this proverb, but I won't dare spoil it here.
Tarantino then dives headlong into the story, told in a non-linear fashion and without much in the way of needless expository. We're pretty much left to piece together elements of what's going on and why, although the director offers some hints along the way. The basics are this: a pregnant character known as "The Bride " (Uma Thurman) is savagely beaten, stabbed, shot and left for dead on her wedding day by an elite quartet of assassins known as the Deadly Viper Assassination Squad (or DiVAS), her former co-workers. The Bride falls into a coma from which she awakens four years later, her baby lost and her mind dead set on getting revenge. Her eventual target: Bill, the man who ordered the hit. To reach Bill, however, The Bride must first systematically kill each of the DiVAS.
Fox
The Bride rips her way through two of the DiVAS in this part — Vivica A. Fox's Vernita and Lucy Liu's O-Ren Ishi — and, presumably, will take down the other two in the movie's second half, Kill Bill: Vol. 2, to be released February 20, 2004. And therein lies a small problem. In making the decision to split the film into two parts, presumably to keep it from being a three-and-a-half hour blood and guts epic, Tarantino and his distributors Miramax shortchange the audience (while lining their own pocketbooks). Just as we're primed for more, more, more, the movie abruptly comes to a screeching halt. There's a teaser of a hook, but as hooks go, it's pretty paltry.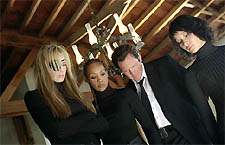 Tarantino sets the action on overdrive and the gore geysers spurting high. Kill Bill contains more blood — which tends to spout from dismembered regions with the serene elegance of an Asian fountain — and hacked-off limbs than we've seen since the days of Peter Jackson's Dead Alive. The violence is so flagrantly over the top that after a while it hardly seems real. Which, of course, is Tarantino's intent. If Tarantino had held back, even just a little bit, the movie would have lacked conviction and not been half as deliriously entertaining as it is.
One of the most powerful segments is one in which, setting up the origins of Japanese underworld head O-Ren Ishi, Tarantino switches to anime. It's a startling move, and one that works on an startlingly emotional plane. Overall, however, Tarantino is less concerned with emotions and merely content with generating shock value and concocting fight sequences that merge balletic athleticism with an otherworldly — almost mystical — grace and grandeur. Nowhere is this more evident than in a sequence in which The Bride takes on O-Ren Ishi in a snow filled Japanese garden that appears out of nowhere.
Kill Bill, Vol. 1
Written & directed by Quentin Tarantino
Starring Uma Thurman, Lucy Liu, and Vivica A. Fox
Rated R
95 Minutes

Thurman exhibits tremendous brute force in the leading role, anchoring the film in single-minded determination, scorching anger and, in the crucial sequence in which her character awakens from her coma, searing anguish. Liu is commanding as a calm, collected killer — and has one wildly funny monologue delivered to a group of trembling colleagues. Fox isn't in the film very long, but she does have great presence, and an eye-patched Daryl Hannah briefly teases us with what is sure to be a showstopping character in volume two.
Japanese film legend Sonny Chiba brings reverence and grace to the role of a revered Samurai sword-maker and Chiaki Kuriyama dazzles as Ishi's top assassin, a schoolgirl named Go Go Yubari armed with a steel-bladed metal ball on a chain.
Those sensitive to violence might consider seeing another movie (the talking dog film Good Boy comes to mind). But those looking for a gloriously ultra-extreme 95-minute adrenaline rush to the senses, will find that Tarantino's latest more than fits the bill.