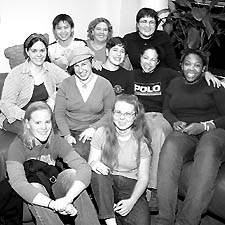 Women in Their Twenties at one of their recent weekly Friday evening meetings.
Photo by Todd Franson
Women in Their Twenties
Mission: Women in Their Twenties (WITT) is a place for lesbian, bisexual, transgender and other interested women to meet and socialize.
Founded: 1996
Number of Members: There is no formal membership — fifteen to thirty women attend the weekly discussions, which are usually followed by dinner at a local restaurant. WITT also sends out a weekly e-mail newsletter to its 400-person mailing list.
How To Join: Women who are interested can simply come to the group's weekly discussion, or sign up for WITT's newsletter at www.womenintheir20s.org.
Background: An offshoot of the Twenties Group, a discussion group for GLBT people that also meets weekly, WITT's discussions focus on a range of topics with rotating facilitators. The benefits go beyond discussion: "WITT has been a great place to meet new friends and socialize," says facilitator Alana Keynes. The group enjoys a number of events, including a recent trip to Gay and Lesbian Day at Kings Dominion in September. Keynes, not a rollercoaster enthusiast, skipped all the hoopla and opted instead for a great time playing skee-ball.
Contact: Visit the web at www.womenintheir20s.org or e-mail info@womenintheir20s.com
Next Event: The weekly discussion will be held this Friday at 8 p.m. in the offices of the Mautner Project at 1707 L Street NW, Suite 230.