Photo by Todd Franson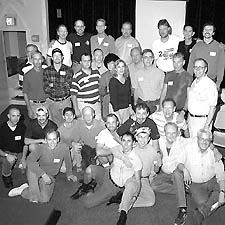 Members of Adventuring D.C. at last Saturday's Fall Potluck Social.
Mission: Adventuring provide gays and lesbians with non-competitive outdoor activities, from countryside bike rides to wooded hikes and everything in between.
Founded: The group began in May 1979 with a hike in Shenandoah National Park to Hoover Camp, formerly President Hoover's summer White House.
Number of Members: Adventuring D.C. has no formal membership. People are free to attend any of the group's scheduled events.
How to Join: All events are listed at www.adventuring.org. For more information on an event simply call the event coordinator and reserve a spot, if necessary. There are no "must attend" events.
Background: Craig Howell, one of the group's organizers, says Adventuring D.C. has always been a combination of good outdoor exercise and socializing. The trips can range from canoeing on the Potomac to Howell's favorite: a hiking trip in Arizona where he able to hike through the Grand Canyon and climb to Arizona's highest point at Mt. Humphries.
Contact: To participate in an event, visit www.adventuring.org and contact a trip leader for any event you may be interested in attending.
Next Event: C&O Canal at White's Ferry Hike on November 8. Meet at 9 a.m. at the East Falls Church Metro. Cost is $4. Call Don at 703-683-3724 for more info.