It's been ages since I witnessed an audience applaud a movie. But the Sunday matinee crowd gathered at Master and Commander: The Far Side of the World very nearly gave the film a standing ovation.
It's easy to see why. It's not often we get such a grand adventure — at least one not set in outer space or in some parallel fantasy world. But Master and Commander, which takes place in 1805 during the Napoleonic Wars, is strongly rooted in realism. It's impossible not to be swept away by its gritty, glorious sense of history.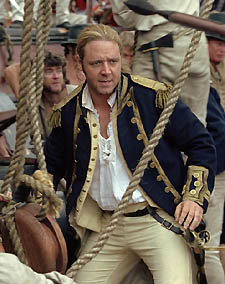 Crowe
It's also not often we get a movie so masterfully commanded by its director — in this case Peter Weir — and so thoroughly inhabited by its star — in this case Russell Crowe. The actor imbues Captain Jack Aubrey — known as Lucky Jack to his crew — with a swirl of supreme confidence, a potent authority and a stirring humanity. It's easy to see why his men would follow him to the end of the earth, even when he temporarily lets pride get the better of him to the detriment of morale. Uncompromising and clever, Jack is no tyrant of the sea — there will be no mutiny on his HMS Surprise. But there are problems. And they arise with alarming frequency through the course of this extraordinary two and a half hour sea voyage.
The central focus of Master and Commander is Jack's obsessive pursuit of the Acheron, a French war ship that, at the film's start, critically damages the Surprise. With nearly double the guns and twice the speed, the Acheron would seem the likely victor. But Jack is, as one of his colleagues notes, "a great seaman. " And Jack's seamanship — and his ability to keep his wits about him under extreme pressure — is what gives the Surprise an upper hand as the two ships veer toward a climactic, and brutally violent, final battle.
Weir doesn't go for trickery — there are no tracking shots of cannonballs as they seek their target. His sea battle sequences have an explosive realism as well as a pictorial sophistication. The damage done to both ships during the course of the film feels extraordinarily real.
The screenplay by Weir and John Collee, based on two novels by Patrick O'Brian, part of a twenty-book series of Jack Aubrey's adventures that has a devoted and fanatical following, is smart without being self-conscious. It alludes to the era without falling into a starchy pattern of speech that, today, would come off as artificial and stiff. The contemporary patter keeps us engaged, drawing us deeper into the action as the Surprise follows its French foe to the Galapagos Islands. The script also contains a surprising amount of humor — there's quite a bit of ribbing amongst the men and Jack himself has an unforgettable line about weevils.
The action takes place almost exclusively on the Surprise, and yet the movie never feels claustrophobic or confined. Much of this is thanks to Russell Boyd's superlative cinematography, which is, at times, reminiscent of classic art.
As he so often does, Crowe disappears into the role with a chameleon's ease. His performance veers toward the understated; rarely does he rely on histrionic bluster to make a point. And yet, when Crowe's Captain Aubrey raises his voice, it stops cold those on the receiving end.
Paul Bettany's Dr. Maturin, the ship's doctor and Aubrey's perfectly matched confidante, is the antithesis of the captain — a serious-minded naturalist with a disdain for war. James D'Arcy is terrific as the ship's first lieutenant, Pulling, and Max Pirkis, tremendous as Blakeney, a young midshipman who loses his arm in battle and yet never loses his enthusiasm for being able to serve his captain.
The story is punctuated by occasional tragedies and sacrifices, necessary adornments for any strong drama. But Master and Commander is mostly about triumphing against impossible odds. It's about finding inspiration in the most unlikely of sources. And it's about beating the living hell out of your enemy.