DJ Victor Calderone's most recent visit to Washington, this past July at Velvet Nation, turned out to be a "weird" night for him. "I was feeling this energy from the dance floor where it was a kind of…a tug of war going on," he says. There were two sides in the battle, Calderone surmised: the dance floor congregants nearest the DJ booth seemed eager to hear the tribal beats of his signature dance style, while those under the giant disco ball nearer the stage were hoping for more of the vocal-oriented house that gained him fame.
Make no mistake: He still likes, and plays, vocals. He didn't replace Junior Vasquez as Madonna's chosen remixer by not appreciating the importance of vocal production in pop music. And he's currently hard at work producing a traditional pop album for a new singer/songwriter.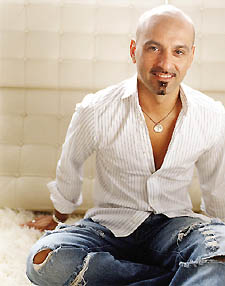 Victor Calderone
"If there's a good vocal out there, I'll play it," he says. "But I'm totally chopping the cookie-cutter big-room diva anthems. For me [that style] has not evolved anywhere and it's just become repetitive and predictable."
The tug of war Calderone experienced at Velvet in July is just one of many he's engaged in over the past few years as he's tried to adjust to his stature as the lion of several, sometimes competing dance music jungles: Madonnazonia, Tribalistas, Gay Clublandia. In 1996 he was just a 30-year-old guy with a pre-historic metrosexual sensibility that helped him stand out in clubland. His cultivated image — of shaved head, goatee, muscles and tight T-shirts, accentuated by a soft-spoken, Brooklyn accent — helped him rank as the city's second queerest straight celebrity, after Liza Minnelli, in a recent New York Press tally.
But it was the mix tape he made that created a buzz, that became his entrée into spinning at some of the hippest nightspots in Manhattan and Miami, at private house parties on Fire Island, and at big-time gay circuit events around the country, including a certain magic kingdom in Florida. He had no designs on being a top-draw DJ — or one working in mostly gay clubs, for that matter. He created the mix tape thinking it would get him gigs every now and then, not every weekend. "I just wanted to spin, you know, play a little bit here and there," he says. "I just did not expect what happened. It was just really quite amazing."
Amazing is one word to describe his success, which became widespread through his first commercially released remix — Madonna's "Frozen." He actually met Madonna back when she was just breaking into the mainstream in the mid-1980s, when she was also dating his friend, DJ John "Jellybean" Benitez. "She was just a clubkid at the time," as was he, at 17-years-old. Some fifteen years later, she tapped him as the lead remixer for "Frozen." He's remixed 12 of Madonna's singles since.
"I need to take a break from the Madonna stuff, I think I've done enough," he says. "I don't want to be just attached to her, or I don't want it to seem [as if] I'm just riding her success." Madonna is the one who recommended him to Sting, who was so impressed with Calderone's wildly imaginative reworking of his "Desert Rose" that he re-recorded the vocals just for that remix. He also enlisted Calderone to co-produce the original version and create a remix for the first track, "Send Your Love," from his newly released album.
Overall, Calderone is creating far fewer remixes for anyone these days — though it can be hard to say no, he admits. The fumbling music industry, for one, is no longer frequently dangling enticing remix offers. Calderone lost personal interest, too. "I became really uninspired with a lot of [my remix work], and some of them I really wasn't proud of," he says. He won't offer specific examples of remixes he considers "lemons," though he conceded that most of these are toward the end of his mad remixing spate between 1998 and 2002. "It became like a machine — create a remix and make the money. It lost its focus and purpose."
His remix of Madonna's "What it Feels Like for a Girl" is his favorite, a billowy bubble of down-tempo electronica, or chillout music — a style, surprisingly, that inspires Calderone most these days. Dido-styled chillout infuses the full-length artist album he's creating, as producer, for singer/songwriter Astrid. Her debut album on his label, Statra Recordings, is scheduled for release next summer.
Calderone has spent a lot of time recently in Europe, spinning at straight or mixed events. It's the latest in yet another Calderone tug of war, as he shifts from being a gay-club DJ to a mixed-club DJ. New Year's Eve will launch his first residency in New York since he gave up his gig at New York's Roxy two years ago. This New York residency, at the city's not-yet-opened Crobar, will be biweekly, and aimed at a mixed Saturday night crowd, not specifically gay. "I think that's the best of both worlds," he says. Straight crowds tend to push him "a little bit darker and a little bit more progressive" than gay crowds, who tend to want vocals all night. When the two are together, "both crowds influence each other, musically," he says.
Even if it doesn't work, he notes, "I think it's worth a try rather than to just label the night from the beginning and push people away or turn people away that want to come in but they are straight, or gay, or whatever." In essence it's the return to the days of disco and post-disco early house, even early '90s dance-pop, when the music brought gays and straights together.
Gays and straights who are one with Calderone's predilection for tribal dance music, that is. As Calderone explains tribal, it is house-based dance music, with minimal vocals, that's "not so much about the keyboards and the synths, but more about the rhythm, percussion and drums. It's very primal." It's African in origin, with much influence drawn from pan-Latin rhythm. To Calderone, it's music that's purposely underground, where he intends to keep it. His most recent compilation, Resonate (Statra Recordings), released this summer, was billed in its press release as packed with tracks "you won't hear on the radio, won't see made into music videos and probably won't hear anywhere outside the hottest nightclubs in the world."
Madonna is conspicuously MIA.
Victor Calderone spins this Saturday after midnight at Velvet Nation, South Capitol & K Street SE, 202-554-1500. $20 after 11pm. Visit www.velvetnation.com.