Photographs by Todd Franson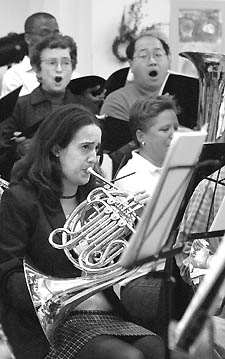 The Lesbian and Gay Chorus of Washington and D.C.'s Different Drummers on their first full rehearsal, Tuesday, November 18th, 2003.
"When writing anything, you come up with what you came up with on that day," says classical composer Robert Maggio of his craft. "If I was going to write this ten years ago, it would have been totally different. If I were writing it ten years from now, it'd be different. But I think this piece was commissioned at the right time for me."
The piece to which the 39-year-old gay composer refers is Quilt Panels (for my love, for my grief, for my letting go), a joint commission by the D.C.'s Different Drummers Symphonic Band and the Lesbian and Gay Chorus of Washington. Formerly known as "The December 1st Project," the 40-minute choral/symphonic composition will get its world premiere on World AIDS Day, in the Dekelboum Concert Hall at the Clarice Smith Performing Arts Center at the University of Maryland.
"The project started because of a conversation I'd had a couple years ago with Bonnie Ullmer, who was working at the D.C. chapter of the Names Project at the time," says Scott Barker, director of the DCDD Symphonic Band since 1998. "We started talking about the legacy of the Quilt, what it's meant for our community and the heritage it represents. And we were lamenting the fact that the Quilt was not likely to be seen again in its entirety, that it's stored in a warehouse in Atlanta.
"I had wanted to commission a work relevant to the gay and lesbian community for a long time," continues Barker. "After that conversation with Bonnie, a light bulb went off."
DCDD joined forces with LGCW and, following a six month review of more than a dozen applicants, settled on Maggio to create the work.
"One of the things that stuck out about Rob Maggio," says Barker, "was his approach to involving our members in the process of the composition. It really made him a good fit from the community perspective. Not to mention the fact that his credentials are impeccable as a major composer."
"I didn't know how I would do it on my own," says
Maggio, who initially wanted to hire a poet to create a libretto for the composition. He quickly realized poetry wouldn't suit the material.
"The Quilt isn't poetry in a fine art way," he says. "It's more like memoir, more like folk music. And that's why poetry seemed wrong for it. It didn't seem to capture what the quilt really is."
Maggio found "a tremendous amount of insight and direction" in Stitching a Revolution, a history of the Quilt written by Names Project founder Cleve Jones.
"I spent a long time not writing music," recalls Maggio. "I spent a long time writing down words about what I thought would be a really interesting way to present some kind of representation of the Quilt in a musical setting. And I realized that one of the most important thing was names. So I asked the chorus and the band to supply me with names of loved ones they'd lost to AIDS." The names were then used in two movements within the piece — "Stitching No. 1" and "Stitching No. 2." "The names are read by two narrators," says Maggio, "are spoken by the choir, they're whispered, they're sung, they're shouted."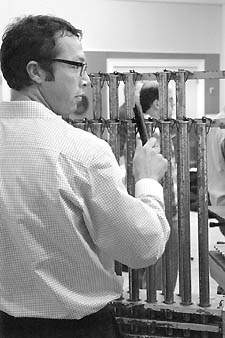 "Robert removed the surname," says LGCW General Manager Jill Strachan. "But if there were four or five Pauls submitted, he then repeated that name Paul as many times as it was submitted. So it is personal, because we know that there's a place marked for each person we submitted. At the same time, by taking away the last names, Robert made it universal for people in the audience who don't know these particular people who died but know other people who died who might have these names. It's one of the reasons I think people will connect with the piece."
One of the evening's most poignant movements is entitled "Letters," drawn from portions of letters submitted with individual Quilt panels.
"I chose sentences out of the letters," says Maggio. "For instance, the altos will sing 'I first met Bob in the summer of 1985,' then the basses sing, "I first met her in the hospital,' then the sopranos sing, 'We met for the first time at a press conference,' and finally the tenors sing 'I met C.J. a month before he died.' Then they move on to 'He was my favorite teacher, we were best friends. I am a mother. I am a father. We were in high school together.' Then it gets kind of passionate as people start talking about the impact of the disease: 'During all this time, I felt my body changes. This is for my love, this is for my grief, this is for my letting go.' That was the line that killed me."
When Strachan first heard "Letters" performed at a preview of the movement, she says quietly, "I was in tears."
"I didn't ever think specifically about the specifics of the illness," says Maggio. "What it was that took people, how people died. It was more about the process of grieving and letting people go."
The project was hardly an inexpensive undertaking, averaging out to about $1,000 per minute. Each group committed to raising $10,000 on their own with the additional $20,000 from outside funding sources, such as Brother Help Thyself and the Mid-Atlantic Arts Foundation. "We're still a little short of the full forty thousand," says Strachan.
"It was and is a huge undertaking," says Barker of the fundraising effort. "There was concern about our ability to do it, but we just believed that what we were doing was the right thing to do, and that with that belief and determination and a little bit of luck, we would succeed."
In the end, the cost was ultimately worthwhile.
"We've given something back to our community in a way that we couldn't have without commissioning a work like this," says Barker. "And working together with the chorus has been nothing short of a miracle. I think the concert is going to be immensely powerful."
Quilt Panels will receive its world premiere on Monday, December 1, at 8 p.m. at the Clarice Smith Performing Arts Center, located on Stadium Drive near the intersection of University Drive (Route 193) in College Park, Maryland. Tickets are $30 for the general public, $5 for students, with discounts for seniors and groups. The performance will be sign interpreted. Call 301-405-ARTS or visit www.claricesmithcenter.umd.edu.