BEMOANING MTVÂ… This week we thought we had good news to share with those who've ever bemoaned the lack of outlets to see dance music videos. Video production company Promo Only has developed a daily hour-long "Monster Mix" of dance and R&B music video programming for MTV2. Obviously, it was to be good news only for those bemoaners who have digital cable. What, you thought the main MTV channel might actually play videos? P-shaw. And it was to be good news only for those with digital cable who can watch it weekdays between 4 p.m. and 5 p.m., when it airs. Obviously it was good news for a very, very limited number of bemoaners post-college. But there's always TiVo, right?
Now for the bad news: While you can still set TiVo to record the show, but don't expect much in the way of what we've come to think of as dance music. The program mostly plays the R (as in R. Kelly) and the B (as in Busta Rhymes) in R&B, and all the bling-bling 50 Cent will buy. Over the past week the higher-ups at MTV even suspended that, requiring day after day a 2Pac Monster Mix so as to saturate the airwaves with Tupac Shakur, capitalizing on the MTV Films' Tupac: Resurrection that just opened. When Promo Only launched its Monster Mix program, it promised a "mix of dance/electronic and R&B/hip-hop." The first few episodes did just that, mixing Missy Elliott with Dannii Minogue with Tiga — though there only seemed to be a couple episodes, since they repeated every few days. Will these ever repeat again, or is it now hip hop, ya don't stop?Â…
MUSIC VIDEOS ON DVDÂ… Would you be willing to pay for music videos, buying a mixed-DVD instead of — or in addition to — a mixed-CD? If so, Radikal Records may be on to something with its new Dance Hits USA DVD. The press release announces that these are "all previously unreleased and unseen on national video outlets such as MTV, MTV2, VH1 and Muchmusic." You can say that again. In a leap of logic, it also says that these are "America's favorite dance videos," though if we've never seen them, how could that be true? It's not. Despite the name, these are, to a one, European artists, and the dance style here is mostly trance, with a little German techno added by way of the totally banal Daddy DJ. Daddy's self-titled track belies the idea that progress has been made in the sound of bubblegum dance-pop over the years. Or has it? Perpetuous Dreamer argues that it has, with its awkwardly titled "Dust.wav" that nearly lives up to the excitement generated by its "Sound of Goodbye" hit last year. This, we hope, is the sound of dance music's future.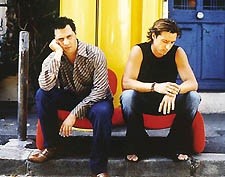 Galleon
Dance Hits USA DVD is the same concept behind Radikal's two volumes in its Dance Hits USA CD line, featuring many of the same artists — ATB, Voodoo & Serano, Marc et Claude — and even some of the same tunes. The fifteen videos themselves are mostly boring, though not Gouryella's "Ligaya," a project of the two renowned DJs Tiesto and Ferry Corsten. Together, they marvel at the wonders of science, and science fiction. "Digital life equals ultimate happiness," a message flashes on the screen as the buoyant music purrs out of the DJs' naturally 100-percent digital equipment. It alone is almost worth the suggested retail price of $9.99. Yes, that's right, the price is roughly half the suggested retail price for the same series' CDs, or any other.
In addition to this DVD, Radikal Records is showing a real commitment to showing dance music videos. The label has already filmed a pilot episode of "Dance Hits USA" the TV show that is scheduled to air early next year "on cable channels nationwide." What channels specifically? Stay tunedÂ…
REO FRENCHWAGONÂ… Gilles Luka, lead singer of the new French dance-pop group Galleon, complained to Billboard about the "facelessness" of dance music, about how he doesn't get respect as an artist. "I feel I am more disposable than a pop artist" such as Britney Spears or Jennifer Lopez, whose images are everywhere, he said. But you reap what you sow. Neither Luka nor his partner Philippe Laurent can be found in the video for the group's first single, "So I Begin," which instead focuses on a half-naked beautiful woman, as is the custom for dance music. There's exactly one photo of the two, disguised by fat sunglasses, in the case for the group's debut album, So I Begin (Radikal). It's a CD you really want to like, that you listen to again and again in hopes that it'll grow on you. But there's little "today" about the album. "Respect to all 80's pop-rock bands," the group says in the album notes, acknowledging the sound that permeates the album. Think REO Speedwagon, but faster. Or Huey Lewis and the News, but dancier. Or what Daft Punk would have sounded like had it existed in the '80s, before its sound had maturedÂ…