Nelly Furtado's second album, Folklore, doesn't match the achievement of her first album, Whoa Nelly! The reason boils down to Furtado's abandonment of an appealing musical style for something more, wellÂ… mature. She's still got inordinate levels of high energy, and she still works with the same producers, Track & Field, from the first outing. Basing the album on melancholy Portuguese folk styles, particularly fado, Furtado wouldn't be Furtado if she didn't seal every song with a playful, adventurous pop kiss. It's "post-folk, " in her coinage.
And she often succeeds. "Forca " is a little piece of pop perfection, evoking pop, or folk, music familiar the world over. "Forca " features passionately optimistic lyrics and a "kick ass " chorus, which is how the song's title loosely translates from Portuguese, Furtado explains. With the chorus sung in Portuguese, however, it probably won't have the impact on the American pop charts it deserves. The album itself may not either. Furtado hip-hopped her way through pop musical genres on Whoa Nelly! with a sense of boundless discovery and all-American (since she's Canadian, let's call it North-American) confidence about the future. On Folklore she's already begun to look back, to reflect on her past. Perhaps this is a result of her new status as a mother, or her mother's on influence on her, as a working-class Canadian immigrant from The Azores, a Portuguese island group.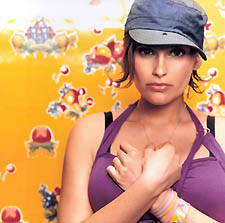 Furtado
Sometimes she seems to do too much reflecting even for herself: she laughs as she relates a mundane day in the life of her childhood on "Saturdays, " an unappealing song stripped bare of everything but acoustic guitar, childish vocals and an atrocious melody.
The album's first single, "Powerless (Say What You Want) " is another candy-coated, stick-in-your-craw melody in the vein of "Like a Bird, " which earned Furtado a Grammy. "Powerless " features effective breakbeats to encourage head-bobbing and shoulder-shrugging as Furtado giddily sings out some biting, reflective lyrics. "Paint my face in your magazines/Make it look whiter than it seems/Paint me over with your dreams/Shove away my ethnicity. " Still, she rarely wallows in negativity, and she never seems drunk with the power that fame brings.
Nelly Furtado
Folklore
Dreamworks
Furtado calls the song "Try " an "epic power ballad, " but it's one that keeps its power in check. She only repeats the chorus twice, leaving her to improvise through the last half of her fado, female homage to both early U2 and Smashing Pumpkins. Spunky she is, but in small, agreeable doses.
The problem with Pink, such as it is, isn't her blond-ambition abandonment of her namesake hair color. Apparently that's not what Alecia Moore's nom de pop refers to these days anyway: "Slick ride made my mink slide/'Cause we're all pink inside, " she sings on the wild and wonderful NC-17 rated track "Oh My God " from Try This, her third and newest album.
---
Try This opens with one of the best pop songs released this year — "Trouble. " Pink kicks up some major melodic dust as a born-again punk rocker, firing on all cylinders in a chorus you couldn't ignore if you tried. But the problem with Pink is that she comes on too strong too soon and is unable to follow through.
All of the best tracks on Try This are collaborations with and productions by Tim Armstrong, the reason for her new progressive punk sound, and it is progressive, since it leans toward the light, in the direction of the dance floor. Pink should also avoid work in the future with Billy Mann. Their joint effort, "God Is A DJ, " the second single to be released, is the musical equivalent of burnt pudding: an ew-ew sloppy goo of a tune cooked too long, with its falling-scale chorus, clichéd lyrics and an icky layer of overwrought electric guitars on top.
---
On Just Because I'm a Woman: Songs of Dolly Parton (Sugar Hill Records), a bevy of today's leading lesbian artists, as well as some straight celebrity sisters, set out to cover Parton's biggest hits. And why not? It matters not that Parton is, fingers-crossed, far from dead. Parton's ample talent as a first-rate songwriter is under-appreciated, overshadowed by her ample-and-then-some bosom.
And few entertainers have shown as much heart, especially toward gays, as Parton has over her 35 years in the business.
One of Parton's strongest songs from her recent back-to-bluegrass phase, "Little Sparrow, " is absolutely ruined by the Australian Kasey Chambers, who affects a little girl's southern accent as she sings the lines out her nose. But newcomer Mindy Smith shows amazing potential with her take on a Parton classic, "Jolene. " This delightful song was always seriously delusional, with the singer begging her boyfriend's true love to let him go. But ever-the-jokester Parton never drew out the weighty seriousness of the lyrics. Smith's tender, uncertain voice cracks as she sings, "You could have your choice of men, but I could never love again; he's the only one for me, Jolene. "
Melissa Etheridge bests her lesbian and bisexual cohorts here. Unfortunately, she chose to cover "I Will Always Love You, " and while her husky alto, as well as her own history, adds layers of personal anguish and interest, it fails to spur repeated play of this totally played-out tune.
---
In front of any mirror, Dolly's total opposite would be Hedwig, the fictional diva who blazed her way to limited national attention a few years ago in John Cameron Mitchell's shockingly original musical Hedwig and the Angry Inch. But give her an inch — just one measly inch — and, well, she'll inspire any number of exceptional, independent, alternative musicians. Cyndi Lauper, Yoko Ono, Bob Mould, Rufus Wainwright and the hilarious Fred Schneider (of the B-52's) all contribute their well-known eccentric vocals to Wig in a Box (Off Records). It's a tribute album to Mitchell and the great Hedwig composer Stephen Trask, the two of whom contribute an accomplished new song, "Milford Lake. "
Apart from appreciating Trask's talent as songwriter and the known roster of artists' talent as musicians, the real joy of the album is discovering artists you may not have encountered before. The Polyphonic Spree has received significant press in the past year, and based on the 20-plus-piece hipster alt-rock choir's breezy rendition of the title track, it's more than deserved. Frank Black has more fun than Mitchell originally did in his punk-hued rockabilly rendition of the raucous "Sugar Daddy. " Black blusters like a borderline diabetic, "If you've got some sugar, sugar daddy bring it home. " The album delivers his fix through a delicious bag of colorful gummy bears.