Photo by Todd Franson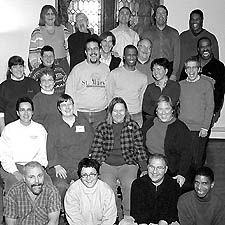 The Lesbian and Gay Chorus of Washington in rehearsal.
Mission: Every voice matters.
Founded: 1984
Number of Members: 30
How To Join: The Lesbian and Gay Chorus of Washington (LGCW) is a non-audition group and is open to persons of all skill levels. For those interested in joining there are two open houses a year. Members pay a $120 membership investment twice a year. Scholarships are also available.
Background: After being dragged to a rehearsal, charter member and current general manager Jill Strachan knew she was going to be part of something great. "The music not only reflects the experience of the GLBT community but also a wide range of social issues," Strachan says. "I've watched so many people come through personal empowerment and learn how to sing. It's been a great joy."
Contact: Visit www.lgcw.org for more information.
Next Event: LGCW's first open house of the year will be February 17 at St. James Episcopal Church 222 8th Street, NE from 6:30 to 8 p.m.