It's nice to discover a neighborhood restaurant that serves well-prepared food at reasonable prices without the pretension that so often surrounds tonier places. Despite an uneven opening a few months ago, Local 16 seems to be on a steady path to attracting and retaining a faithful following.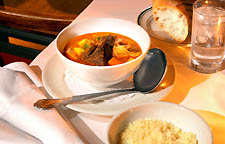 One of the best things about Local 16 is that it doesn't feel like a Washington restaurant. Instead, it has a down-to-earth feel that would be at home in Seattle or Minneapolis. With its unpolished floors, hanging lamps, pseudo bordello-red walls, and casual atmosphere, Local 16 invites you to come in and sit a spell. In case you're wondering, the "local" comes from the type of crowd the restaurant hopes to attract and the "16" from the numbered street outside (although the restaurant actually has a U Street address). Although cold weather has put a hold on using the restaurant's second-story patio bar, the return of spring in a few months will have neighborhood folks clamoring to enjoy the precious outdoor venue.
You won't find pretension on the menu here either. A starter of blackened chicken quesadilla strewn with corn and green pepper is simple and refreshing. With sides of sour cream and jalapeño/cilantro salsa, it makes a dependable beginning.
Baked brie and frisee, a member of the chicory family, is unremarkable yet satisfying — the kudos go to the lovely French bread it's served on, amply available as well in baskets at every table. A hearty bowl of French onion soup, with its broiled cheese canopy, is just the thing for a cold December night.
Shrimp rolled in rice paper are hit and miss — sometimes hot and crispy and sometimes not so hot and laden with oil. Take a chance and send them back if at first they don't succeed.
Lamb couscous is a favorite main course. This marinated lamb and vegetable stew is rich and filling, and the sauce is a fine blend of spices, although it's the cinnamon in particular that transports me to Morocco with lovely recollections of lamb tajine.
Mahi Mahi, the Hawaiian name for dorado, lends a tropical flair to this firm, flavorful fish, yet for its seasonings the kitchen returns to North Africa for a spicy rub of spices known as harissa. Traditionally blended from fiery-hot chilies, garlic, coriander and cumin (among other spices), here the harissa is toned down a bit so as not to bury the subtle flavor of the fish. A mint and yogurt sauce adds a refreshing counterpoint.
The Mahi Mahi does double duty as one of a triumvirate of grilled fishes in, appropriately enough, the "seafood grill." Here the dorado is left to shine in a lemon-butter sauce along with fillets of equally fresh salmon and swordfish. Perhaps the best bargain on the menu, the seafood and accompanying rice and assorted vegetables makes for a handsome and satisfying feast.
Home-cooked spinach and leek ravioli is adorned with either a vegetarian sauce or a bolognese-type meat sauce. The pasta is well made and cooked to the proper al dente firmness, but I found the still-chewy leeks overpowered the more delicate spinach. Perhaps it varies from day to day, but it was truly a leek-lovers dish on my tasting.
Local 16
1602 U Street, N.W.
202-265-2828
Reservations suggested
Hours:
Daily 5:30-11pm
and Fri & Sat 11pm-1am with a limited menu
Appetizers $6-8
Entrées $13-22
Desserts $6

An assortment of salad entrées and vegetarian dishes offer a more varied selection of non-meat offerings than you'll find most places. Curried coconut tofu might just lure me back one evening soon.
Desserts are not Local 16's strong suit, although the nine flavors of gelato are awfully enticing and so much better than most restaurant ice creams. Try substituting a coffee gelato for the plain vanilla ice cream accompanying the rich, warm chocolate brownie. It's far from a creative dessert, but it beats the other tired choices of cheese cake and crème brûlée.
Local 16 is the most promising thing to happen on U Street since the restoration of the Lincoln Theater. So the next time you begin to despair that you can't think of anywhere to dine that you're not already completely over, think locally — as in Local 16. It may just awaken you to a refreshing change of pace.