Once upon a time, in a land very, very near, Queen Molly Smith decided to dip her royal toes into the immense pool of American musical theater. Now she's soaking wet. If ever there were a way to dissect and diversify Lerner and Loewe's 1960 classic Camelot, for better or for worse, Smith has found it. Despite a very dated book and an excruciatingly slow start, King Arthur's timeless tales still sparkle in the first Lerner and Loewe venture for Arena Stage.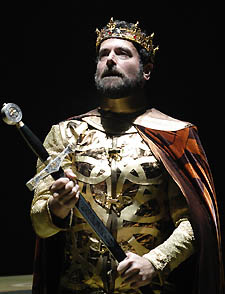 At the heart of Camelot is not the revolutionary concept of civil law for a civilized society and the "might for right " ideals, but the bittersweet, human story of King Arthur's sad folly of personal sacrifice and devotion for the sake of his kingdom and his two loves. It is a touching tale marked with unprecedented nobility, forgiveness, and redemption, and it offers up one of the greatest love triangle of all time. While Lerner's book could certainly use an update, Camelot is still a highly dramatic work about the strength of bonded lives that has the potential — yet any production walks a fine line between the deeply affecting and the intensely boring.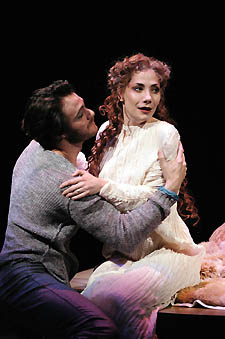 Director Smith eschews bold risks and brave staging and instead indulges her tendency toward the safe and clean, peppering the production with half-baked ideas that seem better in theory than in execution, such as a human chessboard and the odd casting of an eclectic ensemble that seems entirely out of place. Non-traditional casting is a generally welcome strategy, but here the non-realistic approach is a distraction rather than a complement to the piece. Luckily Smith's trio of gifted principles can carry more than just a tune — they have the arduous task of moving the entire show.
If during the first fifteen minutes into the evening you find yourself looking for the nearest exit, take heart. Once the energetic Matt Bogart bounces on the scene as Lancelot du Lac, the show finally begins. Smith does a fine job with the scenes from there, but without Bogart's stirring rendition of "C'est Moi, " one might pass the time by admiring Kate Edmunds' set and John Ambrosone's gorgeous lighting plot, or even hoping that Paul Tazewell's exotic furs and leathers are of the compassionate, faux variety. Bogart infuses the stage — and even the other actors — with enough charisma that we finally begin to appreciate Steven Skybell's mature Arthur and Kate Suber's child-like Guenevere. Suddenly everyone has spring fever: there's a maypole, a unicorn, a picnic, a big fluffy dog, and even Baayork Lee's choreography. Suddenly it's a different show. And we are grateful.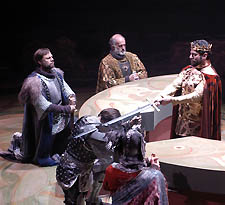 Skybell is an amicable Arthur, delivering his pivotal monologue at the end of the first act with great depth and emotional range; but it is his amazing, rich voice that most likely landed him the role. Suber's lovely voice is equally impressive, even if her Guenevere lacks dimension. As a highly-skilled soprano, it is wonderful to hear her subtle operatic training, most especially in the colorful "Take Me to the Fair " number. Again, Bogart is the jewel in Camelot's crown, offering a fresh, revitalized "If Ever I Would Leave You. " George Fulginiti-Shakar offers solid musical direction and his riveting, forceful "Guenevere " sets his score apart from other productions. It's a bit annoying that he permits the grating enunciation of "Cam-MELL-lot, " but obviously he did something right since during intermission the ladies' room was humming with the chorus of the title song.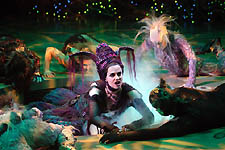 The rest of Smith's cast is merely competent, with the exception of Jack Ferver's spicy, sadistic Mordred. As the illegitimate son of Arthur, Ferver is so good at being so bad that you can almost doubt he is acting. That's a true rarity in musical theatre and a real find in a singing actor.
Camelot
by Alan Jay Lerner & Frederick Loewe
Directed by Molly Smith
Arena Stage
1101 Sixth St. SW
Through 1/04/04
$48 to $61
202-388-3300
www.arenastage.org

Discovering a production of Camelot that breathes new life into the ancient stories of the royal threesome is nearly as impossible as extracting a sword from stone. While Smith's lavish new production certainly provides a satisfying, nostalgic spectacle, it is but a shimmering glimpse into the "fleeting wisp of glory that was Camelot. "