Holiday movies are designed, by and large, to spread good cheer, to make us all warm and glowy inside, to make us feel charitable toward our fellow human being.
Not Terry Zwigoff's Bad Santa. This extravagantly foul, outlandishly profane, howlingly funny black comedy about a thieving, hard-drinking, child-loathing department store Santa is a shock to the yuletide system. It's a big, loud, screaming "GOD BLESS THE MISANTHROPES, EVERYONE. " And while it may not appeal to every segment of the moviegoing public (at least four people stormed out during the matinee I attended), those able to appreciate its uber-raunchy, miscreant-motivated sense of humor will likely find a new source for their Christmas cheer.
In the role of Willie, a suicidal drunk with an incontinence problem and a disposition akin to sandpaper rubbing briskly against flesh, Billy Bob Thornton gives his most original, and perhaps finest, performance since Sling Blade. There are few living actors who one imagines could pull off this role with as much soured, scraggly wit — all the while evoking a sympathetic response — as Thornton. Look beneath the hatefulness and the rage and you'll discover a brilliantly nuanced performance, one fueled by a grimy, gritty sense of realism.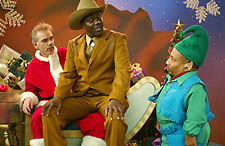 Unkempt, ragged and haggard, and in possession of a rampaging, bottle-smashing temper, Thornton's Willie has abandoned life in the real world long ago — he's just a shell going through the motions, filling up his soul with a steady stream of Old Grand Dad. For seven Christmases, Willie and an African-American dwarf named Marcus have made their living posing as a department store Santa and Elf team. Each year, on Christmas Eve, they access the chosen store's security and rob it blind.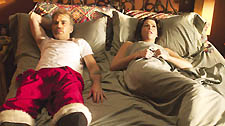 I saw mommy balling Santa Claus:
Thornton with Lauren Graham.
This year, however, things turn out a little differently, in part due to Willie's friendship — if you can call it that — with Thurman, a socially stunted, overweight rich boy whose father is serving time for embezzlement and whose mother is off on an extended abandonment holiday. The boy lives with his grandmother (Cloris Leachman), who spends most of her time conked out in front of the TV. Played with a masterful, irritating deadpan by Brett Kelly, Thurman befriends Willie and, through ungodly persistence, breaks through the man's emotional block. This "redemption through the love of an innocent " angle is the only time that the screenplay by John Requa and Glenn Ficarra lapses into convention, dipping its toes into a syrupy puddle of maudlin. While it doesn't harm the film's primary intent to gloriously offend, it does water it down a bit.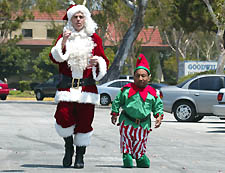 Requa and Ficarra, ironically enough, are the writing team behind the chatty animal comedy Cats and Dogs (and the forthcoming, oh-so-eagerly awaited Cats and Dogs 2). Clearly, the pair wrote Bad Santa as an act of atonement, as a means of purging themselves of the insufferably cutes.
Bad Santa has a perfect director in Zwigoff, whose last film, Ghost World, contained similar misanthropic undertones. But Ghost World was far less overt than Bad Santa, which is fairly flagrant in its attempts to shock the holiday spirit right out of us. There will be those, who like me, will overlook the profanity and the sight of Santa getting his holly jollies with a portly woman in the Lady's Big & Tall Dressing Room, and will find the movie as hilarious as — and there really is no better way to put this — all fuck.
Bad Santa
Starring Billy Bob Thornton, Bernie Mac and John Ritter
Rated R
93 Minutes
John Ritter, in his final film role, has a few splendid scenes as a meek, prissy department store owner. Ritter's pinched, pained expressions as he contends with Willie and Marcus are alone worth the price of admission. Similarly, Bernie Mac does a hilarious turn as Gin, the Arizona-based department store's chain-smoking chief of security. One scene in particular — a negotiation between Marcus and Gin — richly shows off Mac's spectacular comic timing. But the film really belongs to Thornton, who carries it all the way across the finish line as though he were Oscar the Grouch on a bender.
---
Bad Santa is no holiday classic in the mold of It's A Wonderful Life. It's akin to rotting fruitcake (if fruitcakes are even able to rot), a withered sugar plum. And it's the perfect antidote to anyone looking for a reason to despise — however briefly — the holiday season. It's a movie meant for the Scrooge lurking in us all.
The Haunted Mansion is the second film this year to be based on a classic ride at Disneyland/World. Unfortunately, unlike the deliriously entertaining, zippy and zesty Pirates of the Caribbean, also based on a Disney theme park ride, Mansion is as dead as the spirits who haunt its unspooktacular walls.
The movie works strenuously to stir as many familiar elements from the ride — waltzing ghosts, hitchhiking ghouls, a clairvoyant's head in a crystal ball — into a wan, predictable baseline story that has something to do with a woman who resembles the long deceased lover of the ghostly master of Gracey Mansion. Marsha Thomason does her best to make the character as lifeless as possible. She's like a woman faking an orgasm. Badly.
The Haunted Mansion
Starring Eddie Murphy and Terrence Stamp
Rated PG
99 Minutes
Thomason's non-performance is, I suppose, designed not to steal the thunder from co-star Eddie Murphy, who plays her motor mouthed, wise-cracking husband. While Murphy has had his ups and downs in movies, you may be curious how low does this particular one go? Mansion dips beneath his work in Harlem Nights and Boomerang. It is almost as awful as Pluto Nash.
Terrance Stamp — remember him? — is Mansion's only asset as a creepy otherworldly butler named Ramsley. Still, this is slumming for Stamp, who was so much better as Superman's nemesis and, later, as a Australian transsexual.
Someone asked me if The Haunted Mansion was at least good enough for the five-year-old set. To that I say: Even five-year-olds deserve quality entertainment.