The sheer scope and monumentality of HBO's Angels in America will surprise few. That the production triumphs and gives new legitimacy to television as a delivery system for high art will surprise even fewer. That Al Pacino, Meryl Streep and Emma Thompson turn in impeccable, Emmy-worthy performances will surprise fewer still.
What, in the end, will astound millions of viewers is how utterly relevant, how precisely urgent, a play about AIDS in Reagan-era America is right now, today.
It is, by all accounts, an audacious project. A $60 million, six-and-a-half hour telecast of Tony Kushner's groundbreaking drama, winner of the Tony and Pulitzer prizes, one of the most important pieces of theater to come out of the late 20th century. Everyone wonders: will it translate?
The opening shot of Angels in America is revelatory in its own right: the statue of a winged angel in Central Park. Her head moves, her eyes foreboding. Prepare yourself — the messenger is coming.
For gay men living in New York City in 1985, the end of the world must have appeared very near. AIDS was eating its way through their neighborhoods. Science was helpless to stop it. And Ronald Reagan didn't seem to care. Against this backdrop, we meet Prior Walter (Justin Kirk), a young man stricken with AIDS, and his boyfriend Louis Ironson (Ben Shenkman). Devastated by the news of his lover's impending demise, a conflicted Louis abandons Prior.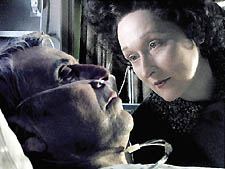 Pacino and Streep
Across town, a young Mormon couple struggles with its own demons. Joe Pitt (Patrick Wilson) grapples with his agoraphobic wife Harper (Mary-Louise Parker), who's addicted to Valium. A young protégé of Roy Cohn (Pacino), Joe is forced to confront his own sexuality when the power of his prayers cannot repress his longings for other men.
Much of what will attract viewers to Angels in America will surely be the bigness of the event — the all-star director Mike Nichols, the explosive special effects, the power of Kushner's words, the first ever on-screen pairing of Oscar winners Pacino and Streep. Yet viewers are in store for so much more. Angels in America is often heralded as a play about everything — AIDS, homophobia, racism, class, sex, religion, politics, power, gender, love, God — so much so that it requires audiences to come to the theater on two separate nights. HBO divides its telecast into two nights as well. The first part, "Millennium Approaches, " debuts Dec. 7. The second half, "Perestroika, " on Dec. 14.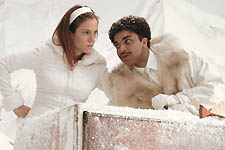 Kushner is masterful at unmasking the strange contradictions that organize American life. Freedom and powerlessness (we hold these truths to be self-evident: money talks). Love and betrayal (we give our hearts away only to learn we are truly alone). Despair and hope (we die painful, horrible deaths but hope angels will greet us in heaven).
It's in these contradictions that the playwright's characters are born: dark and complex, maddening and human. Louis, for example, is the well-meaning, guilt-stricken Jewish liberal, who succumbs to his own cowardice and leaves his lover for a life free of sickness. Shenkman expertly captures the dithering agony of a man who's doing the wrong thing and knows it. The grief he bears is eclipsed only by his inability to love without regard for himself.
Roy Cohn is a man who seemingly has it all: money, power, even Nancy Reagan's unlisted number. But as the despicable bastard — former henchman to Joe McCarthy — spews his hateful, spitting tirades, it's clear that his deeds have undone him. Lying in waste on his deathbed (forced there by AIDS and years of surreptitious sex with men), Cohn is visited by the ghost of Ethel Rosenberg (Streep), a haunting reminder that what goes around comes around.
Pacino seems to dig to the center of the earth itself to summon the vile hatred that Cohn embodied. Machiavellian to the core, Cohn perverted American values and mores to suit his own needs. In a foul-mouthed, brash performance, Pacino inhabits the soul of a man destined for hell and knows it, screaming "Fuck you!" all the way.
Then, of course, there's the likely villain of Joe's Mormon mother, Hannah, from Salt Lake City. Played by Steep, she's so tightly wound and drunk with her own beliefs she can barely let the word "homosexual " escape from her pursed lips.
Yet it's Hannah who helps Prior to understand the visions he's been having of an angel (Thompson). Prior, who long ago gave up on God with a capital "G, " and Hannah make unlikely allies ("You don't judge me and I won't judge you, " she tells him), but it's precisely this kind of oddity in which Kushner delights. Worlds collide in Angels in America.
All of the performances in this mammoth production is heroic, but of particular note are Parker as the enigmatic Harper and Kirk as the disease-ravaged Prior. The draw of Harper, as is so often the case with these kinds of characters, is her artful descent into madness. Of course, in the topsy-turvy world created by Kushner, madness is a relative term.
When she pops her pills, Harper seemingly escapes reality in a series of twisted delusions. But she really enters a world of über-reality, where everyone is knowing and honest. Here, Harper confronts the sham of her marriage and the truth about her husband. The delusions fortify her, releasing Harper from the un-reality of her true life.
Parker assumes this complex role with unnatural brilliance. Like a breathtaking and delicate orchid, Parker balances her character's unlimited sadness with an almost delicious whimsy. Why can't she, after all, go to Antarctica to find the Eskimo of her dreams?
The most difficult role of the HBO production belongs to Kirk, who must carry the underlying mission of the production. Sick and dying, Prior is visited by an angel, who informs him that he is a prophet. Abandoned by his lover, abandoned by faith, Prior must make sense of the shifting forces. In this century of war, famine and plague, where is God? But, here, on his deathbed — ravaged by pneumonia and Kaposi's sarcoma — Prior undertakes the most serious inquiry of them all. Who, in the end, facing despair and uncertainty, doesn't want to make sense of all the suffering?
Angels in America is intoxicating to watch. Not only is it mesmerizing and provocative, but it's also an inherently American piece, though one largely uninterested in underlining the myths of America.
Forget the "city on the hill " rhetoric. Kushner is much more fascinated with the reality of America: everyday people committing various acts of nobility and horror, often at once. The AIDS nurse Belize (Jeffrey Wright) scorns the special treatment lavished on the influential Cohn but tells him of the AZT trials anyway. "I don't have to love America, " a frustrated Belize screams at Louis, "I live in America. "
Angels in America
HBO

Part I: Millennium Approaches
Premieres Sunday, Dec. 7

Part II: Perestroika
Premieres
Sunday, Dec. 14
In this era of terrorism and preemption, of WMDs and airport screeners, it's not impossible to identify with the despair and dread of the 1980s. When lives are snuffed out in fiery plane crashes, it leaves people wondering about angels and prophets, asking where is God now?
It's uncommon for television to tackle such weighty issues. Rarer still that the outcome is so uniformly astonishing. An audacious project indeed, it's a wonder to behold.