No single was bigger — or better — in 2003 than Beyonce's "Crazy in Love. " But creating an appealing album is far more challenging than merely creating one great song. The following artists were among the best, and worst, at making albums this year.
Opening with the sounds of a spirited crowd, D-D-Don't Stop the Beat (Atlantic) made plain the purpose of Junior Senior: to be the party poppers of the year. Indeed, these daffy Danes were responsible for the year's best party album, full of one punk-funk dance-rock song after another.
Outkast marvelously merged up-tempo R&B and hip hop with this year's two-disc set Speakerboxx/The Love Below (Arista). It's difficult to overstate what Outkast's Andre 3000 and Big Boi accomplished, from the runner-up best song of the year, the shimmying "Hey Ya, " to the next single, the hip-hop meets techno "Ghetto Muzik. "
Kenna made an auspicious entry on the scene with his debut, New Sacred Cow (Columbia), courtesy of the Neptunes, the virtuosos who can take much credit for hip hop's dominance of the pop charts, the airwaves and the Grammy awards this year. But Kenna isn't a hip-hopper, he's a neo-New Wave alternative rocker, with obvious inspiration drawn from Duran Duran, The Cure, The Cars and Depeche Mode. All of that can be said of too many artists these days, but none matched Ethiopian-American Kenna's way with sophisticated melody-making and unforgettable, restrained vocalizations.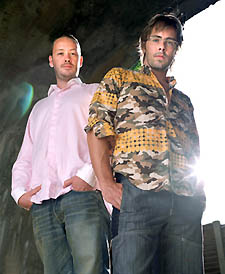 Basement Jaxx
Before her death from cancer in July, the Queen of Salsa Celia Cruz recorded her last album, Regalo del Alma (Sony Discos). Every up-tempo song on the album sparkled with energy and contagious happiness.
No female chanteuse who attempted a comeback this year captivated us with somber, reflective songs better than Annie Lennox through her wonderful album Bare (J Records), anchored by the hauntingly beautiful "Honestly, " a perfectly realized, timeless pop tune. The sheer power of naked honesty and sincerity that Lennox wielded on every song was breathtaking.
Basement Jaxx added equal parts dance-pop, hip-hop, rock and jazz on its third album, Kish Kash (Astralwerks), hand-stirring all of it to create music you'd never heard before, while still managing to sound comfortingly familiar. Listening to this evenly measured album made you dizzy, not just because of its wildly maniacal musical fusion. It's that rare album on which every single track worked exceedingly well. We didn't hear a better album this year.
And then there were the albums to forget.
Best of 2003
Kish Kash
Basement Jaxx
Astralwerks
Worst of 2003
Harem
Sarah Brightman
Angel Records
Sarah Brightman added dance beats to her New Age easy-listening sound on Harem (Angel Records) but wound up giving a dreadfully prententious school-marmish lesson in how not to create pop music. As with Brightman, Barbra Streisand's haughty attitude shines through on her latest, The Movie Album (Columbia), on which she dared the listener to stay awake as her passionless vocalizing droned on.
Depeche Mode's former lead vocalist Dave Gahan had never written a single song prior to his debut, Paper Monsters (Mute). His solo album wallowed in the self-indulgent pit suggested by some of the track titles, particularly "Black and Blue Again " and "Dirty Sticky Floors. "
"Fuck the Pain Away " was the name of X-rated punk-rapper Peaches' first song, but it's our resolve after chancing her second album, Fatherfucker (XL Recordings). Peaches seemed not to know that her debut, The Teaches of Peaches, worked because she let the shocking lyrics power the songs. Here the lyrics are outmuscled by her firebrand delivery and overcooked music nearly zapped of any electro-dance energy.