Photography by Todd Franson
Whether they're from a farm in Virginia or the mountains of Colorado, an army of trees has begun its annual invasion of the city. Cropping up on otherwise desolate sidewalks, these faux forests are poised to make your holiday season a little greener. And face it — no matter how many wreaths, garlands and evergreen-scented candles you may buy, nothing truly says Christmas like a Christmas tree.
Choosing the right tree, however, can be a cumbersome task. With more than 16 different types of trees — not to mention the myriad individual variations in size, shape and color — trying to choose the perfect Christmas tree can quickly overwhelm.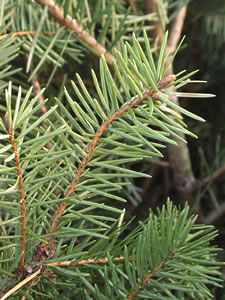 Douglas fir
Yet all that effort isn't for naught, says Kevin Maloney, owner of Nicks Noel in Silver Spring, Maryland. "It's the focal point of the celebration. People gather around it like a fire. "
It hasn't always been this way. The American Christmas Tree Association (ACTA) says the phenomenon of decorating a tree is actually relatively new in America. The first decorated tree didn't appear until the mid nineteenth century. Since then the tradition has grown and evolved into an entire industry.
Over 33 million real trees are sold annually in North America alone, and trees are grown in all 50 states and Canada. Maloney receives his trees from a small farm in Clearfield, Pennsylvania, giving him more flexibility and better stock for the season. "I can get the trees cut on my schedule and have them shipped fresh."
Freshness is not only a key attribute for buyers — it often determines the kinds of trees available in a region. Knowing the differences among trees is perhaps the most important step in determining which tree is right for you. Maloney says some of his top sellers include the Frasier fir, the Douglas fir and the Scotch pine.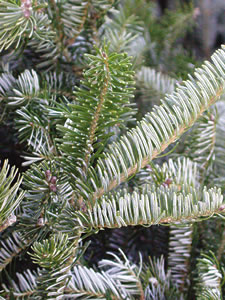 Frasier fir
The Scotch pine is a favorite of growers and consumers alike. It's easy for tree farmers to grow, making it a very economical choice for consumers. Maloney calls the Scotch pine "a good sturdy tree," with strong limbs that easily hold heavy ornaments. The needles are about one inch in length, and stay attached to the limbs for long periods, even if the tree becomes dry. With needle colors ranging from bright green to a blue green, they can run from $5 to $7 a foot.
The Douglas fir is one of the oldest trees used for Christmas. The tree can grow up to 250 feet tall and live for up to a thousand years. The branches are slightly drooping and needles grow in all directions around the branch, providing ample coverage. Needles grow up to one and half inches in length and range in color from a dark green to blue green. When crushed the needles give off a sweet smell. Douglas trees sell for around $8 to $9.50 a foot.
Frasier fir tree
The Frasier fir is the most popular Christmas tree today — you'll find one in White House Blue Room this year. The tree's branches angle upwards, giving it a compact appearance and a uniformly pyramidal shape. The needles are flattened and grow from a half to one inch in length. The upper half of the needle is dark green while the lower half is a light green. Maloney says the trees are very aromatic and often have a fruity smell to them, a distinction that may help some remember the tree, if not the name. "I had a guy come in the other day and ask if I had any tangerine pines," he says. Frasier firs can be found for approximately $9.50 to $14.50 a foot.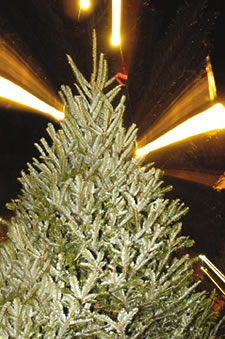 Frasier fir tree
Once the type of tree is selected, a good way to tell if it is fresh is to take a limb and bend it in half — the limb should be pliable. If it snaps, the tree is most likely not fresh. Also, when you shake or bounce the tree there should not be an excessive amount of green needles falling to the ground, although some loss of interior brown needles is normal.
Once you've chosen your tree, maintain its moisture by making a fresh cut about one half inch from the bottom of the tree trunk. This will allow the tree to better absorb water in the tree stand. The stand should always be full. The ACTA says that plain tap water is best for a tree's moisture retention, and additives to the water can actually be detrimental. With proper maintenance, a tree can easily last eight weeks.
More information on types of trees as well as tips on care can be found on the American Christmas Tree Association's web site at www.realchristmastrees.org.