Photo by Michael Wichita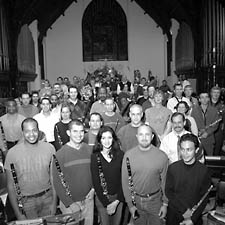 DC's Different Drummers
Mission: Create fine music, have fun, play with pride, work together and educate others.
Founded: 1980
Number of Members: Approximately 80
How to Join: There are no auditions. Those interested can join at the beginning of each band's season. The symphonic band and swing band seasons begin in January. The marching band season starts in April. Membership is $100 for the year.
Background: Although he has been with the group for years now, artistic director Scott Barker doesn't have to look back very far for his most memorable experience: Last month's musical collaboration of the DCDD and Lesbian and Gay Chorus of Washington for the December 1st Project, he says, "was a phenomenal experience." Inspired by The AIDS Memorial Quilt, the piece touched the hearts of everyone involved. "It was very memorable on a lot of different levels."
Contact: For more information call 202-269-4868 or visit www.dcdd.org.
Next Event: There will be an open house January 15 from 7 to 9 p.m. For location and more information visit the web site.