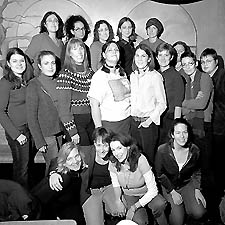 Members of DCBiWomen
Mission: Create an accepting, encouraging environment for bisexual women regardless of the gender of their partner or what they are looking for, meet other cool bi women, and affirm the existence of the bi identity.
Founded: 2002
Number of Members: Approximately 300
How to Join: Visit www.dcbiwomen.org and follow the links to join the Yahoo Message Group or feel free to drop by one of the meetings — every other Thursday at Cafe Luna Books.
Background: "I had an epiphany," says Stefani Olsen, founder of DCBiWomen. "I preferred people as opposed to any single gender." Soon after that, Olsen wanted to find an outlet to talk with other women about her experiences. With no groups in sight Olsen decided to start her own. Two years and hundreds of members later she says, "It's great realizing I am not alone."
Contact: Visit the web site or e-mail pirategirls@hotmail.com.
Next Event: Tonight, January 29, at 7:30 p.m., at Luna Books, 1633 P Street NW, third floor.