Poor Malcolm. When we first meet the sweet, fresh-faced fifteen-year-old, he is quietly waiting for his father to return. From where, no one knows. All we know is that he has been waiting a long time. Who his father is, where he is, and why he hasn't returned are all questions that work better in metaphor than in Edward Albee's version of reality, of course. His Malcolm has no home, no family, no friends. But he does have one missing parent — or does he? In typical, delicious, existentialist Albee fashion, Malcolm poses the question "Where is my father? " only to be met with a profound, poignant reply.
Based on James Purdy's 1959 novel by the same name, Malcolm is the story of a boy sent out into the world with the hope of reuniting with his father. It is not a caring, patriarchal figure he finally discovers, but an entire universe of deceptive, greedy, apathetic strangers who offer Malcolm toxic elixirs of companionship, trust and their own seedy versions of "love. "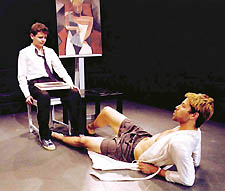 Of course pedophilia and child molestation are nothing new for Cherry Red's everlasting devotion to all things taboo, but the universal themes and non-gratuitous nudity could easily prove too mature for their ilk. It's hard to imagine a play with such risqué subject matter premiering in a world-renowned house as Broadway's Shubert Theatre thirty-eight years ago, but indeed it did, with a younger Estelle Parsons in a recurring role and Everybody Loves Raymond's own Doris Roberts on standby. Granted, it only ran for seven performances, but considering that it is forever poised between two of Albee's most acclaimed successes — just after Tiny Alice and before A Delicate Balance — it's a wonder that Albee's fourth controversial contribution ever made it to the Great White Way at all.
And so the gifted playwright must begin Purdy's teenage odyssey someplace, and this someplace just happens to be a bench, where Malcolm (Brandon Thane Wilson) patiently waits. Enter an astrologer (Jack Seeley, looking more like the tuxedo-clad banker from Monopoly than a pederast sage who studies the stars), who pledges to help our young hero find his father, if only he can coax him away from his beloved bench. In a role written to give astrology a bad name, Mr. Cox (emphasized as "cocks ") entices Malcolm to meet with various shady characters, in an effort to assist him on his quest.
First there are his married-but-divorcing friends Kermit (Richard Renfield) and Laureen (Catherine Aselford). Kermit adamantly argues with his wife, a hussy with blue eyeshadow and a come-hither glow, that he is absolutely, positively 192 years old. "Married love is the strangest love of all, " muses Malcolm. Then he is shipped off to meet the wealthy Girards, who want little to do with him at first, but who grow fond of the boy after losing him to a pair of beatnik artists: one a hypertense painter, the other an ex-con novelist. The two toss our tender teen from bed to bed until finally selling him back to the Girards. But before Malcolm makes it back to his safe haven, he is enticed by Melba (Tanya Baskin), a nympho diva with marriage on the brain ("Mature him up, " she tells her ex-husband bouncer). Malcolm matures alright, but will he ever find his father?
Malcolm
Cherry Red at the Source
1835 14th St. NW
Fri. & Sat.
11 p.m.
Through 3/6
$15
202-298-9077

Ian Allen knows how to direct absurdity well. His large cast of fourteen creates a convincing world of cruel reality, loss, and loneliness in the vein of Lewis Carroll's "Wonderland. " Malcolm may be looking for something that never existed, but in Allen's bleak existence, it's Malcolm who is desperately lost, not his father.
Although Allen's actors offer fairly one-dimensional characterizations and the performances could benefit from additional layers, there are some particularly moving moments where Albee's existentialist rhetoric is comically stunning and intellectually brilliant. Wilson was no doubt cast for his fitting age and maturity level; he is a sympathetic Malcolm who maintains his dignity even as he loses his youthful innocence. Renfield is appropriately awkward as a green-scalped Kermit and Franklin Dam does a lot with very little script, but Seeley and Baskin are the most interesting characters to watch develop. Seeley's interpretation hints at the intensely complicated motives both Purdy and Albee intended for Malcolm's mystery.
Cherry Red's Malcolm is a surprising noble display of would-be maturity from a theatre company that could never resist telling fart jokes — and laughing at them. By the end of the evening, we are left with queer questions and mourning for a boy lost in a world where grown-ups use and abuse him, and offer up their version of tender loving care. Like his audience, Malcolm questions, laments, cavorts, even cries, but he still hasn't found what he's looking for.
---
Jumpers
WSC
601 S. Clark St, Arlington
Through 2/1
$22-$30
800-494-TIXS

I fear that the folks at Washington Shakespeare Company may be losing it. Their latest production of Tom Stoppard's absurd 1972 romp Jumpers is a haphazard, chaotic blend of weird science and even weirder miscasting. In what could easily be interpreted as Stoppard's version of a bad joke, Jumpers spins a tangled web of equal parts murder mystery, fumbling farce, and phony philosophy (one of the principle characters recites his lecture on "Is God? ") into a politically-motivated script that reeks with traditional nuances from Stoppard and his fun, fluffy trademark wit.
This incarnation of Stoppard's acid trip seems like just that — a trip. The destination is nowhere, and you don't get there fast. After three hours of David Bryan Jackson's endless droning and Jeanne Dillon's melodramatic whining, it's difficult to conceive what director Kathleen Akerley was thinking. Despite her proclaimed penchant for Stoppard, Akerley leaves all of the bright spots in his jokes untapped, and steamrolls over any juicy comic bits (i.e., the running gag on a tortoise and a hare). Instead she focuses on overstaging musical numbers that are underrehearsed and acrobatic montages that make little sense. Without Christopher Henley's amusing presence and Mark Casale's creative video design, I think I probably would have lost it altogether.